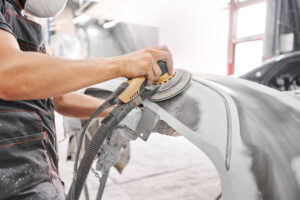 Collision Engineering Program touted as 'breath of fresh air,' tech shortage solution for industry
By on
Education
Collision industry professionals agreed during a Collision Industry Conference (CIC) session focused on the Collision Engineering Program (CEP) that the apprenticeship model is the answer to complaints about a lack of technicians.
"The collision engineering program was developed to build a new generation of highly motivated, passionate, skilled collision repair technologists for the industry," said Mary Mahoney, Enterprise Holdings replacement and leisure division vice president. "It's a unique two-year apprenticeship model and what it includes is eight weeks in the classroom and eight weeks in the collision repair shop in a rotation for two years ending in an associate's degree.
"The associate's degree and the apprenticeship program are backed by the Department of Labor and Education. They also have the opportunity to gain additional certifications during their training. When they're finished, they already have a job before they've even graduated. Our approach is to address this shortage from a regional or a local level versus a national level and we do that starting with our colleges that we serve and we bring in the industry."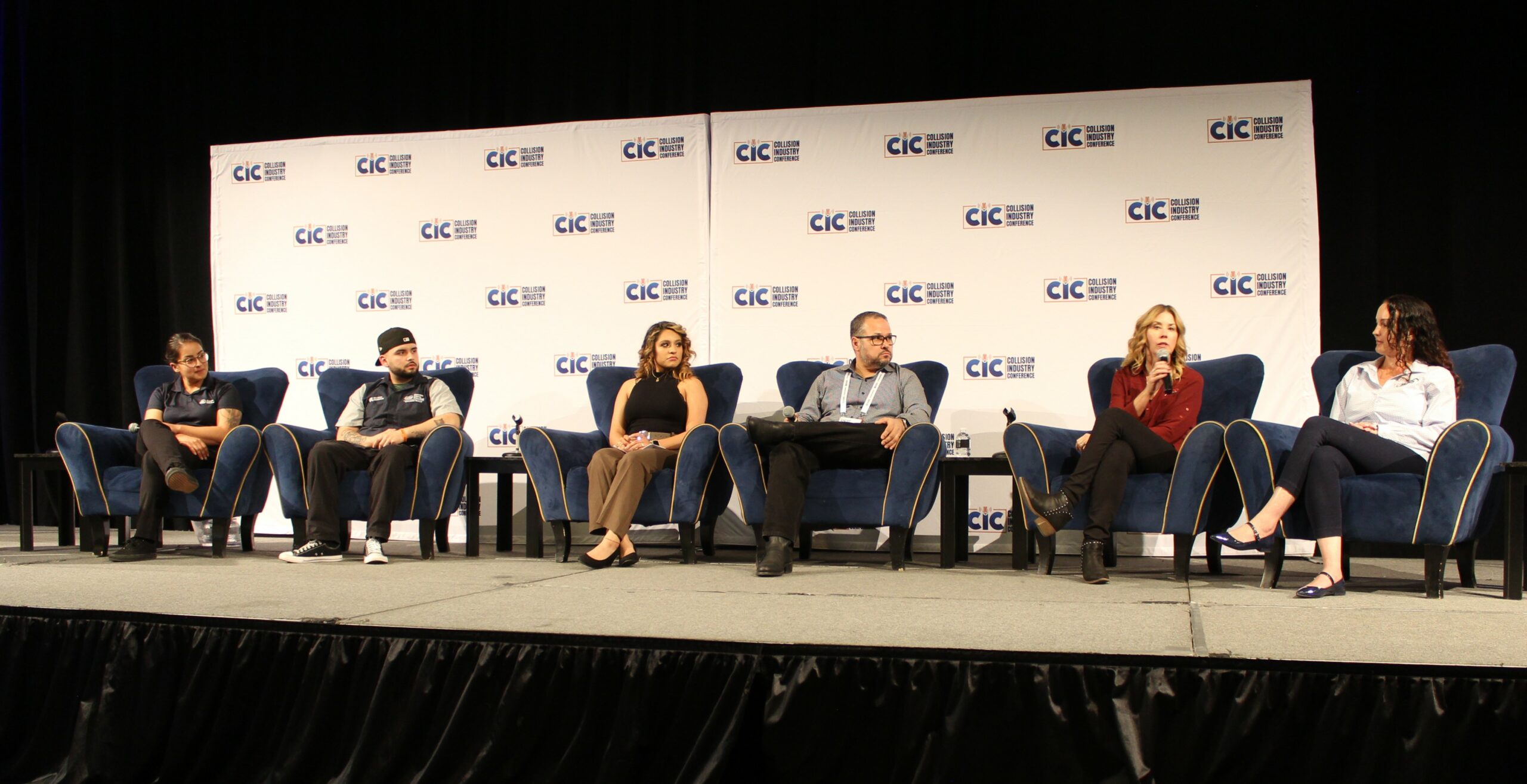 The program is offered at seven schools in California, Nebraska, Texas, Illinois, and Missouri.
Two of the first graduates from the program at Contra Costa College (CCC) in California and College of Lake County in Illinois participated in a panel discussion during CIC's meeting last week at the SEMA Show in Las Vegas.
"I was slowly getting into cars and I wanted to learn more about them so I picked the program but at the beginning, I picked the wrong class," said Sam Ortega, CCC CEP graduate. "I was trying to do the mechanical side but I went into painting and it was interesting and fun so I stayed with it. She [CCC instructor Laura Lozano] talked about the program, the internship, and I found it interesting because, you know, not only would I be learning in school but I'll be learning and using the learning that I was getting through school in real life."
Mahoney and Silva noted that what's unique about the program is the involvement by employers in the industry, working with schools and the students, ensuring training stays in line with trends and advancements of vehicles. Mahoney called it "education driven by industry" that will train technicians to fill industry positions for decades to come.
"When I was picking a career, I knew I wanted to be passionate about it but I also wanted to make an impact and the trades had that to offer," said Karina Badillo, a College of Lake County CEP graduate. "When I first started college, I bounced around through welding and through automotive technology but they didn't have a program that was similar to this… you can really connect the bookwork to the actual hands-on experience that the real world has to offer… It is really nice being able to have a team behind you."
Octavio Cavazos, College of Lake County CEP instructor and department chair, said the second semester is when the students really begin to shine as they start more hands-on learning.
"After being out for that first internship, that's when you see the light bulb turning on, that's when they come back with more questions, more hunger for the knowledge," he said. "That's where you really start seeing the students engaging more in the classroom, engaging in the internship, trying to have that hunger to be fed and they want to learn… at first, they're like, 'How are we going to be able to get through this two years?' Eight weeks on, eight weeks off is daunting. But after that first semester, you have a completely new student cohort in your hands. You almost have to try to keep up with them at that time."
Lozano, CEP instructor and department head at CCC, agreed and added that at first, it's slow-paced learning then students begin to get a taste of the pressures of completing tasks within a certain amount of time.
"It's the combination of both where the student understands the expectation that they're working towards to deliver in the real world and they're coming to school with that expectation already in mind," she said. "They're a little bit more aligned with what questions to ask, what to look for, what to take from the learning that is happening in the classroom. I've had the same experience where students — as they go into their work rotations — every time they come back into the classroom, the evolution of their learning and their engagement. It's just exponential every time."
CEP schools are looking for employers to join them that are certified — at least to some degree, engaged in training with I-CAR and OEMs, and have facilities that are properly equipped, Lozano added.
"We do a lot of footwork in meeting with the shops and getting to know their culture, getting to know their technicians — who would be mentors of our students," she said. "What I think the biggest piece in all of this is finding an employer — a manager — that is open to going through this process with the student and with the college. We call it a triangle of communication between student, employer, and the school.
"There's always a little bit of flexibility in understanding the individual student, their learning strengths and weaknesses, and communication styles."
Cavazos agreed but added that trust is a big factor for him. "My hope for an employer is that ability to shake my hand and look me in the eye and not lie to me," he said. "We have to have trust between the employer, the school, and the student. If we don't have that open line of communication, that trust, and that willingness to grow together we're never going to succeed. The employers have to understand that it is a process that we have to go through. They have to be willing to put forth the effort just like the schools are. We don't have all the answers. But as a team, collectively, as Laura said — that triangle — there's really nothing we can't accomplish if we work together."
Tiffany Silva, owner of Accurate Auto Body in Richmond, California and a Corner Foster College Advisory Board member, said the industry has complained about the lack of technicians for years and talked about it but taken no action.
"Collision Engineering is a solution we've all been looking for," she said. "It is a model that is such a breath of fresh air in our shops, bringing these technicians in that are learning from our industry. They are being taught. It's not like in the past where it was bondo on old fenders and some primer. They are being taught by our industry leaders out here… when they come into our shop, they are so excited to be there.
"It's not like we're bringing in someone that's been in this industry for 40 years that's like, 'We know how to do it right and we don't need to learn anymore.' We're bringing in young talent, excited youth, that want to be there and they get excited to come to work. We have changed. We've had to tighten up our practices of having the youth there."
Everyone at Accurate Auto Body has learned to get back to the basics such as reading work orders and mapping vehicles properly for safe and proper repairs.
"It's no longer bringing someone in at minimum wage and giving them a broom and telling them to be a janitor. That is not what this program is. This program is bringing in students that are eager to learn, gain the knowledge, and be part of our industry. We're able to show them our culture and our values and train them along the way. It's been phenomenal for our shop."
Silva's employees are also eager to share their knowledge in helping mentor and train the new techs, she added.
"It's been great in our shop for them all to jump in and help," Silva said. "They're assigned mentors but everybody is there helping them. I don't think it just needs to be that one mentor… When you hire someone off the street, you get that technician. When you hire a Collision Engineering student, you get a whole team behind that student… We have a whole team that wants to see them succeed."
Amber Alley, general manager of Barsotti's Body and Fender in San Rafael, California, has hired two students from the program.
"Both have been so different personality-wise and temperament and it's [provided] such personal growth for me as a manager," she said. "I've told Laura and the team of Collision Engineering that I think it's made me better, made me more self-aware. You want to see these young people succeed. They've taken the first step, they've chosen your shop, and you have all this support. You really have to step up your game, or at least that's how I feel as an employer."
As the program has grown, the industry is stepping up to send their employees to CEP for training, such as newly hired entry-level technicians.
When asked what they look for in an employer, Ortega said work environment and culture are important.
"It was very clean and up-to-date and all the employees were really nice and respectful," Ortega said. "They wouldn't ignore you if you asked them a question. It was really nice and it was very close to my home… if you have like a bad environment, you don't really want to work and you just want to leave."
Badillo said, that for her, the priority is an investment in her career path.
"I wanted to know that the shop was just as eager to progress and learn about what was coming next in the next models as I was to learning about the cars as they were also progressing," she said. "In school, we were always learning about procedures and looking everything up and printing it out and making sure that everything was done the right way… "I wanted to make sure that what I was doing was going to impact the way that it should and I'm not going to be picking up bad habits… and was just as invested in my schooling as I was, was a really big determining factor for me."
In her closing comments, Alley said CEP is what the industry needs to change how it's perceived and to hire on more female technicians.
"The industry is doing a really good job of isolating 50% of the population just with general culture," she said. "It [CEP] gives young ladies that do want to enter in the industry a very safe way to do that."
Silva added, "We have been in a male-dominated industry, our whole careers and it is so exciting, not only to have the students, but then to have female students… I have a majority female workforce. I believe I have eight females and I have 10 people that are under the age of 25 working in our facility. The breath of fresh air that the youth is bringing, that the female staff is bringing, I want to see this continue."
To learn more about CEP, visit beacollisionengineer.com.
Images
Featured image credit: Malkovstock/iStock
(From left): Laura Lozano, Sam Ortega, Karina Badillo, Octavio Cavazos, Tiffany Silva, and Amber Alley speak during a panel discussion at the Oct. 31, 2023 Collision Industry Conference (CIC) meeting in Las Vegas. (Lurah Lowery/Repairer Driven News)
More information
First Contra Costa Collision Engineering graduates: Industry full of opportunity
Share This: