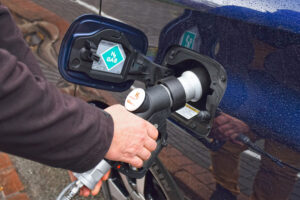 A United Kingdom (U.K.) college says it is the first in England to offer hydrogen fuel cell electric vehicle (FCEV) repair training for students to meet an anticipated future skills gap.
Blackburn College announced in late October that it rolled out a new FCEV program to give students, and the region's automotive industry, a chance to gain hands-on experience in preparation for the "mass roll-out of alternatively fuelled vehicles."
It said its fully interactive Toyota Mirai training program was added to the college's Hybrid Electric Automotive Training (HEAT) facility that opened last November. The facility initially served as a training hub for hybrid and electric vehicles and has now been expanded to include FCEV.
The college noted that despite the U.K.'s internal combustion engine (ICE) ban being extended to 2035, the auto industry is seeing a rise in alternatively powered vehicles, underscoring the need for related training.
Blackburn said that as part of the program expansion, the college will work with local garages, mechanics, dealerships, vehicle recovery, and emergency services to offer special training, repair, and safety aspects of working with FCEV.
"While some might think this is years away from realisation, we're seeing a huge push from car manufacturers on their NetZero investments. This also includes hydrogen fuelling stations being installed on some of the UK's major transport routes," said Dr. Fazal Dad, principal and chief executive of Blackburn College.
"But, there's a huge skills shortage in the industry at the moment, which is why we're so excited to be at the forefront of this cutting-edge technology as the first further education college in the country to offer FCEV training. This latest investment … will not only enable us to give our students the skills they need to take on the jobs of tomorrow but will help upskill the motor industry as a whole."
During last week's SEMA show in Las Vegas, Nevada, a panel of global industry leaders, subject matter experts and thought leaders gathered to discuss the application, benefits, integration and solutions that can accelerate decarbonization of the transportation sector.
The Future of Automotive Fuel Technology panel covered multiple aspects of the topic, including the infrastructure and policies needed for mass adaption, emerging technologies and decarbonization targets.
"SEMA's approach to future propulsion is technology neutral," said Luis Morales, SEMA director of vehicle technology. "We have members that are at the forefront of advanced technology systems, including hydrogen, biofuels, synthetics and EV. This panel [was intended to] help attendees understand what's happening in the industry and how the industry is already pushing the creative envelope in alternative fuel technology."
Right now, there are just two FCEV models available for purchase: the Toyota Mirai and the Hyundai NEXO. BMW and Honda are also working to develop hydrogen-fueled vehicles.
Hydrogen vehicles still represent a small fraction of overall U.S. vehicles, with Hydrogen Fuel Cell Partnership Data indicating that just 17,742 FCEVs have been purchased or leased as of Oct. 23.
However, the partnership also said that, based on Baum and Associates data, there were 966 new FCEVs sold in the U.S. during Q3, representing a 531% year-over-year increase. During Q3 2022, just 153 units were sold, it said.
"This result comes on top of the Q2 record of 1,076 units, which is an interesting and even surprising result, considering that the number of available car models actually decreased and there is not much progress in terms of refueling infrastructure," reported the trade publication InsideEVs. "The FCEV segment currently is dominated by one model — the Toyota Mirai, which noted 882 sales during the quarter (up 1,016% year-over-year), while the Hyundai Nexo appears to be weakening (68 units in Q3). Other models (looking at the Honda Clarity Fuel Cell) were discontinued a few years ago.
"If Hyundai decides to focus on all-electric cars and ditches the Nexo, then Toyota will remain alone on the battlefield."
Toyota has cautioned that before starting repairs on a Mirai, an FCEV-qualified Toyota dealership and technician must be consulted to assess the damage to the hydrogen fuel system components including the fuel cell stack, fuel system piping, receptacle, tube joints, sensors, regulator, and tank assemblies.
The Mirai also has added consideration of the compressed hydrogen gas stored in high-pressure tanks. The hydrogen must be released before removing the tanks from the vehicle. Toyota directs repairers to have an FCEV-Qualified Toyota Technician help with releasing the hydrogen.
Earlier this year, hydrogen proponents discussed how FCEVs could complement EVs as the push to advance zero-carbon transportation grows. Jackie Birdsall, senior engineering manager for Toyota's fuel cell integration group, and Bernd Heid, senior partner at McKinsey & Co., made the comments while participating in an Automotive News-hosted online panel.
"I think we will see in the next year that we will need both technologies," Heid said. "The interesting part is that it's not only dependent on the propulsion technology of the powertrain, but it also has to do with the infrastructure. And we will see that two infrastructures will be cheaper to society than if we just do all-electric infrastructure."
Birdsall agreed, saying the switch to zero-emission vehicles can't be accomplished with a single approach.
"Hydrogen and fuel cell electric vehicles are complementary," she said. "There's two different use cases. Our job is to give these zero-emission technologies, to make them available to the customer, and then the customer can choose the application or the powertrain that best suits their lifestyle [and] that best suits their fleet's needs."
Images
Featured image courtesy of Tramino/iStock
Share This: