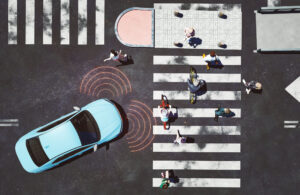 As President Joe Biden's Bipartisan Infrastructure Law (BIL) nears its second-year anniversary, senators are calling on a federal agency to enact "critical" safety provisions it contains.
In a letter to the National Highway Traffic Safety Administration (NHTSA), Sen. Edward Markey (D-MA) and Sen. Richard Blumenthal (D-CT) requested an update on the implementation of 10 provisions included in the BIL.
This includes provisions for NHTSA to:
Publish an annual list of recall completion rates;
Issue an advanced notice of proposed rulemaking related to updating federal seatback safety standards;
Issue a final ruling to require OEMs with keyless ignitions to install a device that automatically shuts the vehicle off after it idles for a certain length of time;
Share minimum performance standards for crash avoidance technologies;
Require all vehicles to be equipped with forward collision warning, automatic emergency braking, lane departure warning, and a lane keeping assist systems;
Conduct research on driver monitoring systems to reduce driver distraction;
Publish a final rule related to performance-based standards for vehicle headlamps;
Request comment on potential updates to hood and bumper standards;
Study existing requirements for OEMs to report information and data to the Department of Transportation to identify potential safety issues;
Publish a final rule requiring new vehicles to be equipped with impaired driving prevention technology; and
Issue a final rule requiring new cars to be equipped with a system to alert the driver to check rear seats for passengers after the car is switched off.
In the letter, the senators said that 43,000 people were killed in vehicle crashes last year and that measures outlined in the BIL are necessary to improve roadway safety.
"Bold action is necessary to address this road safety crisis," the letter states. "There is no doubt our nation is at a critical moment for traffic safety, and NHTSA's task of implementing the much needed [BIL] safety provisions will determine whether we continue our progress and leave traffic fatalities in the rear view mirror.
"We commend NHTSA for its work to curb the disturbing increase in traffic-related deaths that culminated in 2021 but now is not the time to turn on cruise control when it comes to road safety."
Letter cosigners included senators Sherrod Brown (D-OH), Dick Durbin (D-IL), Elizabeth Warren (D-MA), Chris Van Hollen (D-MD), Amy Klobuchar (D-MN), Jack Reed (D-RI), Ron Wyden (D-OR), and Ben Ray Luján (D-NM).
The letter said that last year's fatalities could be attributed to several causes, including speeding, impaired driving, and failure to wear seatbelts.
"Although the prevalence of these behaviors declined during the latter half of the 20th century, progress slowed over the last decade," the senators wrote. "Additionally, distracted driving is increasingly contributing to traffic deaths, driven in part by cell phone use. One recent NHTSA study found that crashes in which at least one driver was identified as distracted resulted in close to 30% of fatal crashes."
The letter said that, given the various causes of roadway deaths, NHTSA should work to implement the BIL provisions, which contain "lifesaving safety measures."
"The Bipartisan Infrastructure Law provides a roadmap for a safer world for all travelers," the letter said. "The 1,039-page law includes an expansive list of road safety provisions that tackle alcohol-impaired driving, seatbelt non-use, and distracted driving.
"The law also requires NHTSA to modernize standards related to physical vehicle features, such as crash avoidance technologies, automatic engine shutoff, and headlamp systems. Now, as the rubber meets the road, these provisions have the potential to quickly improve road safety for all road users."
The $1.2 trillion infrastructure bill was signed into law Nov. 15, 2021.
NHTSA did not respond to a Repairer Driven News query by deadline on its response to the letter, or to elaborate on the reasons for the amount of time it has taken to move the laws forward.
Images
Featured image courtesy of gremlin/iStock
Share This: