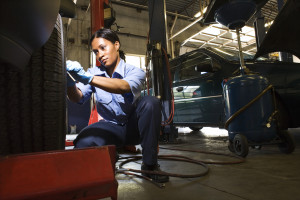 Next generation of collision repair: Tampa dealership encourages female technicians
By on
Business Practices
Rob Elder, owner of a Ford dealership in North Tampa,is trying to encourage more women to enter the auto repair industry, according to a nice Tampa Bay Times feature.
In doing so, he honors his mother, Irma Elder, who he said was the first woman to own a Detroit-area dealership and start what would become a nine-dealership group.
Right now, women are less than 2 percent of the country's population of auto techs and mechanics, according to the Times, citing Department of Labor statistics.
He and others are trying to get girls to consider jobs outside of traditional gender roles and to make the profession more welcoming to women; for example, Rob Elder has a separate bathroom and changing area for female techs.
Hopefully, such efforts pay off. As this older but still applicable USA Today report noted, the industry is facing a shortage of techs, an aging workforce, and more complicated and digital cars, and it could use an influx of tech-savvy new blood, male or female.
Women and girls seeking support for this career move should check out the Women's Industry Network.
More information:
"Tampa auto dealer looks to spark industry's need for female mechanics"
Tampa Bay Times, Jan. 8, 2015
Share This: