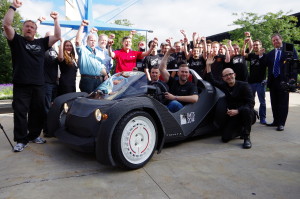 "I want to say one word to you. Just one word. … Plastics."
As the collision repair industry tries to ramp up in training and equipment for aluminum F-150s, Local Motors has 3-D printed and built a plastic and carbon-fiber car at the North American International Auto Show, the Detroit News reported Monday.
The Local Motors Strati costs $5-7 per pound to print a 1,100-pound car — a cost that is likely to fall as the technology evolves — according to the News. The company's show model can go about 45 miles on an electric motor, but it expects to produce a street-ready version retailing at $25,000-$35,000, according to the News.
"Since launching in 2007, we have continuously disrupted the way vehicles are designed, built, and sold," Local Motors CEO John B. Rogers. Jr. said in a statement. "We paired micro-manufacturing with co-creation to bring vehicles to market at unprecedented speed. We proved that an online community of innovators can change the way vehicles go from designed to driven. We pioneered the concept of using direct digital manufacturing (DDM) to 3D-print cars. I am proud to have the world's first 3D-printed car be a part of our already impressive portfolio of vehicles."
The Strati — the one at the show looks like Batman's dune buggy — takes at least two days to print and build, according to Local Motors. The bulk of the car is printed in 44 hours and made out of plastic reinforced with carbon fiber, the company said in a news release, though the company's website says it wants to cut that to a day.
The exterior is milled and refined over another couple of hours with a Thermwood CNC router. Finally, the drivetrain, electronics, tires, and other non-3D-printed elements (many from the Renault Twizy) are added in a "rapid assembly," according to the company's news release.
The company Tuesday announced two "micro-factories" — which would also be dealerships — in the Washington, D.C., area and Knoxville, Tenn., to produce the cars.
"Gone are the days of an economy of scale in order to introduce and commercialize a technology," Rogers said in a statement. "Micro-factories are a great counterpoint because they employ an economy of scope by taking advantage of low cost tooling and co-creation, resulting in the ability to get products to market faster and in less time while using less capital to find a winning concept."
It's unclear if the car or 3-D-printed vehicles would be more than a niche, but they could have ramifications for the collision repair industry if not. The Strati is made mostly of a single printed piece that includes both the body and frame. If it only costs $5,500-$7,700 to print — and getting cheaper — it seems as though an insurer would just write a crashed $25,000-$35,000 version off as a loss and just tell you to get a new one printed instead of having a shop fix it.
On the other hand, if the car core is damaged but everything else works fine, it's possible that a shop could simply cannibalize all the other parts — there aren't very many, Mashable reported — and attach them to a newly printed core in a business shift from collision repairer to assembly line. The car can be assembled in 2-4 days, according to Rogers and Mashable.
Clarification: This article has since been corrected to clarify the carbon-fiber content in the Local Motors Strati.
Share This: