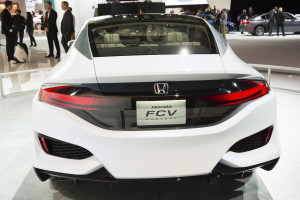 Honda on Monday announced the automaker itself had designed two new courses available through I-CAR, a move which the repair education platform's CEO said he'd like to see duplicated by other manufacturers.
Unlike recent partnerships with other manufacturers — notably, Ford on aluminum F-150 training offerings — to develop course material together, the two classes were prepared exclusively by Honda, a first for I-CAR. Details are now available on the Inter-Industry Conference on Auto Collision Repair's website at www.i-car.com/hondatraining.
"This initiative builds on our OEM momentum and similar recent training partnerships I-CAR has forged with OEMs such as Ford, Jaguar and Land Rover, to deliver OEM vehicle-specific training," I-CAR CEO John Van Alstyne said in a statement. "That said, this relationship with Honda is unique in that this is the first time I-CAR is delivering a series of OEM-developed online training. By collaborating with I-CAR for delivery of OEM-specific training, Honda is leveraging our vast market reach and mature delivery systems to make sure the industry has ready access to the information and knowledge necessary for complete, safe and quality repairs of Honda and Acura vehicles."
A third course, "Collision Repair for Honda and Acura Vehicles" is also available from the I-CAR Honda course portal. Unlike the other two, this three-hour course gives I-CAR credit hours. It appears to duplicate some of the information in the other courses and provide other training as well.
The Honda courses give a shop credit towards becoming ProFirst-certified — though they don't count toward a shop achieving Gold Class. The opposite is true for I-CAR's class.
So what should you take? Van Alstyne said in an interview Monday that such OEM courses are meant to complement I-CAR's own training — which was meant to give a greater level of detail and best practices — rather than duplicate it or compete with it. He said I-CAR would like to see more classes of the kind from other manufacturers.
"I'm kind of hoping that this will waken some of them up," Van Alstyne said. He said I-CAR would evaluate future classes for possible Gold Class credit.
The two Honda classes are an hour long and were built using I-CAR's back-end system for inclusion on the site.
"Using Honda and Acura Service Information" explains how to obtain and use factory repair information via ServiceExpress — and how that data might be different for independent shops and dealership ones.
"Honda and Acura High-Strength Steel Repair" examines high-strength steel becoming more and more common in vehicles, how to do structural repairs and welding, and what Honda recommends for repairing damage to high-strength steel components in Hondas and Acuras.
According to Honda, more than 59 percent of its new vehicles' white bodies are high-strength steel, so repairers should get up to speed on the metal if they haven't already.
"I-CAR is uniquely qualified to deliver the new training modules developed by American Honda," Honda assistant vice president Steve Osborne said in a statement. "Their platform provides the most effective and efficient delivery of our content to the professional repair industry. And the on-line classes make it cost-effective for shops by eliminating the need to travel. Safe and complete repair is our goal and to achieve that we recognize our responsibility to make this training available to all shops that repair Honda and Acura vehicles."
Share This: