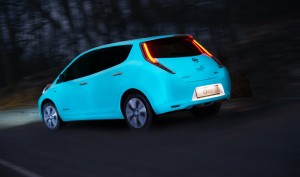 The Nissan Leaf got some buzz this week from Chicago Auto Show coverage thanks to its glow-in-the-dark paint and a coating that dramatically repels all sorts of spills.
The coating might be another step in future collision repair paint processes. Nissan is trying to gauge interest and could potentially offer it as a dealership option, ChicagoInno reported.
ChicagoInno said it could even be used on interiors. (That one would seem a waste of your money given that your kids are probably going to spill on your fabric and upholstery instead of the harder surfaces.)
Nissan said in a news release the Ultra-Ever Dry paint from UltraTech International is superhydrophobic and oleophobic (oil-resistant).
"So far it has responded well to common car-dirtying events including rain, spray, frost, sleet and standing water with the technology creating an protective "umbrella of air" for the paint," Nissan said in a news release. "Chocolate syrup squirted onto the hood rolls right off onto the floor and has been a crowd favorite during public demonstrations."
Also bird poop, according to Nissan.
Gizmag reported in 2013 that the top coat costs $96/quart, and the bottom coat is $53.
STARPATH paint
The striking glowing STARPATH paint from Pro-Teq Surfacing isn't actually going to be offered with the Leaf, engadget's Mariella Moon reported Thursday. Nissan was doing it as a symbolic gesture, she wrote, calling it a "tease."
According to Nissan, the paint can last up to 25 years.
Its cost is unclear. A London community approved spending more than $41,150 to cover park paths with it, London24 reported in 2014.
More information:
"Nissan has a glow-in-the-dark Leaf EV, but you can't buy one"
Engadget, Feb. 12, 2015
"Nissan's new paint technology makes the LEAF the world's 'cleanest' car"
ChicagoInno, Feb. 11, 2015
Featured image: Nissan has used Starpath paint to gain attention with a glow-in-the-dark Leaf. (Provided by Nissan)
Share This: