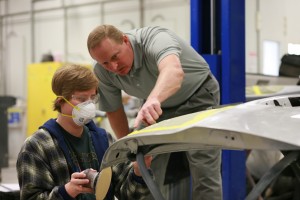 Collision repair might be experiencing a lot of change and uncertainty right now — but at least you can count on that it's hiring.
A north central Alabama community college has reported demand for collision repair technicians has come from as far as the Florida Panhandle, and two other companies recently announced hiring and training pushes.
"I've never had this many jobs available for students. It's hard to fill all of the requests. Technicians are getting older and retiring and a lot of younger guys aren't there to fill the holes," Wallace State Community College Collision Repair head Tim Grace said. "Technology is changing and the way we are doing things is changing. That keeps it from being a dead end street. The need for strong technicians is getting greater and greater. The job field is very broad, and there are good wages to be made out there."
The college, citing I-CAR, said the annual technician salary in 2013 was $52,000.  Wallace State also said some shops were paying — they might have meant charging — $52/hour for body repair/painting, $62/hour for frame repair/measuring and $72/hour for mechanical work. (Apparently, that shop isn't being held to the kind of "market rate" lawsuits allege has been artificially lowered by State Farm.)
The college points to a number of companies who've called looking to be fed employees, ranging from the traditional dealerships and body shops to Fontaine Trailer Company and Express Oil Change-Tire Engineers.
It has recently added three short-term certificates in refinishing and structural and nonstructural work to the four-semester program and expects to offer an aluminum station at some point.
Details: 256-352-8152, tim.grace@wallacestate.edu.
Service King
The same week as the Wallace State article, Service King announced a push to hire 500 veterans, spouses or active military (who hopefully are reservists and not going AWOL to do collision repair) by 2020.
The outreach by the collision repair chain is its contribution to parent company Blackstone's 50,000-veteran Veterans Initiative push.
"Service King's Mission 2 Hire initiative is a strong step forward in promoting valuable career opportunities for our military veterans and their spouses," Blackstone operating partner Sandy Ogg said in a statement. "Service King offers a wealth of career paths in the automotive repair industry that coincide with the very skillsets that so many veterans already possess."
Details: www.Mission2Hire.careers or www.blackstone.com/careers/veterans-initiative
Axalta
Finally, Axalta announced Thursday that with the help of Raytheon Professional Services, it would offer a paint and refinish apprenticeship program for United Kingdom collision repairers.
"Apprentices in the programme are trained to use some of the latest products and equipment at our state-of-the-art training academy in Welwyn Garden City, north of London, England," Axalta marketing manager Anthony Cashel said in a statement. "They are also mentored at their place of work by dedicated Raytheon development coaches who regularly assess their work and offer help and advice. This ensures us that the apprentices are obtaining the required level of learning needed to qualify to government standards."
Anyone who finishes the three-year apprenticeship program can get full framework Level 2 and 3 credentials and will be tested for the Audatex Training Academy senior paint technical designation.
"We believe the training we are providing to body shop apprentices will meet and exceed industry requirements for today's technicians," Cashel said in a statement. "They should then be able to fill skills gaps in the workforce, and introduce in the body shops in which they work new techniques and technology that are designed to increase productivity and to help provide a competitive edge."
Details: +44-1707-518009 or www.axalta.co.uk/apprenticeship-programme.
More information:
"Wallace State's Collision Repair students in high demand as industry embraces new technological advances"
Wallace State Community College, May 5, 2015
"Mission 2 Hire: Service King Launches Military Veterans Hiring Initiative"
Service King, May 6, 2015
"Raytheon Teams up with Axalta Coating Systems for Its UK Apprenticeship Programme Aimed at Body Shops"
Axalta, May 7, 2015
Featured image: Wallace State Community College Collision Repair head Tim Grace works with a student. (Provided by Wallace State Community College)
Share This: