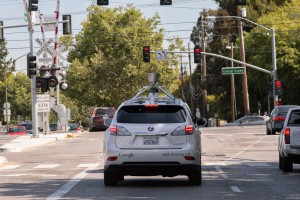 AP: Google, Delphi say self-driving cars not at fault in 4 accidents
By on
Legal | Technology
Google and Delphi's self-driving vehicles were involved in the four autonomous vehicle accidents reported to the California Department of Motor Vehicles since September 2014, according to an Associated Press report posted on Yahoo! Autos on Monday.
Both companies said their cars weren't at fault in the four accidents, three of which involved Google Lexus SUVs and the fourth including a Delphi test vehicle, according to the AP.
The accidents were minor, all under 10 mph, and the vehicles were only driving themselves in two of the Google incidents, a source and the companies told the Associated Press.
---
More RDN self-driving cars coverage
---
The company told the AP in a statement only that the cars had "a handful of minor fender-benders, light damage, no injuries, so far caused by human error and inattention" since September 2014.
Delphi said its 2014 Audi SQ5 — with a driver in control — was broadsided by another car while waiting to make a left turn, according to the AP.
The DMV couldn't under California law confirm anything other than the four accidents occurred, the AP said.
Consumer Watchdog has demanded details in a May 4 letter to Google's CEO Larry Page and Chairman Eric Schmidt.
"You want to eliminate the most basic safeguard, a licensed driver able to take control, in your proposed driverless vehicles," Privacy Project Director John Simpson wrote. "This aim makes it even more important for the public to understand any accidents that occur involving your vehicles during the testing phase. Rather than hide behind the cloak of DMV confidentiality, Google should disclose the accident report and the full details of the incident."
Google reported three other crashes between the initial years of the program's existence (without California approval) and May 2014, AP said.
Self-driving vehicles will have an impact on collision repair business, likely by reducing the number and intensity of crashes. But humans will for a long time — and possibly indefinitely — have a role as a driver, either a traditional one by choice or during situations the vehicle can't handle (sensor malfunctions, weather conditions, etc.).
And as the AP report shows, when we mere mortals take the wheel, all bets are off, and collision repairers get work.
More information:
"Self-Driving Cars Getting Into Accidents During Tests"
Associated Press via Yahoo! Autos, May 11, 2015
Featured image: This photo provided by Google shows a self-driving car being tested by the company. (Provided by Google via Google Blog)
Share This: