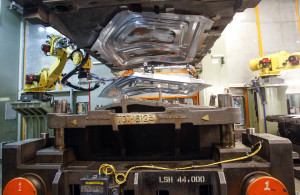 Original equipment manufacturer parts in collision repair took a big hit in the first three months of 2015, according to data released Tuesday by Mitchell.
Though still encompassing 65.85 percent of the cost of all parts ordered by estimators using the Mitchell databases, OEM part dollars were down 1.05 percentage points from January-March 2014.
OEM parts had been fluctuating between 68 percent and 66.9 percent of total parts cost since 2012.
Mitchell attributed it to price increases by the automakers themselves.
"The current trend reflects a continued decrease in the use of new OEM parts, likely as a result of the increases in collision parts taken by the manufacturers to offset increased delivery and storage expenses," Mitchell wrote.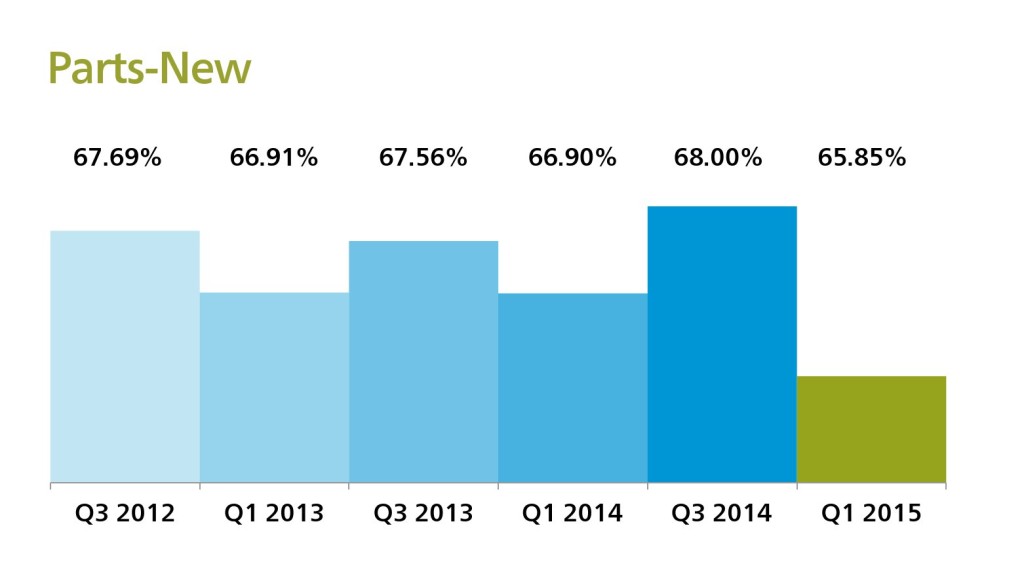 Meanwhile, aftermarket and recycled parts made up a larger proportion of total parts. Aftermarket was up 0.83 percentage points to be 15.18 percent of the parts cost. One caveat: Mitchell blends a sort of poor man's Opt-OE into the aftermarket category.
"This may also include those parts originally manufactured by endorsed OEM suppliers, which have later followed alternative distribution and sales processes," Mitchell wrote.
Aftermarket parts in January-March were also a higher proportion of the parts bill than any time between July-September 2012 and now, which saw aftermarket parts making up between 12.83 percent and 14.35 percent of the estimates.
Recycled parts dollars were up as well, but the increase wasn't as dramatic: a 0.35 percentage-point increase to 12.77 percent of the average parts bill. Unlike OEM and aftermarket, it wasn't behind or ahead of its recent predecessors either; recycled parts hit 13.28 percent of estimates in the third quarter of 2013.
Remanufactured parts also fell in the quarter, but barely — down 0.13 percentage points to 6.21 percent of parts dollars. They took a bigger hit — 0.34 percentage points — in the third quarter of 2014, and have yet to recover to the recent high of 6.38 percent in the third quarter of 2012.
While this data measures parts cost, not total parts, Mitchell found similar trends in the number of components from each category on an estimate.
"New OEM parts use decreased again, with a modest increase in aftermarket parts as well as in recycled parts," Mitchell wrote.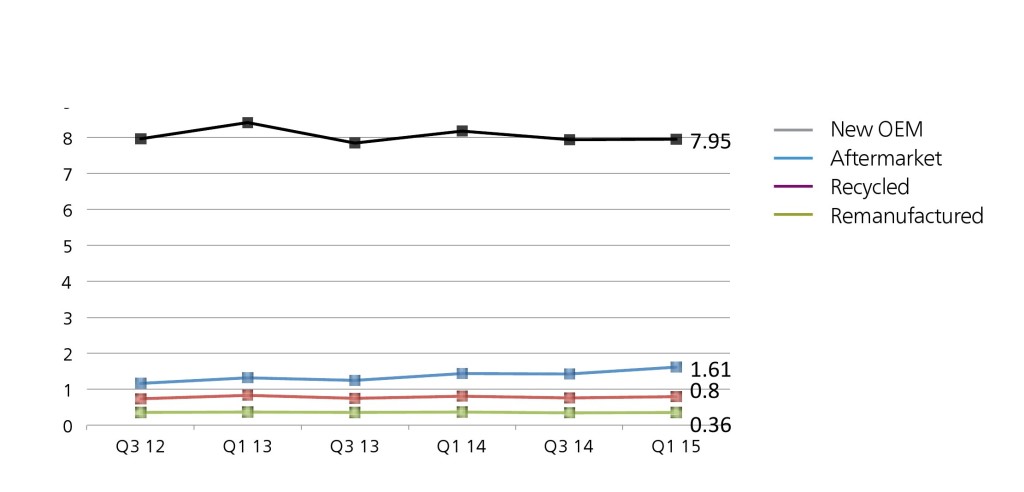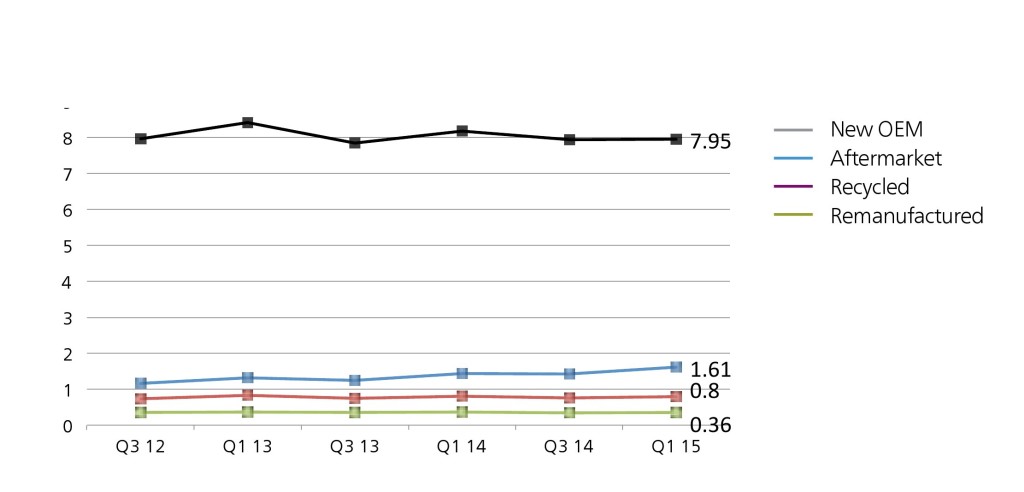 The data confirms what repairers have probably lamented on the ground: fewer OEM parts, more aftermarket and recycled — particularly aftermarket. That's a problem in repair times if the parts don't fit or have to be sent back, and a little bit misleading to consumers if they haven't read the fine print on a policy.
In terms of fitting parts, make sure you're including it on the bill: See what National AutoBody Research found on this issue.
And here's some recent examples of customers disgruntled by parts in "Anderson Cooper 360"-esque coverage.
Morning Call alerts Pa. readers to aftermarket parts
More information:
2Q Mitchell Industry Trends Report
Mitchell, May 12, 2015
Images:
Raw sheet metal is stamped into automotive parts Oct. 14, 2013, in Arlington, Texas. (Mike Stone for General Motors/© Copyright General Motors)
Though still encompassing 65.85 percent of the cost of all parts ordered by estimators using the Mitchell databases, OEM part dollars were down 1.05 percentage points from January-March 2014. (Provided by Mitchell)
Mitchell found a decrease in the number of OEM parts used, while aftermarket and recycled parts grew among those using its database for estimates. (Provided by Mitchell)
Share This: