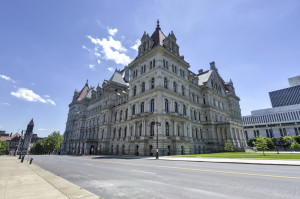 A New York bill banning insurers from requiring a certain method or vendor be used to obtain collision repair parts — which would, for example, kill State Farm's requirement of PartsTrader  — passed out of the New York Assembly Insurance Committee on Tuesday.
Assembly Bill 6684 is very short, adding to the state law barring insurers from requiring a certain shop that underwriters also can't "require a repair facility to use a specific vendor or process for the procurement of parts or other materials necessary for the repair of a motor vehicle."
That's it. The list of 32 sponsors' surnames is longer — which could be a good sign for collision repairers. The bill was sent to the Assembly Insurance Committee in late March and passed 17-7 Tuesday, according to a staffer for committee Chairman Kevin Cahill, a Democrat. The bill now goes to the Code Committee.
A legislative memo accompanying it describes an desire to cut down on non-OEM parts and out-of-state orders and notes that insurers "have been directing auto repair businesses to procure their parts from an online source and will only reimburse the repair shop if they do so."
The memo also says such online sources only yield the cheapest part, which seems incorrect and possibly was describing insurers requiring the cheapest part rather than a parts search engine with one result.
"These replacement parts are most often not Original Equipment Manufactured (OEM) parts and therefore are of sub-quality and not up to the most stringent safety standards," the memo states. "This bill simply allows auto repair shops to continue to procure replacement parts from local suppliers and to ensure that these parts are of OEM quality."
A companion bill, Senate Bill 1207, has been sent to the Senate Insurance Committee but has sat there since January.
The New York Legislature adjourns in mid-June, so the bills probably don't have much chance of passing this half of the session, but they will be still in play when it reconvenes in 2016.
Similar bills filed last legislative session sat in the Assembly but did move from the Senate Insurance Committee to the Rules Committee at the very end of the 2013-14 session.
The bill is supported by the New York State Collision Technicians Association and Long Island Auto Body Repairman's Association. It was also backed by the Automotive Recyclers Association of New York.
Featured image: The New York Capitol is shown. (demerzel21/iStock/Thinkstock)
Share This: