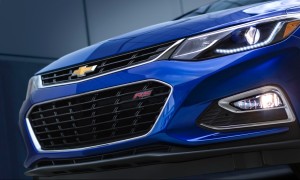 General Motors has revealed the 2016 Chevrolet Cruze, a second-generation edition GM says is up to 250 pounds lighter than the 2015 Cruze.
Its news release, however, fails to "show your work," attributing 53 pounds of the savings to a lighter but larger body but failing to account specifically for the other 197 pounds.
We couldn't find these numbers in GM's releases, but Car and Driver reported that the engine is 44 pounds lighter and the transmission weighs 24 pounds less than in the past. So that explains some of the weight loss, but we're still 121 pounds shy.
(But at least we're not alone in our confusion. Car and Driver also remarked "The curb weight has been lowered by a claimed 250 pounds, a remarkable figure given the Cruze's utter lack of exotic materials.")
"An all-new, more rigid and lighter architecture is the 2016 Cruze's foundation for driving dynamism, while also playing significant roles in safety and efficiency," GM wrote Wednesday. "It is constructed of about 8-percent hot-stamped/high-strength steels, which contributes to an approximately 27-percent stiffer body structure that is also 53 pounds (24 kg) lighter than the current Cruze."
This leaves us with little to tell collision repairers about advanced materials they'll be fixing; a GM spokeswoman did not respond to email and phone requests Thursday for elaboration on the steel.
Hot-stamped steel usually means steel of 1,000 megapascals or tougher, compared to traditional mild steel in the 250-270 MPa range. So GM probably doesn't mean that 8 percent referenced in the release is all the true high-strength steel (anything above 270 MPa) in the body.
"The 2016 Cruze's safety story begins with the new, stronger body structure that incorporates high-strength steel in key areas to enhance strength and crash protection by helping to prevent intrusion into passenger compartment," GM wrote in the news release.
We called the Genuine GM Parts hotline but were told GM hadn't released repair information yet for the 2016 model, which admittedly won't be for sale until early 2016. (We got a case number, though!)
However, for what it's worth, here's how the body materials broke down on the 2015 Chevrolet Cruze. We'd predict that everything dual-phase there upscales in the 2016 model to a stronger dual-phase grade or an ultra-high-strength steel in Chevrolet's hot-stamped range.
Steel grades are maddeningly messy and inconsistent between automakers — without specific megapascal figures, there's no way to tell precisely what "dual-phase" and "ultra-high-strength" means for GM compared to the rest of the world. But based on this 2014 GM chart, dual-phase on the 2015 Cruze is either 550-800 MPa or 800-1,000 MPa steel.
GM also hinted in its release that an aluminum engine and suspension helped save weight as well.
"The Cruze's chassis system is perhaps the most mass-efficient in the segment," executive chief engineer Ron Arnesen said in a statement. "It is at the core of the car's dynamic driving character, which is designed to deliver fun with an enhanced feeling of connectivity."
"The 2016 Cruze builds on a very successful program that introduced Chevrolet to new customers the world over," GM North America President Alan Batey said in a statement. "We retained all the attributes that made the original Cruze a hit around the globe and built on them to make this car more sophisticated, more fun and more Chevrolet."
In terms of other collision repair-related items, the Cruze has 10 airbags, a rearview camera and four-wheel disc brakes standard, and options include "Side Blind Zone Alert, Rear Cross-Traffic Alert, Lane Keep Assist and Forward Collision Alert."
Chevrolet sold more than 273,000 Cruzes in 2014 in America, up 10 percent.
More information:
"Sophisticated Sophomore: All-New 2016 Chevrolet Cruze"
General Motors, June 24, 2015
"2016 Chevrolet Cruze: The Second-Gen Car Arrives Lighter, Stronger, and Tech-ier"
Car and Driver, June 2015
Featured image: General Motors has revealed the 2016 Chevrolet Cruze, a second-generation edition GM says is up to 250 pounds lighter than the 2015 Cruze. (Provided by GM/© General Motors)
Share This: