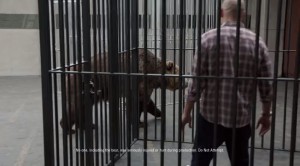 General Motors has attempted to take the materials and F-150-Silverado wars viral with a few new YouTube ads mocking people's perceptions of aluminum versus high-strength steel.
Of course, we have to wonder if, like political ads released online but in limited markets, the only people watching are reporters and the two sides' marketing teams. The ads, released Sunday, had each only gained less than a thousand views as of Monday morning.
The best of the ads, echoed in an Spanish-language version, is likely a "taste test" of sorts which gives participants the choices of aluminum and high-strength steel cages before sending a grizzly into the room. They flee for the steel cage.
Another asks comic fans what they think of the "Almighty Aluminum Man," and they tear into the concept in classic "Simpsons" Comic Book Guy snark.
Though it features a hilariously awkward, bad-infomercial conversation between former NFL player Howie Long and Chevrolet chief engineer Eric Stanczak, the last one is probably  of most interest to repairers — as well as Ford.
It describes the results of testing by AMCI Testing, hired by GM to do an independent review. Stanczak said the company took four Silverados and four F-150s and simulated a collision.
"They basically recreated what would happen when a large truck backs into the vehicle, like on a job site," he said.
The Silverados went to "authorized Chevrolet dealers," according to Stanczak, and the F-150s were brought to Ford-certified F-150 repairers. The F-150s on average cost $1,755 more and took 34 days longer to repair.
"So if I'm a guy who uses my truck for work, every day I don't have that truck, that costs me money," Long says.
Ford e-mailed a response to Automotive News on Monday reminding readers that the automaker was still No. 1.
"We're proud to be America's truck leader. Ford F-Series, including the all-new F-150, remains America's best-selling truck for 38 straight years and America's best-selling vehicle for 33 straight years," Ford told the newspaper.
Ford truck spokesman Mike Levine said Monday there was no way to tell how that study was done. However, he reiterated Ford's position that a properly trained and equipped shop should be able to repair an aluminum F-150 panel at the same time and cost as a steel one.
Hypocritical?
Ironically, Chevrolet uses aluminum in the Silverado ("in a few strategic places," Stanczak says in the video) — and it might use more of it in a future edition, a point marketing consultant Jim Sanfilippo made to Automotive News.
"If I'm a GM engineer working on the next truck, I'm scratching my head a little bit," Sanfilippo told the newspaper. "They're probably telling the marketing people, 'Hey guys, you realize we're already lining up our aluminum suppliers, right?'"
GM also takes a shot at the Ford F-150's rivets and structural adhesives compared to the "welding" on the Silverado — neglecting to mention that in March it hyped the Silverado's easy repairability because of factors including "ultra-strong structural adhesive" on panels.
It might be too late to scare people from the F-150, which has so far been hot on dealer lots but limited by a short supply. But Automotive News reported that the Silverado has been gaining market share, and General Motors on Wednesday said its combined truck fleet gained another 0.9 points of the retail market since 2013.
GM said Silverado sales were up 18 percent in June, and pickup sales altogether rose 33 percent. Ford, hindered by a short supply, saw F-Series sales drop nearly 9 percent in July.
'Debate'
The timing works out well for Repairer Driven News. On Wednesday, we will feature a "debate" on Wednesday between the steel and aluminum industries.
Guest columnists from the Aluminum Association and Steel Market Development Institute were each asked to answer the question: "Why X (aluminum or steel) is the auto body lightweighting solution for the 2025 model year, and what parts in particular should be made from it?"
Our goal is to give repairers a sense of what could be coming under the competitors' visions so body shop owners and technicians can begin to ponder what training and equipment they might need in the next 5-10 years. Don't miss it!
Featured image: General Motors has attempted to take the materials and F-150-Silverado wars viral with a few new YouTube ads mocking people's perceptions of aluminum versus high-strength steel. A screenshot featuring a "taste test" of aluminum and steel cages to evade a grizzly is shown here. (Screenshot from Chevrolet YouTube channel)
Share This: