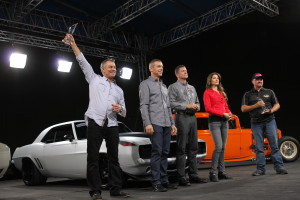 Today is your last chance for discounts on some SEMA Show hotels and the SEMA Ignited afterparty, the Specialty Equipment Market Association announced last week.
This week also contains the Friday deadline to nominate colleagues and other industry-related figures for SEMA's 2015 Industry Awards.
Hotels
Travel Planners, SEMA's only official "travel agent," said anyone seeking to catch early-bird rates for Ballys, Caesars Palace, the Flamingo, Harrah's, the LINQ and Paris needed to book Monday.
SEMA recommended attendees do so with the show's travel page and not a third-party service.
Ignited
SEMA said anyone wanting to attend the SEMA Ignited afterparty for $10 instead of $20 must buy tickets Monday on the party's website.
However, those with SEMA Show credentials, get in free as do students and those in the military. (However, the latter two must still register ahead of time.)
The event 3-10 p.m. Nov. 6 lets the public see cool custom vehicles, meet auto celebrities and watch demonstrations.
Awards
Nominations to honor distributors, manufacturer representatives, young innovators and the overall SEMA Person of the Year are due Friday, so get them in if you have worthy recipients in mind.
Nominations are open to all SEMA members and due by 5 p.m. Pacific Time on the SEMA awards page.
Following are some guidelines to consider when making a nomination. More information can be found on the awards page or by contacting Lindsay Bianco, 909-978-6692 or lindsayb@sema.org.
Person of the Year: SEMA gives the Person of the Year Award to those who have made "outstanding contributions to the association and the automotive aftermarket as a whole," including actions on top of their job description. Nominators must include a statement detailing the candidate's accomplishment.
Gen-III Innovator of Year: A tall order, this award honors anyone younger than 40 as of Dec. 31, 2015, "who exhibit the same pioneering spirit as the original industry founders, and whose work is changing the way the automotive aftermarket does business."
"He or she may have been the first to act on a new trend, invented an original product or devised and implemented ideas that better suit the current marketplace," SEMA continued.
Rep Agency of the Year: A manufacturers' representative agency will be honored for its work during the SEMA fiscal year, July 1, 2014-June 30., 2015.
"Considerations include product-line knowledge, communication of critical information between supplier and the client network, updated catalogs, databases and price sheets and continuous training and education programs," SEMA wrote.
WD of the Year: The WD (Warehouse Distributor) of the Year award goes to a distributor who in the past year was "involved in industry events, serviced and communicated with suppliers and resellers with excellence and provided development opportunities for clients and staff," according to SEMA. Not only are they professional to do business with, but they provide training for their staff and others as well as other support.
Share This: