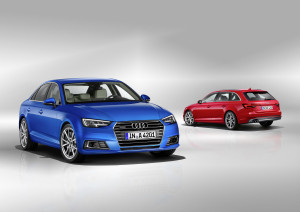 The new Audi A4 and A4 Avant announced June 29 will weigh nearly 265 pounds less than the current A4s, thanks to a mix of aluminum, high-strength steel and even magnesium in major structures like the body and powertrain as well as bite-sized weight cuts in items like the power steering system, brake pedal and carpet.
The body itself adopts more aluminum than what Audi USA vaguely described in the eighth-generation 2013 Audi A4 as a "galvanized steel unibody construction with aluminum hood" and "reinforced high strength steel/aluminum crossmembers, reinforced bumpers & rigid occupant cell."
The body of the upcoming A4 — automotive media call it the 2017 model — is 33.1 pounds lighter, thanks to the use of more aluminum and hot-stamped steel.
Audi said all A4s have aluminum extrusions for the front and module cross members, and the Avant has an aluminum tailgates and nodes in the top of the D-pillars.
The tailgate will be built with an "intelligent tool," according to Audi.
"Laser sensors measure how the sheet metal behaves during the process; if necessary, electrically operated drawing aids make small adjustments to the press," Audi said in a news release. "This results in even higher precision in the magnitude of thousandths of millimeters."
Hot-stamped steels, which are typically at least 1,000 megapascals or stronger, provide what Audi calls the "high-strength, crash-proof backbone of the passenger compartment."
Those ultra-high-strength steels comprise 17 percent of the body alone in the new A4 and Avants, and they can be found in the usual locales: the roof rails, B-pillars, door sills and floor.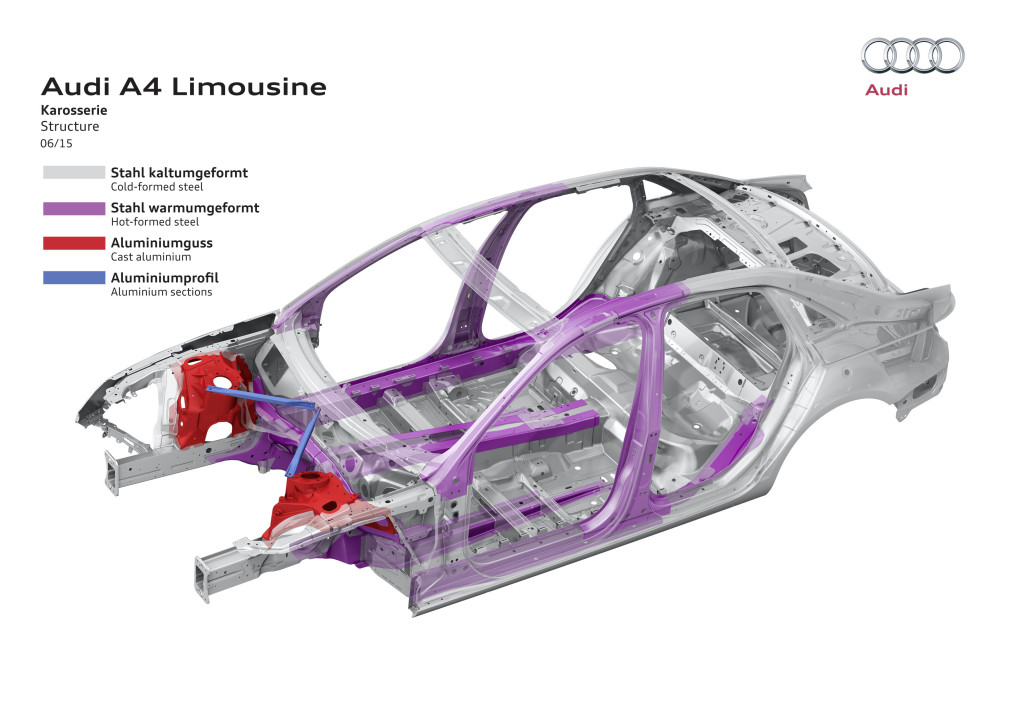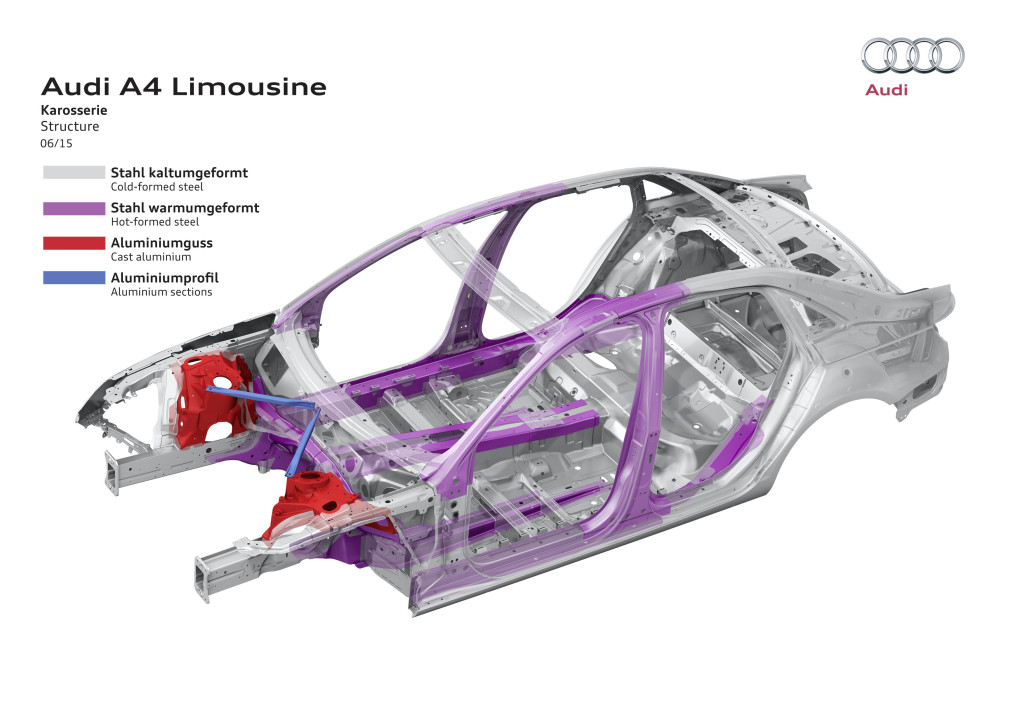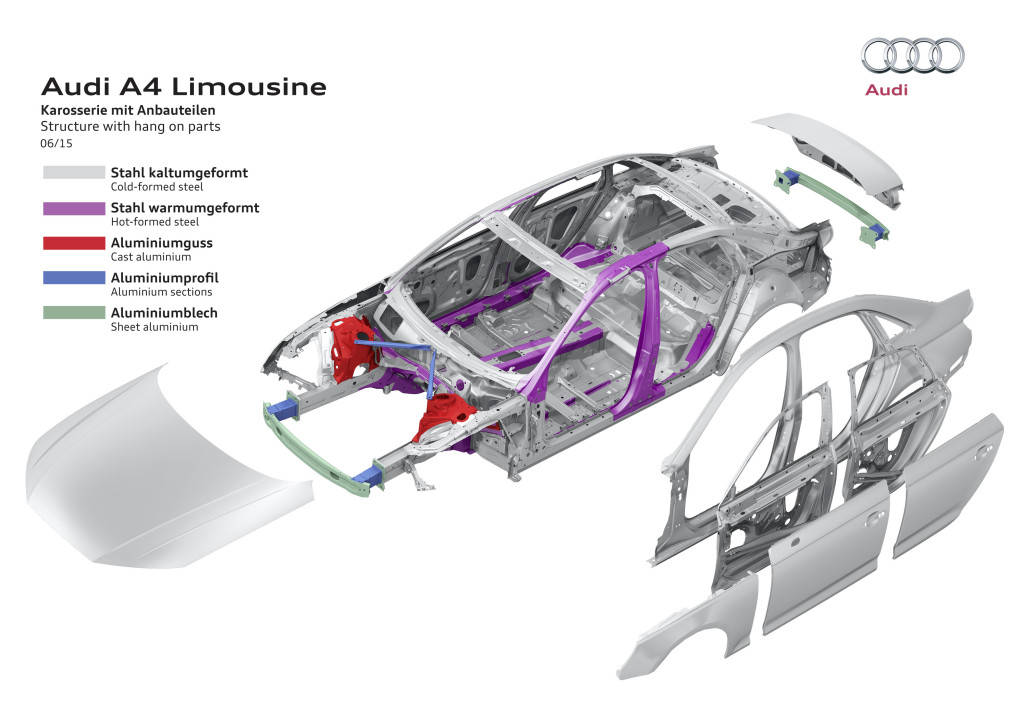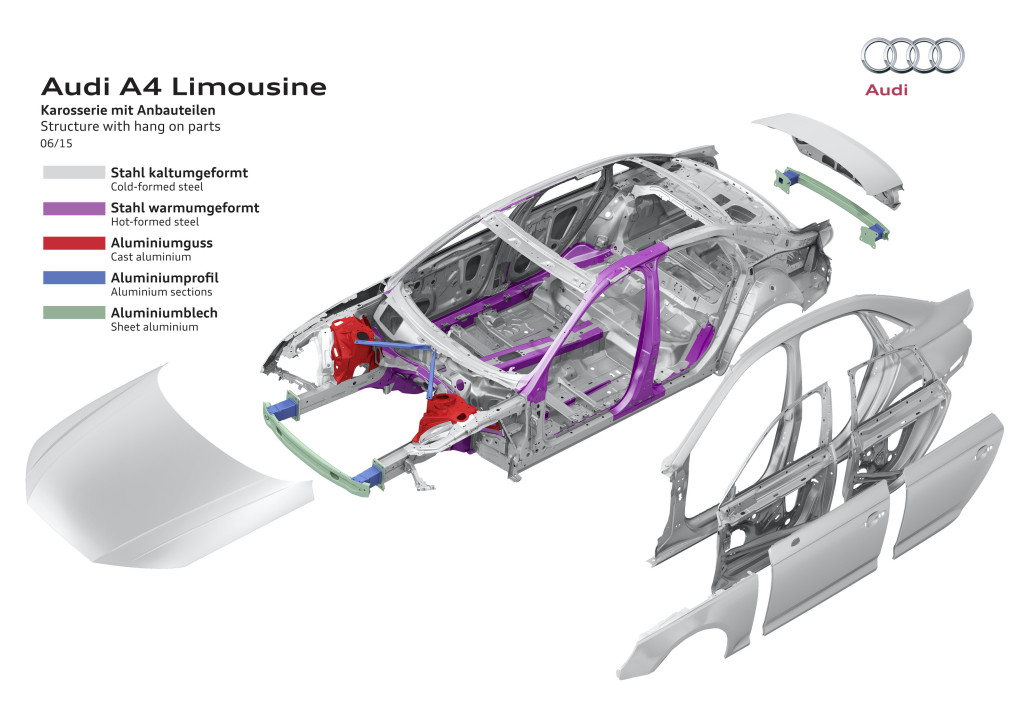 Other lightweighting included:
"Highly integrated" MacPherson strut mounts, instead of multi-part steel ones: More than 17 pounds.
Steering wheel frame: It's magnesium, and "the entire interior was designed strictly along the lines of lightweight construction."
Seats: The rear seats have magnesium components and a "light wire frame," and the front seat substructure is high-strength steel. Nearly 20 pounds.
Odds and ends: A new carpet, foamed air conditioning ducts and an aluminum brake pedal cut another 8.8 pounds.
More information:
Images:
The 2017 Audi A4 and A4 Avant will weigh nearly 265 pounds less than the current A4s, thanks to a mix of aluminum, high-strength steel and even magnesium in major structures like the body and powertrain as well as bite-sized weight cuts in items like the power steering system, brake pedal and carpet. (Provided by Audi)
The Audi A4 body itself adopts more aluminum than what Audi USA vaguely described in the eighth-generation 2013 Audi A4 as a "galvanized steel unibody construction with aluminum hood" and "reinforced high strength steel/aluminum crossmembers, reinforced bumpers & rigid occupant cell." (Provided by Audi)
Share This: