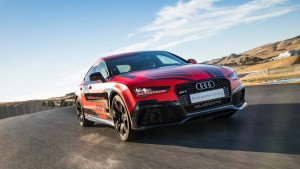 Experts: Self-driving car systems to appear gradually, must work for 11-year car life
By on
Market Trends | Technology
An Automotive Megatrends webinar Thursday revealed some less-obvious considerations about self-driving cars, including the challenge of having computing systems — typically obsolete as soon as you open the box — stay relevant for the life of a vehicle.
The presentation (get slides here), hosted by Megatrends USA organizer Automotive World, featured Wind River automotive solutions senior director Marques McCammon — whose company's autonomous resume includes Mars Rovers and plane autopilots — and Altera product line manager Michael Hendricks and programmer Clive Davies, whose company develops and integrates systems like those in autonomous vehicles.
"The lessons that we learned on Mars have a tremendous amount of applicability," said McCammon, whose company worked its way up from remote-controlled vehicles to the self-driving space buggys today.
Perhaps most relevant to the autonomous car discussion was the fact that processing power grew by as much as four to five times during the development of the Mars vehicles — not surprising given Moore's Law, which holds that computing power continues to scale upward while size and cost scale downwards. (At some point, however, the laws of physics will become an issue.)
That's certainly going to be an issue in the computers which power self-driving cars, not only in their design and engineering stages but also the vehicle's "viable lifespan in the market" of nine to 11 years, according to McCammon.
These systems will, unless fleet life trends dramatically change, have to work essentially perfectly for that decade to keep occupants safe, "not just for the few years that they're managed" with warranties, according to McCammon.
Serious recalls simply can't happen — the technology must be safe.
"We can't have that when we start talking about autonomy," he said.
The other challenge will be customers who demand "high reliability and highly predictable performance" of a system which has to react on roads populated with 200 million other vehicles but won't pay a "substantial price premium" for it, McCammon said.
Worse, the customer doesn't want to be held liable for what his or her car does.
"They want the functionality, but they don't want the risk," McCammon said.
And despite Moore's Law lowering prices, this stuff is expensive and complex (which as we've observed, will be nice for parts bills for a while). Hendricks give the example of a Daimler with 100 million lines of code compared to 6.5 million for a Boeing 737 (which already has a proven autopilot!).
Electronics were 15 percent of vehicle cost in 2005, but today, they're 45 percent of the cost in a hybrid , according to IEEE Spectrum and ARM Holdings information cited by Altera. In the future, electronics will reach 50 percent of the price tag of a normal car and up to 80 percent of a hybrid's.
Plus, the software within can have a short shelf life too. The curve of captured value must be smoothed out, McCammon said.
"I want to make sure that the car that I'm driving is just as if not more effective" with the automotive equivalent of going from Windows 7 to Windows 10 in its operating systems, he said.
But despite these difficulties, automakers are undeterred.
"Virtually everyone is working on this capability now," Hendricks said.
They're not doing it because lazy drivers are demanding it, either. "I think it's definitely safety," Davies said.
McCammon agreed, saying it wasn't a "good practical business case" to do it purely for "convenience"
Hendricks said Google has claimed their cars can effectively halt the 90 percent of road fatalities attributed to human error.
"That's a pretty significant figure," he said.
But will there truly be that crash reduction, which would of course impact collision repair?
McCammon said that regulators and academics have said yes, but "the reality is that it's a lot more complex."
For a while (and possibly forever), roads will have "piloted and autopiloted" combinations of vehicles, as well as self-driving cars where the driver has the ability to turn that feature on and off.
"We'll have legacy vehicles on the road as well," he said.
But Davies said that "intuitively," it made sense that safety would improve.
Google's boast so far has played out in the real world, though it's very early in the self-driving game.  An Associated Press story posted Thursday on ABC News noted that the automaker's self-driving cars haven't been responsible for any of their collisions — except for one time when a Google employee who'd borrowed the vehicle was the driver, not the car. (And we'd bet that person really got ragged at the water cooler the next day.)
Altera's slideshow gave two examples of how an autonomous system might work. One showed a view of the sensors you could be fixing in a collision.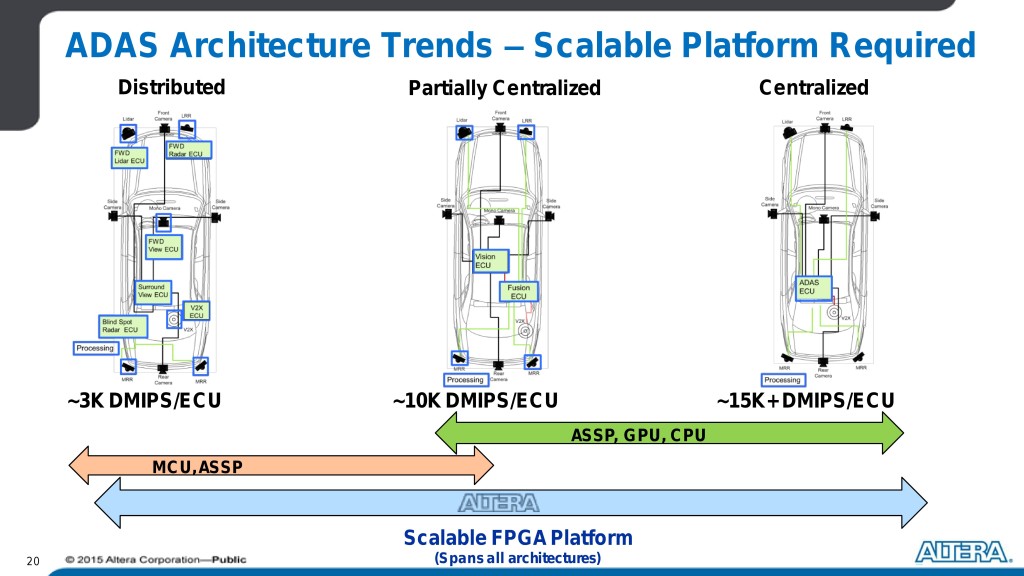 The other indicated what kind of data the car would have to process from the sensors/cameras mounted on the car itself.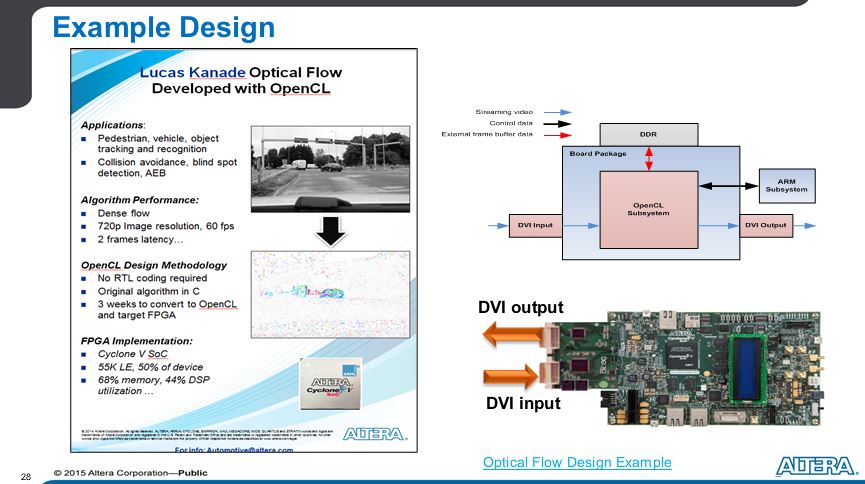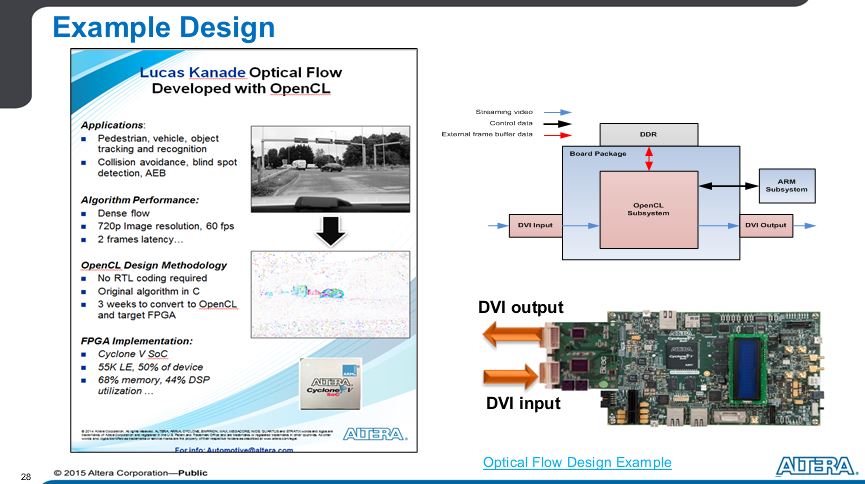 The experts predicted a more gradual phase-in of autonomous vehicles.
"There's no kind of 'Big Bang' day," Davies said.
McCammon said self-driving of some form could begin as soon as 2020, and "limited" applications like driver assistance (self-braking cars, for example), were already in place. He expected partial autonomy would come, then full self-driving capabilities.
"I think we're gonna see some level of autonomy coming in very soon," he said.
Davies agreed, calling the OEMs "more cautious" but observing that "we're pretty much there already" in terms of highway autonomy.
More information:
"Webinar: Autonomous driving and the impact of people, process, and technology"
Automotive World, July 16, 2015
Images:
Audi's self-driving RS 7 "Robby" is shown at the Sonoma Raceway. (Provided by Audi)
This Altera slide presented during an Automotive Megatrends webinar July 16, 2015, shows a view of the sensors you could be fixing in a collision. (Provided by Altera)
This Altera slide presented during an Automotive Megatrends webinar July 16,2015, shows what kind of data the car would have to process from the sensors/cameras mounted on the car itself. (Provided by Altera)
Share This: