The Database Enhancement Gateway, which allows repairers to make inquiries and suggestions of the Big 3 estimating providers, has been augmented this year to provide weekly tips for repairers on the Audatex, Mitchell and CCC programs.
If you haven't used the service before to answer questions about estimating collision repair work or just browse responses to other shops' questions, check it out. It's a valuable resource akin to I-CAR's Reparability Technical Support Portal, but focused on teaching repairers database best practices instead of those from automakers.
Here's some recent areas spotlighted as tip-worthy by DEG; we'll be rounding them up periodically for our readers. To receive the tips as soon as DEG releases them, like/follow DEG's Facebook and Twitter feeds.
Labor in CCC
When you're using CCC ONE, you'll need to create labor prompts for the tasks of "Aim Lamps," "Bumper Refinish," "Edging," "Evacuate/Recharge," "Inside," and "Underside."
You can do this when you set a profile default while writing an estimate; it must happen for each profile in your shop. Try this path: Configure, Profiles, Select Your Profile, Labor Prompts.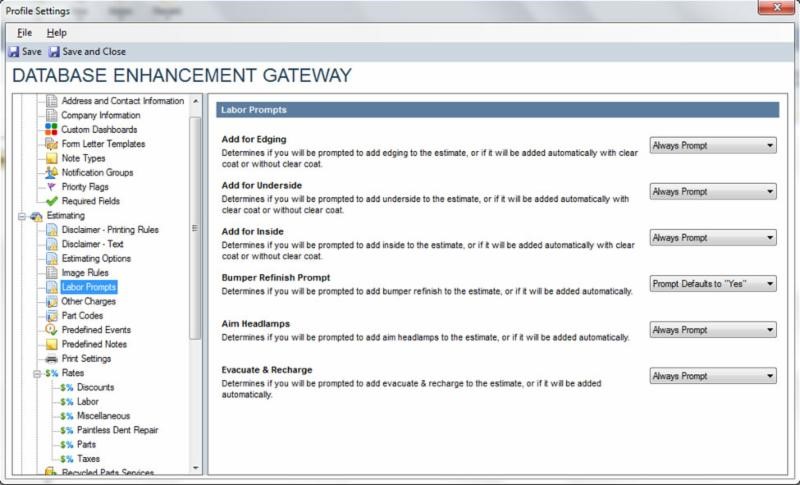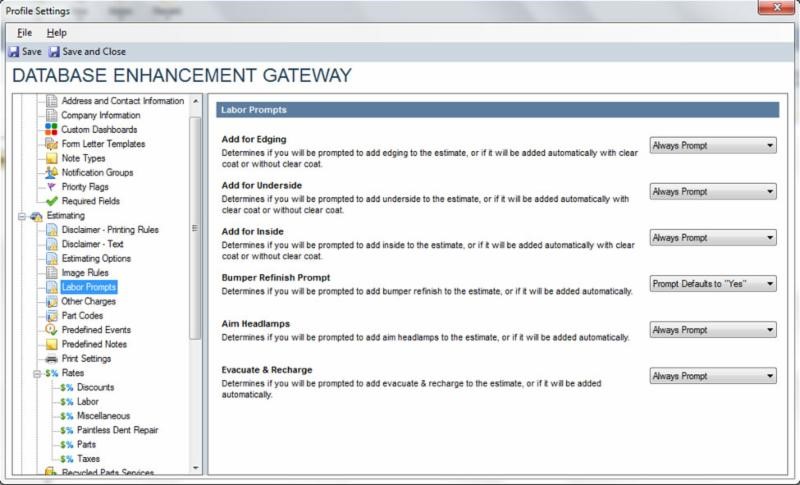 Feather, prime and block
To calculate feather, prime and block in Audatex, you'll have to define the materials rate for the procedures in each profile's rate tab.
"Like all undefined rates, this will default to $0.00 until defined by the user," DEG wrote."
Of course, you'll still have to factor the feather, prime and block time into the repair time and then divert those hours to that procedure — a point of contention for some repairers.
Fabricating sleeves
CCC doesn't include the creation of backing plates or sleeves, but Mitchell and Audatex do so long as you do it from existing stock.
"According to the 'Labor Time Premise' of the Guide To Estimating, 'Fabricate templates, reinforcing inserts, sleeves or flanges' is not included," CCC's MOTOR wrote in response to an inquiry about a 2009 Chevrolet Aveo. "The estimate work time required to fabricate the 'Backing Plate,' will need to be determined by an'on the spot evaluation' at the time the estimate is written. However, the installation of reinforcing inserts, sleeves or flanges is included."
The inquiring repairer, in case anyone's interested, had suggested 2 hours per insert and including material when raw stock was used.
Audatex and Mitchell, which were also asked about the issue, included the labor for sleeves as long as it is from existing stock
"If the sleeve needs to be fabricated from raw stock, the time to fabricate the sleeve is not included," Audatex wrote.
Backup sensors
Drilling to install a backup sensor isn't included in Audatex; you'll need to input it manually.
"The part received by Ford does not have the sensor holes cutout as the part also used for a vehicle without sensors," a repairer had written regarding a 2014 Ford Focus Titanium. "I spoke to a Ford parts representative who advised me that all Ford bumper covers would be that way. The estimating databases need to account for the labor to cut the sensor holes as the holes are not perfectly round but flat on top/bottom."
The repairer had also unsuccessfully suggested Audatex make it part of the damage entry on rear bumper covers.
Reset electrical
None of the estimating services include resetting electrical components. Questions had been submitted to Audatex, CCC and Mitchell about a 2013 Toyota RAV4, a 2011 Mercedes E550 and a 2009 Toyota Tundra, respectively.
"Air bag lights, initializing of a power window, and steering angle sensors are just a few examples of items that require a manual line for the labor amount needed," DEG wrote.
Share This: