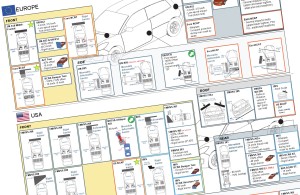 If you and your collision repair colleagues thought your repairs had to reach a high standard now, just take a look at what might be coming down the pike.
World Auto Steel on Thursday announced it had commissioned displays showing current and expected auto crash safety tests in the U.S., Europe, and other countries around the world.
Such tests if officially launched would likely stimulate even greater advances in vehicle design — if they haven't already. That means auto body shops will probably have to contend with even more high-strength steel, aluminum, magnesium and carbon fiber as well as advanced safety systems built into the cars.
Possible future U.S. tests could include a National Highway Traffic Safety Administration oblique crash into a moveable, deformable barrier — such as another vehicle — at nearly 56 mph, according to the chart. They also could include a truly head-on New Car Assessment Program crash into a rigid barrier with a 50th-percentile-weight and 5th percentile dummy inside at nearly 35 mph.
Future European tests could include frontal-offset crashes into a deformable barrier on the driver's side of the car, collisions with a surface the width of the front of the car and a side-impact strike of a pole at a 75-degree angle with the driver's side of the car. (And if it's happening on cars in Europe, it could just be a matter of time before it comes to the U.S.)
Finally, OEMs designing for Australia might have to face an offset deformable barrier crash to the front driver's side of the car, perpendicular and 75-degree side-impact hits by poles as well as a perpendicular strike by a moveable deformable barrier on the driver's side and better whiplash and pedestrian protection.
Click on the image to download a free copy from World Auto Steel and see more about the different tests. The chart also features Asian countries.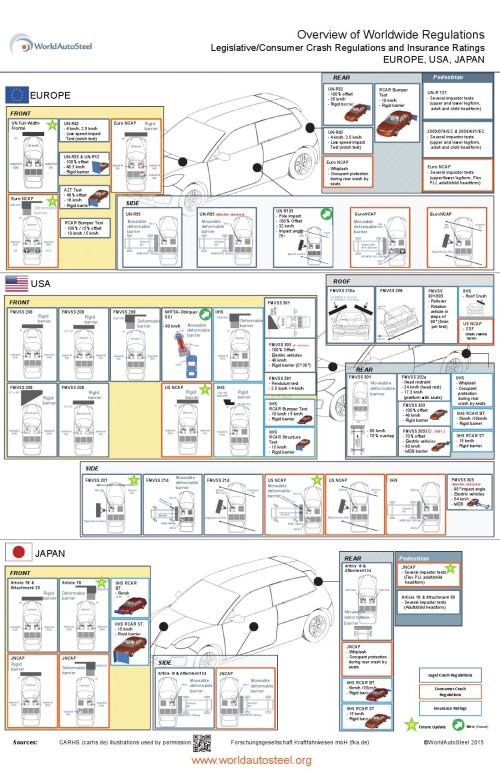 More information:
"Free Illustrated Posters of Worldwide Crash Regulations"
World Auto Steel, July 23, 2015
Featured images: World Auto Steel on Thursday announced it had commissioned displays showing current and expected auto crash safety tests in the U.S., Europe, and other countries around the world. (Provided by World Auto Steel)
Share This: