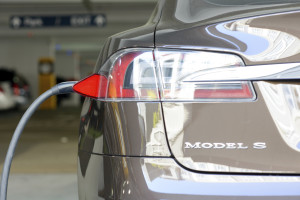 A Solera executive said Monday that Tesla is requiring certified shops to use AudaExplore or Audatex, which now are equipped with all the Model S repair procedure labor times.
Solera Global Automotive Center OEM relations Vice President Gary Gumushian also said Monday the estimating services would be updated with all the OEM collision repair procedures for the Model X ahead of its formal launch. That date is still unknown.
"X is on track for first deliveries in two months and Model 3 in just over two years," Tesla CEO Elon Musk wrote July 17. Tesla's website also indicates new reservations won't be filled until early 2016.
All variations of the Model S will be included, according to Gumushian. "We have the complete model," he said.
Any AudaExplore or Audatex user will be able to see the repair procedures, but Tesla won't sell structural collision parts to anyone who isn't certified.
---
More estimating service RDN coverage
---
Gumushian said that Tesla had told its certified shops and those in the process of being certified that they would have to use the Solera estimating systems for Tesla repairs. He said AudaExplore and Audatex will have the Tesla procedures exclusively, but he wouldn't reveal the length of that contract.
"We're the sole choice," Gumushian said.
The AudaExplore-Tesla integration, announced Monday and expected to begin in the next few weeks, will "provide some consistency in the repair time" and keep a high repair standard, according to Gumushian.
He said Solera was picked because of its global reach; Tesla will be rolling out the integration not only in North America but Europe and China.
"Our folks are on the ground in those countries," Gumushian said. With support for more than 70 countries, he said, "we have the bandwith to do this."
Gumushian estimated that Tesla had certified nearly 100 shops as of last month to do repairs on the aluminum "rolling battery" of a car, but that was likely to double by the end of 2016. Europe's 30-40 shops would "probably triple," and"there's a huge network of shops now" certified for China, he said.
Tesla and Solera are also partnering to deliver customer notifications through Solera's AutoWatch, and Gumushian pointed out such an integration supports Tesla's devotion to customer service.
Tesla will also provide service bulletins through Solera's products, and updates to Tesla repair procedures could be delivered more or less automatically, according to Gumushian.
"That's kind of like a seamless process for us," he said.
Gumushian couldn't reveal if any similar programs were in the works for other luxury automakers.
"We have a lot of things in motion," he said.
More information:
"Tesla Motors Selects Solera as the Sole Provider of Collision and Customer Communication Services"
Solera, Aug. 3, 2015
Share This: