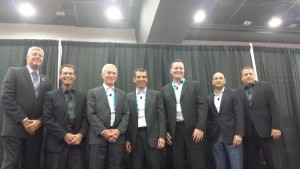 Other OEMs will likely shift to real-time pricing too, estimating service representatives said last month during a panel on General Motors' MyPriceLink program.
"I think it's a trend that will continue," CCC business development Vice President Jim Kinsherf said during the Aug. 24 NACE forum.
"The industry is definitely ready for this type of change," he said.
For GM, the benefit was obvious: "We want to be considered and sell more parts,"  GM wholesale dealer channel general director Kris Mayer said.
Mitchell auto physical damage Executive Vice President Jesse Herrera called real-time pricing the "very natural, next evolution" of the parts sales process.
"We fully expect something along these lines to continue" with the other automakers, he said.
Bill Lopez of OEConnection, a Ford-GM joint venture which offers parts for other automakers, predicted "most OEMs will follow," whether as a "complimentary" or "in lieu of" pricing strategy.
"They're watching very closely," said Lopez, vice president of OEM relations for the company.
Solera Global Automotive Center OEM relations Vice President Gary Gumushian noted that AudaExplore was designed to allow other OEMs to follow suit. In this vein, Mayer observed that GM made the decision to partner with OEConnection on MyPriceLink so the method of delivering such prices could be "agnostic" for other OEMs and better for shops.
"We built it with that in mind," Mayer said.
OEconnection that week had announced it would offer Volvo parts, according to Lopez, and "We have one more coming on here pretty soon."
How it works
Customers will get the new MyPriceLink quotes while producing an estimate in CCC, Mitchell or AudaExplore — there's no need to check another source for the price.
"It works as it does today," GM wholesale dealer channel manager John Eck said. A repairer writes an estimate, and the GM MyPriceLink price appears, just as the OEM price does now.
"It's as simple as that," he said, and the IP representatives seemed to agree.
Price changes could still occur in the time between an incomplete estimate and a customer's return a few days later to buy the part, according to Bill Lopez of OEConnection.
"They won't go away," Lopez said. "They'll still exist."
However, the new system doesn't mean that GM will be slashing prices left and right in real time. Certain parts will be strategically picked, Mayer said, just as GM does with the Conquest program today.
And in practice, the system won't be behaving like a stock market, flutuating wildly by the second. There'll still be a lag, he said, just not to the degree seen today.
"We don't change prices that often anyways," he said.
What's in it for me?
For collision repairers, the kind of seamless integration being described (and currently being tested in Denver with an eye towards a launch later this year) could at worst mean business as usual.
But besides the potential to use more OEM parts thanks to more competitive GM pricing, auto body shops should also see an efficiency boom, according to Mayer.
"They shouldn't have to spend a lot of time administratively to get a price," he said.
Right now, repairers must contend with GM taking 30-90 days to change a price and the hassles of its Bump the Competition system, which sees GM "spend a lot of time disrupting our shops and our dealers," Mayer said.
"We just want to be easier to do business with," he said.
The real MyPriceLink impact from a workflow standpoint will fall upon dealerships, according to the panel.
"They really see the strategy, and they like the strategy," Lopez said. But "anxiety" remained over the workflow, he said.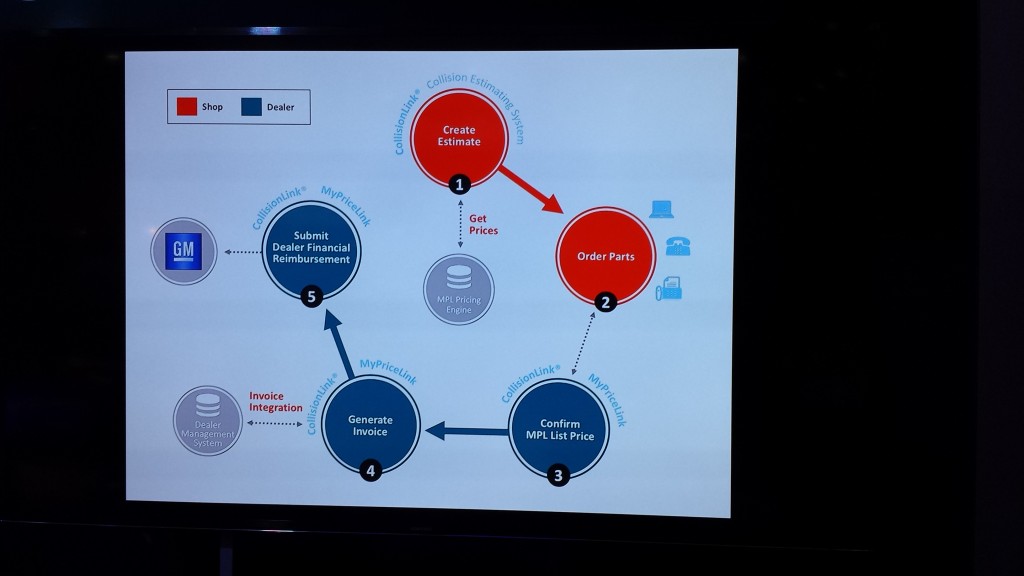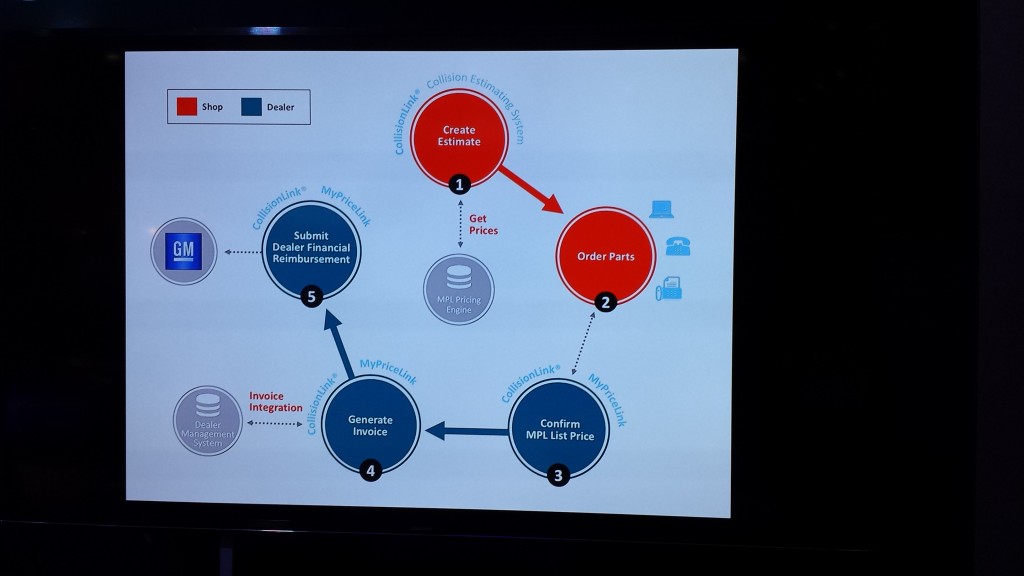 "The dealers will have a little bit more added steps" Mayer said. The price of a part will now appear as $0, and a dealership must look up the actual cost by VIN or quote identification.
Lopez urged shops with questions to contact their estimating service provider, and dealers with inquiries should contact OEConnection.
Images:
Members of the MyPriceLink panel and moderator Dan Risley, President of the Automotive Service Association, pose Aug. 24, 2015, at NACE. (John Huetter/Repairer Driven News)
Auto body shops should also see efficiency gains with MyPriceLink, according to General Motors. But dealers will see a workflow increase, as this diagram from the GM booth at NACE indicates. (John Huetter/Repairer Driven News)
Share This: