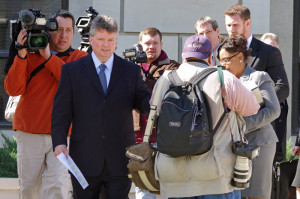 Mississippi Attorney General Jim Hood has sought meetings with the nation's largest insurers as part of an investigation into allegations that insurers are misleading on repair warranties and pressuring shops into inadequate work, letters provided by Hood's office indicate.
"For several months, our office has received reports of allegations that insurance companies are participating in a deliberate system to direct automobile policyholders to selected repair shops, a system which results in direct and significant harm to consumers," Hood wrote to 11 insurers and one insurer's lawyer (see letters).
Hood, a Democrat, said the "apparent scheme" includes the statement that "insurers will 'warrant' repairs made by selected repair shops only, when in reality the insurer relies solely on the repair shop's warranty."
He also said his agency had received information that "shops have been pressured to make inadequate or incomplete repairs to retain the insurer's business," and it also was concerned that insurers "may be acting to restrain and control automobile repair labor rates."
Hood requested meetings with USAA, GEICO, Butler Snow (State Farm's attorney), Alfa, Nationwide, Mississippi Farm Bureau, Progressive, Safeco, Allstate, Shelter, Travelers and Direct General.
"In early July, Attorney General Hood requested a meeting with State Farm and we immediately notified him that we would meet with him as his schedule allowed," State Farm spokesman Justin Tomczak first wrote the Mississippi Business Journal on Tuesday, sharing a copy of the statement with Repairer Driven News on Friday.
"Attorney General Hood's office recently offered two dates for such a meeting and we are in the midst of finalizing arrangements."
Collision repairers in more than a dozen states, including Mississippi, have accused insurers of the same things in lawsuits currently being heard in the Middle District of Florida.
State Farm — the nation's No. 1 auto insurer and a defendant in most, if not all, of these cases — has in the past said regarding such allegations.
The allegations in the lawsuit are not in line with State Farm's mission to serve the needs of its customers, and our long, proud history of achievements in advancing vehicle safety.  …
Our customers choose where their vehicles are going to be repaired.  We provide information about our Select Service program while at the same time making it clear they can select which shop will do the work.
A vibrant, profitable auto collision repair industry is in the interest of State Farm.  At the same time, we are advocates on behalf of our customers for reasonable repair costs.  We believe repairer profitability and quality auto repairs that are reasonably priced can both be achieved. 
More information:
"Updated: Hood begins inquiry into possible 'steering' practices by insurance companies"
Democratic Mississippi Attorney General Jim Hood is seen in this undated photo. (Provided by Mississippi Attorney General's Office)
Share This: