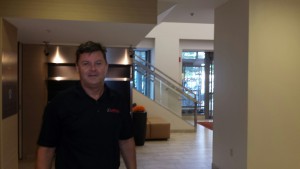 CARSTAR collision repairers will continue "business as usual" despite the company's acquisition Wednesday by the parent of its competitor MAACO, CEO David Byers said Thursday.
"Nothing's changing," said Byers, who will remain CEO of what he stressed would be a largely independent, "wholly owned subsidiary" of buyer Driven Brands.
"We get to continue to operate as an independent brand," he said.
In fact, Byers said, there's "real upside potential" for CARSTAR franchisees thanks to the best practices CARSTAR can learn from the other Roark Capital brands — including from unrelated industries like restaurants — and the kind of buying power CARSTAR repairers will have with orders.
"We're getting the access to a lot of additional resources … that we wouldn't have otherwise," Byers said.
CARSTAR already has 450 locations in the U.S. and Canada, and MAACO has 490. Joining Driven could create a partnership "unmatched in the collision repair space," according to Byers.
The deal fully closed Wednesday and was announced Thursday, so the companies didn't know yet what kind of savings CARSTAR and MAACO shops would see from vendors, according to Byers.
"That will definitely be one of the things on our list to do," he said.
The company will be placed in a new Paint & Collision division alongside MAACO and Drive N Style and led by MAACO President Jose Costa (of 2015 "Undercover Boss" fame) It's unclear why this division wouldn't include Aero-Colours, which is similar to Drive N Style.
Reason for sale
CARSTAR, owned by Champlain Capital, was doing quite well on its own. The company reports year-over-year sales growth of 8.3 percent for its franchises so far this year (compared to same-store growth of 4.3 percent industrywide) and overall sales of $386 million from January-June, which puts it on track to beat a record 2014.
It also recently rose to No. 106 from No. 112 on Franchise Times' 2015 Top 200 list, while MAACO only rose to No. 148 from No. 149. (McDonald's remained No. 1, in case you were wondering.) And late last month, St. Peters, Mo.-based CARSTAR Jungerman was named Franchisee of the Year by the International Franchise Association.
So why sell?
"We've got a lot of growth initiatives on our plate," Byers said, explaining the rationale. Joining Driven Brands — and the larger, $19 billion Roark empire gives CARSTAR resources it "never had before."
Plus, as he observed, the CARSTAR deal was a transaction between two private equity groups, and that's what those kind of companies do.
"It was no great surprise," Byers said, calling the transaction done at "about the right time."
Byers said the talks between Champlain and Roark had been going on for "a few months." The sale comes less than a year after Driven Brands itself was sold.
He wouldn't disclose the sale amount, but confirmed franchisees won't get a percentage of the sale.
"This was a transaction among two privately held entities," he said.
Competition and DRPs
Asked what would happen if a MAACO and CARSTAR occupied the same territory, Byers was unconcerned.
"There is more than enough work to go around in the collision repair space," he said. Rather than focus on such theoretical downsides, the deal should be seen as an "upside opportunity," he said.
Both MAACO and CARSTAR both prominently emphasize their relationships with insurers online. However, franchisees in either company won't automatically be added to the other's direct repair programs; such deals will have to be negotiated by the separate entities.
Asked who gets top billing on the preferred list at an insurer call center, Byers said he thought CARSTAR's excellent key performance indicators would still win out.
Franchise terms
The deal was so new that he hadn't heard much feedback yet from franchisees, including recently contracted collision repairers presumably surprised that they'd just become sister companies with MAACO.
Byers wouldn't disclose CARSTAR's franchise terms, but said the sale won't affect current franchisees or those looking to join CARSTAR.
"Our franchise terms will not change," he said.
As for CARSTAR's new collision repair family:
MAACO franchisees must put up a minimum of $296,500, including what appears to be $140,000 in cash. Shops must also pay 8 percent of the gross back to MAACO. The franchise deal runs 15 years, renewable in five-year blocks.
Becoming a Drive N Style owner usually costs less than $85,000, according to the company. It includes exclusivity for 40 dealerships, a down payment and some monthly payments for two vans, supplies and products, operating capital and other items. The company didn't publicly disclose the percentage of gross owners must pay.
Aero-Colours franchisees usually get an exclusive turf of about 70 dealerships for $25,000, but territory fees can run between $10,000-$125,000. Other expenses include a $15,000 capital reserve and $14,000 in van-related costs. The entire startup fee runs between $49,000-$174,000 for franchisees with a net worth of $50,000. The company also takes 7 percent of the owner's gross.
CARSTAR CEO David Byers poses in the lobby of the Courtyard by Marriott in Grand Rapids, Mich., on June 24, 2015. (John Huetter/Repairer Driven News)
Share This: