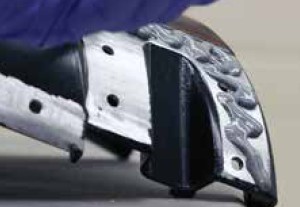 Calling them "a central part" of most of its vehicles since the 2015 model year, General Motors on Monday highlighted impact resistant structural adhesives for collision repairers.
Basically, GM is gluing cars together, and that's how you're going to fix parts of them, too. If you're unfamiliar with the technology, check out the Monday GM Repair Insights post, which also demonstrates a sample repair using adhesive. (Of course, when doing an actual repair, you'll want to double-check with the adhesive and auto OEMs for what needs to be done in that specific fix.)
Structural adhesives provide several benefits to OEMs. They're lighter than welds, but can be used over a wider surface area for even stronger joining. (A BMW i3 webinar we covered memorably described the difficult analysts had disassembling the vehicle.) You can glue dissimilar materials like steel, aluminum and carbon fiber to each other, and you avoid the heat application that's disastrous to ultra-high-strength steels.
---
Learn more about joining at SEMA Repairer Driven Education
Those wanting to learn more about advanced joining should check out "Aluminum Damage Analysis and Joining Methods" with Larry Montanez of P&L Consultants, "Removing, Replacing and Joining Advanced Materials" with Dave Gruskos of Reliable Automotive Equipment, "Welding Technologies – A Comprehensive Tutorial on Modern Equipment" with Toby Chess of SCRS, "Structural Adhesive Bonding: The New Frontier" with Shawn Collins of 3M" and "Advanced Automotive Technology" at the OEM Technology Summit. The presentations will be at this year's SEMA Show as part of the Society of Collision Repair Specialists' Repairer Driven Education series. Register here.
---
Also, the ride's better — and not just because the car's lighter.
"A stiffer vehicle chassis also cuts noise and provides a noticeably improved ride," the automaker wrote. "These adhesives do not become brittle, nor do they lose strength over time."
In fact, GM testers once drove two new Cadillac ATSs, one with and one without the new adhesives, according to the GM Insights piece.
"The testing crew reported that the difference in ride quality was comparable to the variation between a luxury automobile and an entry-level compact," GM wrote.
GM wrote that engineers have swapped out many of the usual sealers and adhesives with the new impact-resistant glues, but look for them too in places which in past models had never received any adhesives. Here's some examples from 3M, and GM elaborates for its models in the Insights piece.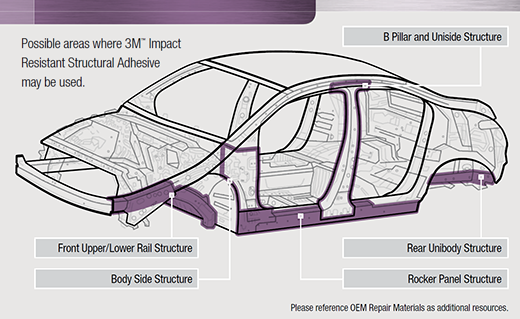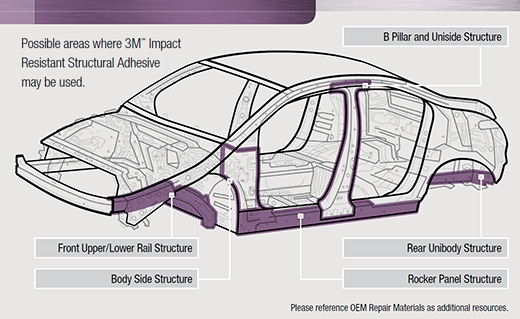 Big caveat — impact resistant structural adhesives are not body filler or typical panel bonding agents — and you don't want to get that wrong.
"A repairer should NOT substitute a regular "Panel Bonding" adhesive in place of an Impact Resistant adhesive during repair," 3M OEM and collision repair business development manager Jason J. Scharton wrote in an email to Repairer Driven News.
Coloring might keep repairers from getting confused — though you should always check with the OEM's data first, wrote Scharton, whose company makes the 3M 7333 Impact-Resistant Structural Adhesive GM says can be used in some repairs.
Typically, Scharton wrote, impact-resistant adhesives are purple or red.
"If a repairer sees that color, they should be thinking Impact Resistant," he wrote. For example, the 7333 is silver when applied but cures purple.
GM wrote that repairers might also find themselves using Ashland Pliogrip 5770 and LORD Fusor 2098. It's created General Specification GMW16252 to test adhesives for aftermarket use.
GM also stressed that each of the impact-resistant adhesives must be replaced with the same type of epoxy.
"If another adhesive is substituted, the vehicle will not be returned to pre-accident condition," GM wrote. "Safety could be compromised and a drop-off in driveability will be apparent."
GM used impact-resistant adhesives before the 2015 model year in some cases, Scharton noted, going back as far as the 2012 Cadillac ATS and Chevrolet Volt. (Subsequent ATS and Volt model years also have the epoxies.)
The Cadillac CTS and Chevrolet Corvette, Impala and Malibu have used the adhesives since the 2013 model year, and full-size GM trucks and SUVs incorporated them starting with the 2014 model year.
"Super Strong Adhesives Redefine How GM Vehicles are Designed and Repaired"
GM Repair Insights, Oct. 19, 2015
Images:
This image shows a 3M impact-resistant structural adhesive applied to an automotive part. (Provided by 3M)
Some potential locations for impact-resistant structural adhesive, according to 3M (Provided by 3M)
Share This: