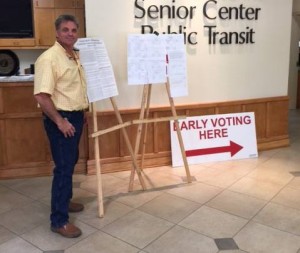 OMV mailings could aid La. insurance commissioner challengers, including body shop owner
By on
Insurance | Legal
An insurance commissioner race featuring Louisiana body shop owner Matt Parker will be narrowed down Saturday, and the challengers might be aided by an recent insurance-related Office of Motor Vehicles decision.
Incumbent Republican Commissioner Jim Donelon's opponents include Parker, owner of Parker Auto Body in Monroe, La., and Democratic attorneys Donald Hodge and Charlotte McGehee, both of whom own their own practices.
As the New Orleans Times-Picayune wrote Thursday, the Louisiana OMV on Oct. 13 sent 1.2 million letters to drivers whose insurance had lapsed — costing the state $444 million in fines — saying pay up or go to a collections agency.
"Many of those affected say they followed the law, but have letters that address car sales or transfers that happened years ago and for which precise documentation could be hard to track down," the newspaper reported. "The oldest claim goes back to 1986."
It also interviewed a Kentucky resident who said he received a letter even though he hadn't lived in Louisiana since 2007. However, while he questioned the scope of the mailings, "I don't blame them for trying to get their money back," he told the newspaper.
With his primary re-election vote two days away and hundreds of thousands of potential voters hacked off by an insurance-related issue not actually his agency's call, Donelon blasted the mailings Thursday.
The news release blames the OMV and in a nice spiteful touch, encourages citizens to call Republican Gov. Bobby Jindal's office.
"These notices are an attempt by the Jindal administration to plug a hole in the state's budget." Donelon said in a statement.
"Yes, we want all drivers to be insured because when more drivers are insured, auto insurance rates can go down," he continued. "But the way that this has been handled is fundamentally unfair. For years the state has failed to collect fines. Now, years later, the average citizen likely does not have the documents to prove that they had insurance one way or the other. No one keeps proof of insurance from a decade ago …  And why should any of us assume that the (state) records are accurate and correct?"
Jindal shot back at Donelon, according to another Thursday Times-Picayune article, saying in a statement:
"The reported lapses in insurance the OMV is making an effort to address is the result of insurance companies, regulated by the Department of Insurance, reporting information directly to the OMV. If the accuracy of the information is in question, Commissioner Donelon has the responsibility to ensure insurance companies are properly reporting this information."
Hodge, McGehee and Hodge have been pointing to the topic on social media.
"1.2 million people affected by the OMV letter demanding payment to continue to drive and the Commissioner of Insurance is playing the blame game with Bobby Jindal? Time for change," McGehee wrote on her Facebook campaign page.
Hodge pointed to some commentary in Louisiana Voice: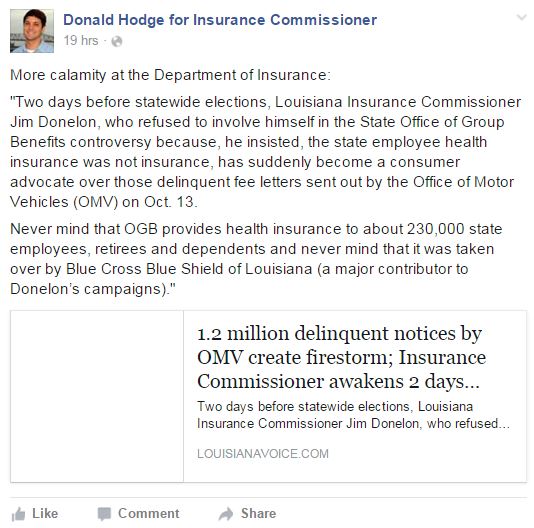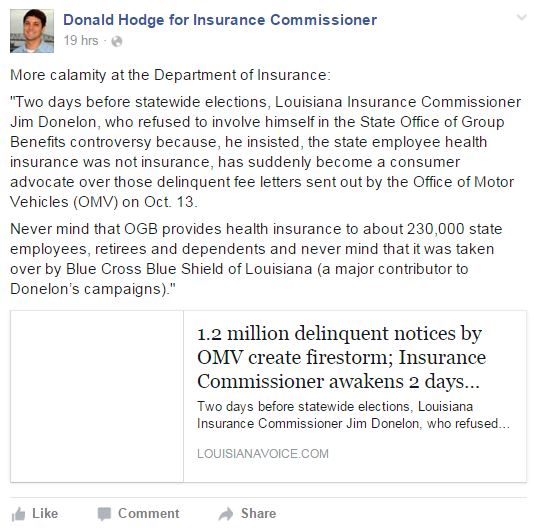 Parker linked to the same article but didn't excerpt anything from it.
New Orleans has an open primary, which means the top two vote recipients advance to the general election regardless of party. Parker has postulated a scenario where Hodges and McGehee split 30-35 percent of the vote and he and Donelon advance.
Also on Facebook this month, Parker posted an open letter to voters citing his body shop experience.
"I believe I am very qualified to be our Insurance Commissioner," he wrote. "I have owned a auto collision repair business for over 30 yrs and worked with insurance companies on a daily basis on behalf of my customers. I built my company from a small two man shop to the successful business it is today. I did this with good leadership & management skills, efficiency, honesty, integrity, fairness, faith in God, and a lot of hard work. These are the skills I believe are needed to serve as Louisiana's next Insurance Commissioner. The people of our state have suffered too long with high rates and unfair claims practices. I will work with the insurance industry but not for them. I am a candidate for the PEOPLE and if I am blessed with the opportunity to serve as Louisiana's next Insurance Commissioner, I will do everything in my power to bring fair rates & practices to our citizens."
The election is Saturday — which seems either convenient or insane from a voter turnout perspective depending on what SEC games are on that day. Polls are open from 7 a.m. to 8 p.m.; if you're in line by 8 p.m., you'll get in.
More information:
"Louisiana Office of Motor Vehicles extends hours to handle lapsed insurance letter backlash"
New Orleans Times-Picayune, Oct. 22, 2015
"Insurance Commissioner Donelon Denounces 'Notices of Delinquent Debt' Issued by Office of Motor Vehicles"
Louisiana Department of Insurance, Oct. 22, 2015
"Jim Donelon blasts Bobby Jindal over OMV insurance fines"
New Orleans Times-Picayune, Oct. 22, 2015
Images:
Parker Auto Body owner Matt Parker, a Republican, poses at an early voting location. (Provided by Parker campaign)
A Facebook post by Democratic candidate Donald Hodges is shown. (Screenshot from www.facebook.com/DonaldHodgeCommissioner)
Share This: