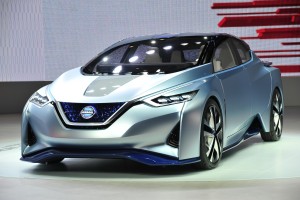 Nissan's electric IDS Concept vehicle — which the company calls "a promise" — has a "full-carbon-fiber body," hollow A-pillars for better visibility, and steers itself, the OEM announced Tuesday in a news release.
The steering wheel, which also rotates to reveal a tablet, has handles evocative of an arcade-game steering device which Nissan says are inspired by reins. That's kind of a funny thing to brag about in something meant to be the car of 2020, but it looks functional and not too gimmicky.
The IDS can steer itself, but you're welcome to take over. A video shows a driver tooling around curvy roads and getting respect from bikers.
"The linear acceleration and cornering are pure and exhilarating," Nissan writes in a news release.
Obviously, this is a concept car, not something rolling off the assembly line for the 2017 model year. But the IDS feels more near-future than pie-in-the-sky when you consider the BMW 7 Series cars are mass-produced carbon-fiber sedans, Tesla's got solid electric range and Volvo wants to end all crashes by 2020.
---
New OEM technologies at SEMA Repairer Driven Education
"By the time Nissan Intelligent Driving technology is available on production cars, EVs will be able to go great distances on a single charge," Nissan design director Mitsunori Morita said in a statement. "Getting to this point will, of course, require the further evolution of batteries, but aerodynamic performance is also very important. We incorporated our most advanced aerodynamic technology in the design of the Nissan IDS Concept."
One interesting external feature (which would likely be a costly repair bill if battered in a crash or scraped in a parking lot) involves a network of lights and displays telling pedestrians what the IDS is planning to do — the next generation of turn signals.
"The car's side body line, for example, is actually an LED that Nissan calls the Intention Indicator," Nissan wrote. "When pedestrians or cyclists are nearby, the strip shines white, signaling that the car is aware of them. Another electronic display, which faces outside from the instrument panel, can flash messages such as 'After you' to pedestrians. This natural, harmonious system of communication signals a new future with cars."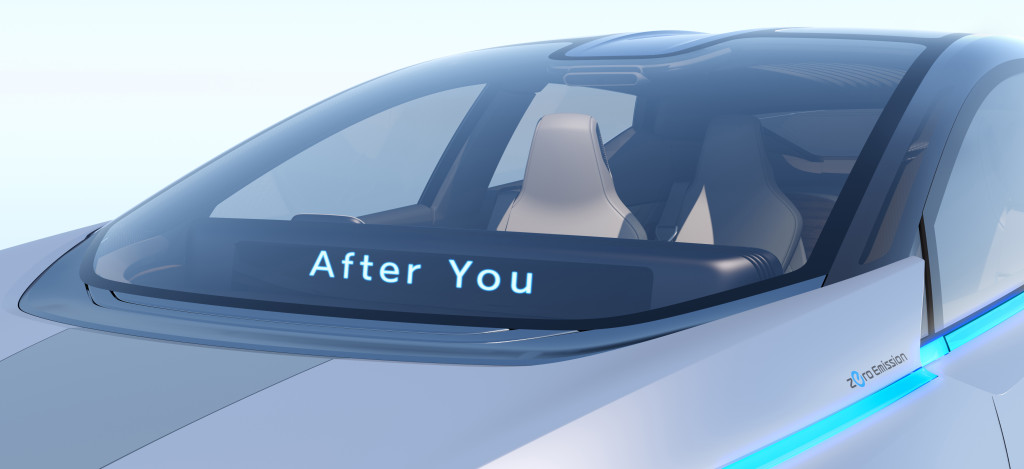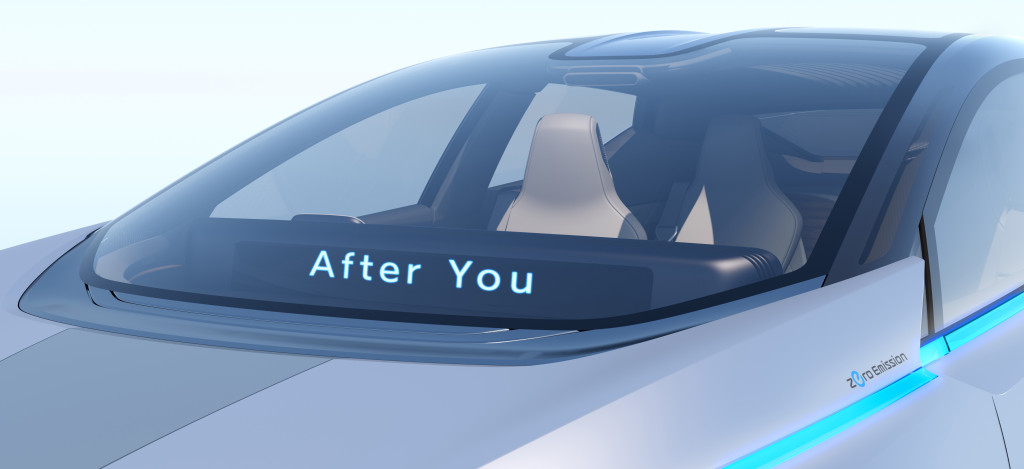 "Nissan IDS Concept: Nissan's vision for the future of EVs and autonomous driving"
Nissan, Oct. 27, 2015
Images:
Nissan's electric IDS Concept vehicle — which the company calls "a promise" — has a "full-carbon-fiber body," hollow A-pillars for better visibility, and steers itself, the OEM announced Tuesday in a news release. (Provided by Nissan)
One interesting external feature on the Nissan IDS (which would likely be a costly repair bill if battered in a crash or scraped in a parking lot) involves a network of lights and displays telling pedestrians what the IDS is planning to do — the next generation of turn signals. (Provided by Nissan)
Share This: