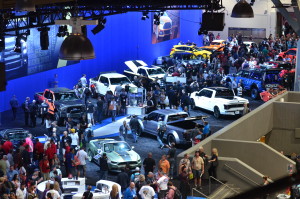 With SEMA 2015 fast approaching Tuesday — and some events even start Monday — the Specialty Market Equipment Association offered a few last-minute tips worth reviewing for attendees and buyers in the latest SEMA News.
"This year's SEMA Show will have the most industry support that we've ever had in the event's 49-year history," Director Tom Gattuso said in a November edition. "What that means to buyers is more new products, more innovation and more ways for them to improve their businesses in the coming year and beyond. In fact, what you do in four days in Las Vegas really can help you chart your business course for the next four years."
New Products Showcase
The New Products Showcase has been moved to the bridge between the Central and South Halls in the western Las Vegas Convention Center and granted extended hours, SEMA noted.
SEMA also pointed to the Featured Product section of the Showcase, which also includes older "high-volume, innovative products that would be of keen interest to the industry," according to SEMA News.
Buyers can use SEMA Show scanners and the updated SEMA app to make a shopping list. Christmas is coming up, after all.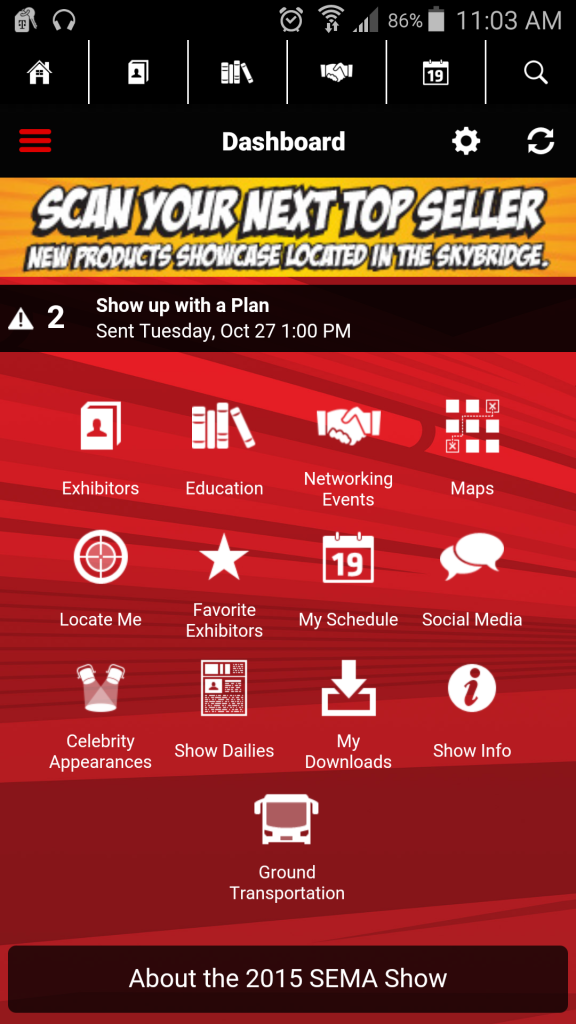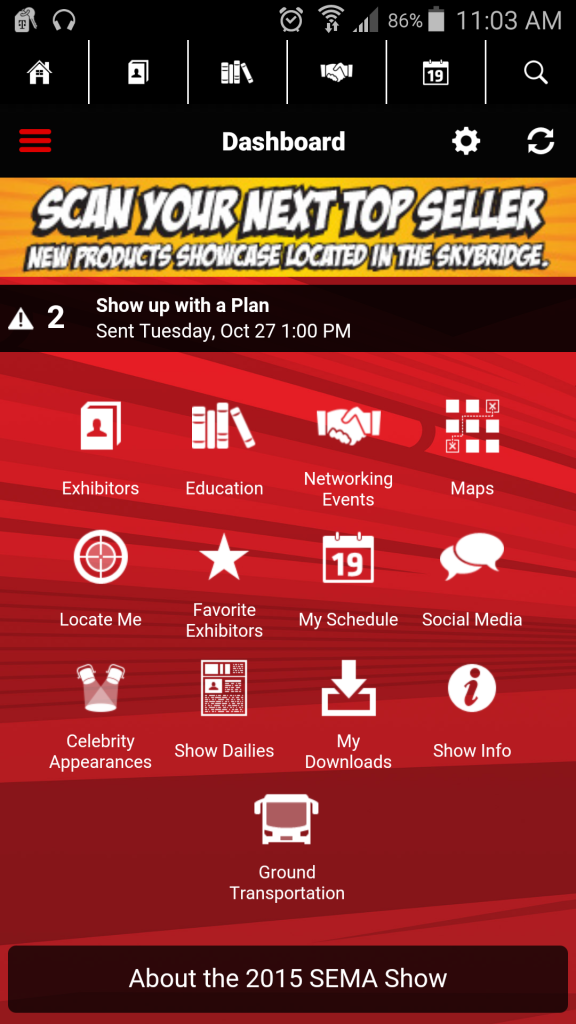 The app
The SEMA Show app's 2015 update (get it here) retains features like turn-by-turn directions and current exhibitors but adds the product-scanning capability.
"The mobile app's scanning ability empowers users to build a product list that meets their specific needs," said SEMA events and communications Vice President Peter MacGillivray said in a statement. "Users control what products are included on their list, and they have complete ownership of that list. It's great for identifying what booths to visit, and it helps with post-Show follow up."
Other 2015 Show app features include:
Custom exhibitor bookmarks and mapping of the most efficient route to see them all.
Create a schedule of events to attend and rate them. (Repairer Driven Education is a good starting point. Just saying.)
Amid a sea of vehicles, find where the actual shuttles back to your hotels are located.
Get SEMA Social Media updates.
---
More SEMA 2015 coverage
---
New: Performance Pavilion
An area south of the Las Vegas Convention Center will host the debut of the Performance Pavilion, one of four locations intended to spotlight some of the 500 new manufacturers this year at SEMA, according to SEMA News.
Other expansion zones include the upper level of South Hall, Grand Lobby meeting rooms (Rooms N100-N120) and the Westgate Pavilion in the Las Vegas Westgate, according to the publication.
Education
SEMA News encouraged attendees to take advantage of one of the educational options, including 50 free sessions, which run Monday through Friday. Details: www.SEMAShow.com/education.
"Throughout Show week, buyers will find a huge roster of educational seminars and learning events geared toward every segment of the industry," SEMA education director Zane Clark told SEMA News. "Our focus in creating these presentations is to help arm industry professionals with the tools and resources to foster career advancement and business growth. We're especially proud of the wide-ranging program we've put together for 2015, along with the leading experts we've gathered to deliver our education tracks."
SEMA News also gave a plug to the Society of Collision Repair Specialists' OEM Collision Repair Technology Summit, part of the Nov. 3-6 Repairer Driven Education series.
---
SCRS Repairer Driven Education
Besides the OEM Collision Repair Technology Summit, the Society of Collision Repair Specialists also offers the Repairer Driven Education Series, which draws thousands to its sessions on automotive technology and best business practices during SEMA. Register online now, at the SEMA registration area at the Westgate Las Vegas or outside the RDE venue of Rooms N231-N241 at the Las Vegas Convention Center North Hall. More information available here.
---
Don't leave early
Trade shows can be notorious for members clearing out early, but SEMA News cautioned that "smart buyers" know to stay through the end of Friday.
"We're seeing buyers stay longer and take advantage of every opportunity to connect with exhibitors at the SEMA Show," MacGillivray told SEMA News. "These are buyers who are focused on getting the most out of the SEMA Show and, in fact, we know that buyers who are at the Show for the entire duration tend to be more successful than those who come for just one day."
"Our exhibitors are here and ready to meet buyers. It's not a throw-away day."
He also told the publication that half of the 60,000 buyers stay for Friday, and all exhibitors are slated to stay until 4 p.m.
The Repairer Driven Education Series will also run through Friday. The lineup includes:
11:45-12:15 p.m. (Free)
12:30-2:30 p.m.
We'd also remind attendees that Friday is the deadline to enter the SCRS $11,000 rivet gun SEMA giveway.
The XPress 800 pneumatic-hydraulic universal rivet gun, provided by Reliable Automotive Equipment, was already sanctioned by Tesla and Mercedes for work on their vehicles. Now, it's one of the first — if not the first — rivet guns approved for the mixed-materials Cadillac CT6, which will require shop certification to work on the car.
SEMA News, November 2015
"New SEMA Show Mobile App Includes Ability to Create Custom Product Lists"
Specialty Equipment Market Association, Sept. 18, 2015
Images:
Ford at the 2014 SEMA Show. (Provided by Specialty Equipment Market Association)
There's an official SEMA app designed to enhance the experience for attendees. (Screenshot from SEMA Show app)
Share This: