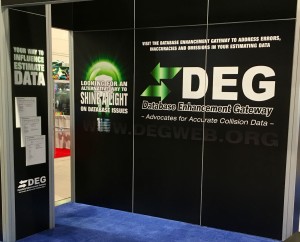 The Database Enhancement Gateway, which allows repairers to make inquiries and suggestions of the Big 3 estimating providers, has been augmented this year to provide weekly tips for repairers on the AudaExplore, Mitchell and CCC programs.
If you haven't used the service before to answer questions about estimating collision repair work or just browse responses to other shops' questions, check it out. It's a valuable resource akin to I-CAR's Repairability Technical Support Portal, but focused on teaching repairers and insurers database usage best practices instead of OEM best practices.
Here's some recent areas spotlighted as tip-worthy by DEG; we round them up periodically for our readers. To receive the tips as soon as DEG releases them, like/follow DEG's Facebook and Twitter feeds.
Feather, prime and block
All three estimating systems recognize the concept of feather, prime and block, though only AudaExplore offers a field in which to input it. For the other two, the process is a non-included procedure.
"Prime and Block is a refinish operation and is not included in any labor operation," CCC wrote to a query about a 2002 Toyota Corolla.
"THE LABOR AND MATERIALS ASSOCIATED WITH FEATHER, PRIME AND BLOCK MAY VARY DEPENDING UPON THE SIZE OF THE REPAIR AREA, AND SHOULD BE EVALUATED WHEN DETERMINING THE WORK TO BE PERFORMED," Mitchell wrote to a query about a 2009 BMW 335i.
Though AudaExplore offers fields for feather, prime and block, it doesn't provide value estimates. The company explained to a user asking about a 2011 Ford F-150 that the projections for paint and materials and labor time are in the shop's hands.
"To date, AudaExplore has not assigned a percentage of repair time to apply to FPB, as repair time is a user-entered, judgment value," it wrote. "Therefore, FPB is also a user-entered value. FPB is recognized as a refinish operation and is so denoted within the body of the estimate. As FPB consumes paint materials, there is a calculation provided for FPB. This, too, is a user-assigned, user-defined value. AudaExplore leaves the value for Paint and materials and FPB, as well as the definition of the materials included to the user to determine."
The DEG encouraged users to set up their AudaExplore profile to calculate materials.
Aluminum rates in CCC
CCC said in June it wouldn't incorporate the new CIECA aluminum labor rate codes, but it does allow repairers and insurers to create new rate categories manually.
Here's how to do it:
Go to your profile: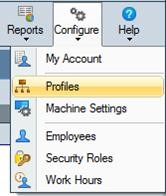 Pick a profile, then navigate to Estimating, then Rates, then Labor.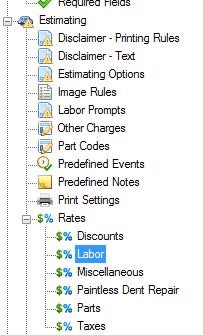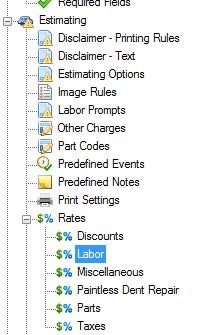 Select "Add Charge Category."
Enter a category name and aluminum labor rate. Take note of the code number.
"Once the rate category is in the system you can add it to a repair or replace line by clicking the box next to the labor amount and inputting the code # for the new aluminum rate," the DEG wrote.
Also, check out these videos for more "how-to" related to aluminum repair estimating:
Bleeding coolant
"After the replacement of a coolant component it may be necessary to remove the air from the system, or 'bleed' the system," the DEG wrote. "This process may require opening a valve to remove the air, similar to a brake caliper, but can require more complex procedures of attaching a vacuum machine and/or following more detailed OEM-specific instructions."
Neither Mitchell nor AudaExplore treat bleeding coolant as an included procedure.
"Both of these items are listed as not included operations in Section 4-3 Radiator Replacement and Recycled operations of the Database Reference Manual," AudaExplore wrote to a user asking about a 2006 Honda Civic. "They may be added as need to any estimate as manual entries."
CCC includes bleeding coolant within the labor time on the part itself. The DEG encouraged users who call the time insufficient to submit an inquiry, and the DEG would bring it up with CCC.
"If you are replacing a coolant part in CCC and do not think the time is adequate to replace the part AND bleed the coolant system you can submit an inquiry to the DEG and we will address the labor time with CCC," the DEG wrote. "Submit an inquiry by visiting the DEG website at www.degweb.org and clicking the green arrow that says Open Inquiry."
Don't overlook AudaExplore's FAQs.
The DEG urged users to read the AudaExplore Database Reference Manual's 40 FAQs (Page 176) "that you may find helpful during the estimate or repair process."
These include answers to what AudaExplore says are common inquiries like: "Why doesn't the system allow Blend on repaired panels?" and "Why is my VIN not decoding?"
Whose 0.2 hours in CCC?
A 2008 Suzuki SX4 drew a request for clarification on if the CCC's estimated 0.2 hours of labor whenever "a cover is applied and removed" should count as body or refinish labor.
The answer: It depends. CCC wrote that the 0.2-hour procedure could happen "multiple times" during a repair, an "an on-the-spot evaluation is required to determine how many times this operation should be utilized, and who should perform this operation."
The company also observed that materials and cost categories weren't part of labor time projections and must be determined by the body shop.
Images:
CCC said in June it wouldn't incorporate the new CIECA aluminum labor rate codes, but it does allow repairers and insurers to create new rate categories manually following steps shown in these screenshots. (Screenshots of CCC)
The Society of Collision Repair Specialists' 2015 SEMA booth advertises the Database Enhancement Gateway. (Provided by SCRS)
Share This: