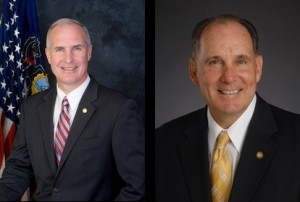 A bill allowing insurers to conduct collision damage estimates via photographs and even over the phone has slowed in the Pennsylvania House.
"Right now, the legislation is on hold," Pennsylvania Collision Trade Guild Director Steve Behrndt said Tuesday.
The loss of momentum is good news for collision repairers who'd argued the measure had been fast-tracked and denied a public hearing.
"An appraiser may prepare a repair estimate obtained by personal inspection or by photographs, videos or telephonic means," House Bill 1683 states, replacing part of Pennsylvania law which said they couldn't do any of those things.
Several other states forbid the use of photo-only insurance estimates, including neighboring Delaware. Neighboring New Jersey holds that collision repairers, who arguably have greater first-hand experience with actual repair costs and charges, would violate the state Auto Body Repair Facility act by "Making appraisals of the cost of repairing a motor vehicle which has been damaged as a result of a collision through the use of photographs, telephone calls, or any manner other than personal inspection."
It can cost a New Jersey collision repairer their license for doing so, and insurers are forbidden from using an unlicensed repairer.
"No insurer shall negotiate the settlement of any physical damage claim involving an automobile as defined at N.J.S.A. 39:13-1b with an unlicensed auto body repair facility or in any manner utilize an unlicensed facility in the adjustment, negotiation or settlement of such a claim," the New Jersey Administrative Code states. "It shall be the responsibility of the insurer to make a reasonable and diligent effort to determine whether the facility is properly licensed."
Customers or shops wouldn't required by the new law to provide photos for Pennsylvania appraisals to occur. In fact, the owner of the car must be told by the appraiser or insurer that "there is no requirement to submit photographs or videos in order to obtain an appraisal."
The bill was introduced to the Insurance Committee Oct. 20 and on Oct. 26 passed 25-1, with Republican state Rep. Thomas Murt opposed and Democratic Minority Chairman Anthony DeLuca not voting.
The bill reached the House floor Oct. 26, was tabled, taken back up Oct. 28, and kicked back that day to the committee level, this time to the Appropriations Committee.
On Monday, that committee sent it back unchanged to the House floor.
However, collision repairers' efforts made enough of an impact that the bill's supporters tabled it for fear the measure would lose, according to Behrndt.
"It looked like we were going to win," Behrndt said. "… Everybody was very, very supportive."
Behrndt said two key supporters were Murt and Stephen Barrar, a fellow Republican. We were unable to reach either Wednesday for further details.
Murt is said to have on the House floor referenced a past Society of Collision Repair Specialists damage assessment position statement.
The SCRS document argues against visual inspections and supports giving customers a disclosure stating an insurer damage assessment isn't the same as a written repair estimate or always reflective of the actual repair costs.
"We contend that only the auto body professional performing the repair is in a position to thoroughly inspect, diagnose and identify the methodology and true cost of the vehicle damage repair," SCRS wrote. "Both the auto body repair facility and the technician have the appropriate training and equipment that allow for a detailed analysis of the damage, and by requisite of the training and investment in the equipment, it is the auto body repair shop who is able to disassemble, or 'tear down' the vehicle, when applicable; thereby allowing the repair professionals to capture enough information to document a thorough written estimate of repair that reflects the true extent of the damage, and the cost to repair the vehicle's damage.
The future?
Photo estimates are problematic and carry the potential for unnecessary disputes between repairers who looked below the surface and desk adjusters who didn't. We discussed this in our prior coverage.
However, in such cases, the insurer can still at least visit the shop, see the damage concealed by the camera angle or other parts of the car, and agree that, yes, there is frame damage he or she didn't notice.
But what happens when if photo estimates from Pennsylvania are compared to photo estimates from across the country?
An American Family direct repair program senior adjuster in August floated the idea of gathering photos to get a sense of what visual damage leads to what repair times. This, he indicated in an email provided to Repairer Driven News by a third party, could be beneficial for both parties.
With our Focus Five emphasis on repairing bumper covers, I'm seeing repair times that are all over the place, and that is understandable since the focus is to increase our repair/replace ratio to compare with what we're seeing around the country.  It would be nice to have a type of standardized repair times in the industry for bumper covers – similar to what are generally accepted in sheet metal repairs, such as what a 1 hour dent looks like vs a 5 hour repair.   Since a one hour repair on a Bumper Cover doesn't look the same as a one(-hour) dent on a door, the only way I know to do this here locally is to occasionally email damage photos showing what we're seeing from other shops around the country for bumper repairs.   I guess you could call it a calibration, of sorts. …
The attempt here is not to dictate repair times, rather it's more along the lines of documentation.  AmFam has setup a system whereby your bumper/fender/hood repair times along with your repair/replace decisions are being Audited by folks from all over the country now. … Here locally, that means I would rather catch something ahead of time that might be questioned in an Audit, and address it so that it never even comes up when reviewed. …
As you can see, the attempt here is twofold.  On a national scale, we'd like to move closer to generally accepted industry standard for repair times similar to what's already out there on sheetmetal repairs.  And locally, I'd like to minimize how many of your files get questioned in the monthly audits.
There's certainly a benefit in terms of keeping insurer middle management off everyone's back here, but this also carries a huge potential for misuse by insurers whose adjusters aren't as understanding of case-by-case examples.
And what if the Pennsylvania law was rolled back even further to let a computer spit out the appraisal based on millions of past crash data examples, predicting the bill the way that actuaries predict the odds of a policyholder incurring one?
In September, Parts and People covered NACE speculation by Clint Marlow of Allstate that a mix of historic claims data and vehicle system data could eliminate some traditional appraisals.
"How many Ford F-150s hit in the left front with a certain velocity do we need to fix before we can get to a decent confidence level to predict that loss cost up front, and allow you guys to do what you do best: fix the car," Marlow said, according to the article drawing on August CRASH Network work. "There are advantages to both [shops and repairers]. It's not going to be for every car. But we think the industry is primed to move in that direction."
Repairer Driven News attempts to learn more from Allstate about the concept were unsuccessful.
Now, the estimating services all project how long a specific procedure will take. But those are at least selected by shops based on actual physical damage incurred in that actual wreck, not theoretical averages.
As we and an AzkoNobel executive have also discussed, an average severity is no guarantee of the costs of any single crash — and a specific crash would likely not fall precisely on the average data point but rather within a standard deviation or two. But will that argument fly with an adjuster adamant that "the computer said it will cost $X?"
Be heard: Pennsylvania legislator contact information can be found here.
Featured image: Republican Pennsylvania state Reps. Thomas Murt, left, and Stephen Berrar both opposed a bill allowing photo-only auto insurance appraisals. (Provided by Pennsylvania Legislature)
Share This: