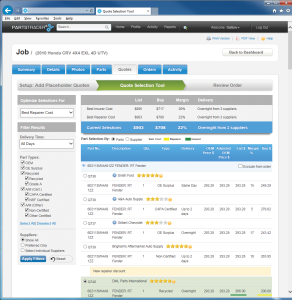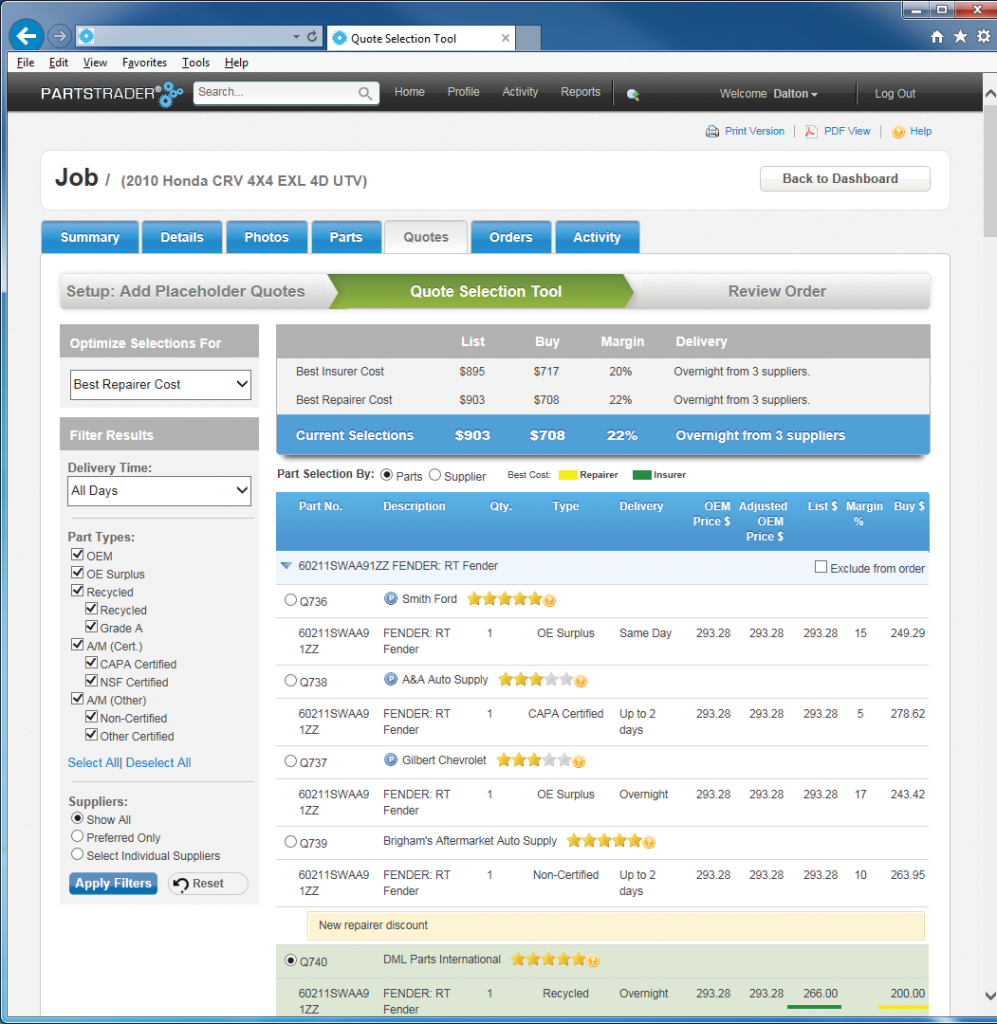 Several other insurers besides big gun State Farm are using or testing PartsTrader, executives from the parts procurement system said this week.
"We do support other insurance companies now," product manager Lucy Smith told a "What Is PartsTrader?" webinar Wednesday.
In fact, California Casualty plans to integrate claims into PartsTrader starting Nov. 17 for optional use by Missouri direct repair program shops. No. 1 State Farm reportedly requires Select Service shops to use PartsTrader.
"There are now several companies that have either incorporated PartsTrader into their standard processes or are actively piloting it within their shop networks," PartsTrader business development Vice President Dale Sailer wrote in an email Tuesday.
Currently, the program is active in 48 states and the District of Colombia, and has more than 50,000 users, Smith said Wednesday. These include more than 8,500 auto body shops and more than 8,500 parts supplies — 25 percent of which provide non-new- OEM parts.
Its market share is more than 12 percent of all collision parts, according to Smith. (Just in case you were wondering, State Farm's market share was 18.68 percent in 2014.)
The company won't have a problem scaling as it picks up new insurance companies and repairers, according to Sailer and Smith.
"The current infrastructure can handle more than 50% of the US market trading via PartsTrader," Sailer wrote (emphasis his). "Today we have roughly 12% of the US market transacting through PartsTrader."
"We've been able to handle this growing amount of business very smoothly," Smith said. "Our systems are rarely down, if ever."
As for suppliers' ability to scale up to more repairer demands for quick bids, Sailer gave the example of Expedia disrupting the air travel market: Did flights suddenly fall away or airports grow overcrowded with the new demand?
"Certainly not," he wrote. "There was certainly a measurable increase in air travel over time, but it was slow, and remember, air travel is largely discretionary.  Parts purchases are not.  You need parts or you don't.  The question is how buyers choose to source parts, not if they will buy parts.  There is a finite number of parts sold each year.  The issue is what is the most effective, most efficient method for sourcing and purchasing those parts that delivers the greatest ROI to the repairer. … But the number of parts being sold in the market  – the opportunity that the suppliers are chasing – is not impacted by PartsTrader."
Share This: