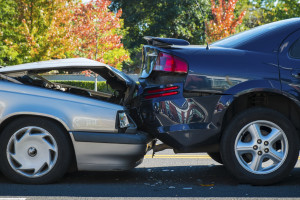 Three of the nation's top four insurers this year have confirmed a trend of rising crash frequency and severity, likely contributing to more shop business but potentially more insurer cost scrutiny.
Back in May, CCC analyst Susanna Gotsch argued using data from just January to March that: "With employment up, miles driven in the U.S. increasing, and continued strong new vehicle sales, the collision repair industry is in store for another healthy year in 2015."
One of the more positive signs appears to be claim frequency — and not just because of the inevitable first-quarter winter storms, Gotsch wrote then.
There's less than a month and a half to the end of the year, and based on financial statements from No. 2 GEICO, No. 3 Allstate and No. 4 Progressive, Americans keep banging up their cars — and probably newer ones, too, given reports of increased severity.
That means the repair orders have been flowing, and likely will continue to do so next year.
Unfortunately, elevated premiums are also likely to keep flowing, and claim cost containment could remain or take on a higher priority.
Frequency and severity
All three insurers released collision and severity estimates for the third quarter.
Progressive found collision severity about 5 percent for both the July-September period and for the first nine months of the year. Intriguingly, bodily injury severity — the really expensive one for insurers, was also down 5 percent for the quarter and 2 percent for the year. Personal injury protection was also down 3 percent for the quarter but up 1 percent for the year so far.
The lack of injuries might point to newer, safer cars. It also could mean that Progressive would be even less justified nickle-and-diming you on auto claims if they're saving money on likely far more expensive hospital bills.
Collision frequency was up 6 percent in the third quarter but oddly up only 1 percent for the first nine months of the year; Progressive attributed the latter to a much worse winter last year.
"We analyze trends to distinguish changes in our (frequency) experience from external factors, such as changes in the number of vehicles per household, miles driven, gasoline prices, greater vehicle safety, and unemployment rates, versus those resulting from shifts in the mix of our business, as we work to reserve accurately for our loss exposure," Progressive wrote. If you track those things too for your market, you should have a pretty good sense of the kind of business you might expect.
Interestingly, Progressive wrote that Americans have been consistently driving more all year, but yet the third quarter oddly saw a rise in crashes greater than the first half of 2015. It didn't have an hypothesis for the difference.
"It is difficult to identify the specific factors contributing to these trends, but we continue to believe that we are adequately priced based on these trends," Progressive wrote.
Unlike Progressive, which reports the results separately and quarterly (and we love them for it), GEICO lumps property damage and collision claims together and only told investors how those variables did for the first nine months of the year.
GEICO auto policyholders reported 4-6 percent more claims during January-September compared to that time in 2014, far higher than Progressive did.
Also unlike Progressive, GEICO saw a 6-7 percent increase in bodily injury severity. Personal injury protection severity was up 2-4 percent.
Allstate only reports auto "property damage" and "bodily injury" claims data quarterly. The company's property damage severity was up 5.4 percent in the third quarter, while bodily injury severity was down 2.9 percent.
Property damage frequency was up 8.9 percent, while bodily injury frequency was up 6.4 percent.
Rates going up
So good news for body shops. But bad news for the insurers and their policyholders — and not just because their car ended up in a shop. Premiums for many Americans with Allstate, GEICO and Progressive are either likely to stay elevated, or as the insurers indicated, potentially increase.
Citing higher frequency and severity, GEICO parent company Berkshire Hathaway wrote Nov. 6, "As a result, we continue to implement premium rate increases where necessary."
Progressive says it's played things a little differently, initiating more gradual rate activity in 2014 in anticipation of this trend and not wanting to scare off customers with sudden rate increases.
Nevertheless, Progressive CEO Glenn Renwick hinted Nov. 6: "Our results suggest that the need for modest rate adjustments is, as expected, building."
The company also wrote, "Adjusting rates is a continuous process and we will continue to evaluate future rate needs and react quickly as we recognize changing trends at the state level."
Of course, Renwick also called a companywide combined ratio (basically, anything lower than 100 shows a profit margin) of just below 93 "satisfactory," so it's an easier target.
His two competitors seek higher margins. Allstate wants to hit 89.5 for the year, and GEICO apologized to investors for an auto loss ratio — the factor which typically skews combined ratios — crossing 80! (Progressive and Allstate are in the 90s.)
Featured image: Three of the nation's top four insurers this year have confirmed a trend of rising crash frequency and severity, making it likely that collision repairers will have a solid 2015. (RobertCrum/iStock/Thinkstock)
Share This: