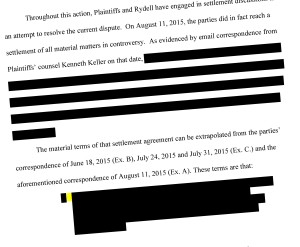 Though it had at first accused the supplier of bad-faith negotiations, Hyundai and Rydell Chevrolet last week settled a lawsuit alleging Rydell sold grey-market and possibly even counterfeit parts as "Genuine OEM."
The terms of the settlement announced in a Nov. 9 filing were sealed. We know the case will be dismissed with prejudice and each side will pay its own attorneys' fees. (Assuming the judge approves the settlement, which is likely just a formality.)
A brief accompanying an Oct. 21 request by Rydell Chevrolet to enforce the settlement notes nine settlement terms, though whether they made the final cut is unknown. The filing also mentions a September email by Hyundai attorney Kenneth E. Keller accusing Rydell Chevrolet of having "backtracked from, withdrawn or dramatically changed the material terms of the settlement."
Frankly, from the very outset of the negotiations of a settlement agreement and release to memorialize the settlement that Hyundai believed it had reached with Rydell, Rydell has backtracked from, withdrawn or dramatically changed the material terms of the settlement.  The settlement agreement that you now propose bears no reasonable relationship to the settlement agreed to by the parties.  Hyundai believes that Rydell has not been negotiating in good faith regarding the settlement.  Therefore, Hyundai views the settlement negotiations at an end and it will be moving forward with its lawsuit.
Rydell accused the opposite of being the case: Hyundai was trying to back out of an Aug. 11 deal and using a "'mountain out of a mole hill'" argument as the grounds.
Hyundai had alleged major discrepancies in a Santa Fe front fascia energy absorber, grille, chrome grille, and fog lamp assembly from Rydell Chevrolet — all hyped as "Genuine OEM Surplus Parts" — and implied that it could be adding an accusation of selling counterfeit parts to a revised lawsuit.
Based on those allegations, we'd be curious to know what steps Rydell and Hyundai must take under the settlement.
A few tantalizing hints sit amid the redactions of the brief describing Hyundai's alleged gripes with Rydell Chevrolet's handling of the settlement: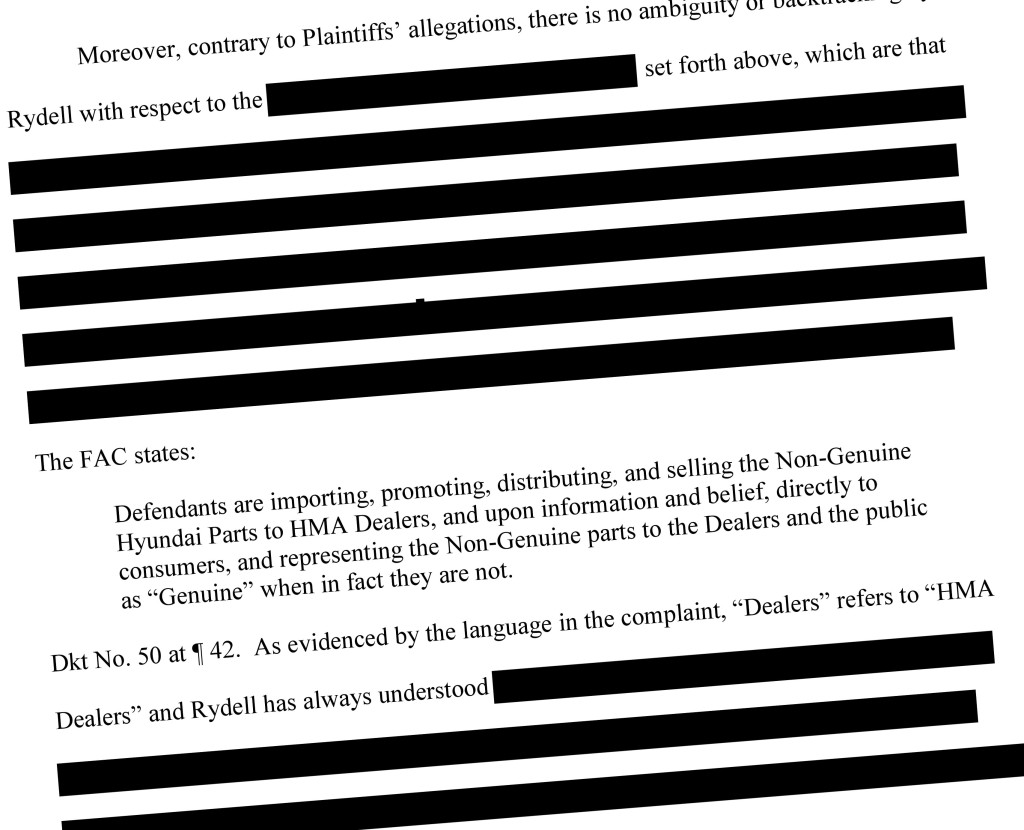 Who's to blame?
"However, it is Plaintiffs as opposed to Rydell who, for reasons unknown, are seeking to undo the parties' settlement agreement. Plaintiffs assert that Rydell must [Long redaction]
"Moreover, Hyundai seems intent on binding Rydell [Redacted] Rydell has not diverged from its agreement with respect to [Redacted].
Additionally, counsel for Hyundai (Mr. Keller) has insisted that there are other issues that Rydell has 'backtracked on.' However, based upon the parties' negotiations, the only other major issue of material divergence was with respect to [Long redaction.] Plaintiffs are attempting to vitiate the settlement agreement between the parties. Plaintiffs should not be allowed to avoid settlement by being unreasonable as to what [Redacted]."
'Mountain out of a mole hill'
"Here it is evident that the parties reached settlement since Plaintiffs' own counsel unequivocally stated [Redacted.] All that was left to do by the parties was to address a few insubstantial matters such [Redacted]. Though crucial to the agreement, [Redacted]. Plaintiffs should not be permitted to vitiate the agreement reached by making a 'mountain out of a mole hill,' or in other words, making an issue regarding the [Redacted]. Rydell does not object to the [Redacted] that Plaintiffs put forth in their Resistance to Rydell's motion to dismiss and [Redacted]."
Definition of 'Dealers'
"The (lawsuit) states:
Defendants are importing, promoting, distributing, and selling the Non-Genuine Hyundai Parts to HMA Dealers, and upon information and belief, directly to consumers, and representing the Non-Genuine parts to the Dealers and the public as "Genuine" when in fact they are not.
"As evidenced by the language in the complaint, 'Dealers' refers to 'HMA Dealers' and Rydell has always understood [Redacted]."
We've reached out to a Rydell representative and Hyundai's attorneys for comment. Continue to check Repairer Driven News for more updates.
Featured image: An excerpt from an Oct. 21, 2015, brief from Rydell Chevrolet urging a settlement be enforced with Hyundai. (Provided by Northern District Court of Iowa)
Share This: