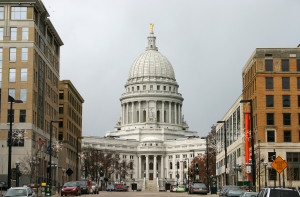 Though at first blush a Wisconsin auto body shop choice bill seemed to pass easily in the General Assembly, it was years in the making and came about through negotiation and compromises by stakeholders.
"This is not the first go-around for this bill in our Legislature," said Terri Griffiths, a research assistant for Republican state Rep. Edward Brooks. "… This is not what we started with 10 years ago."
Griffiths had worked with two other lawmakers on the bill before her job with Brooks, the sponsor of the Assembly companion to the Senate bill signed into law Nov. 11. Asked what was in the original version a decade ago, she said, "I can't even remember."
She said the smooth passage in the Legislature — requiring only voice votes — this session a decade later came after supporters contacted insurers to "find out what was going to be the best compromise."
"We were able to negotiate some agreement and make it work," Griffiths said.
Republican state Sen. Howard Marklein, who sponsored Senate Bill 93, also praised the inclusive process.
"I just think we ended up with a good outcome that was due to the involvement of all the stakeholders," he said.
The Wisconsin Insurance Commissioner's Office issued an opinion that insurers were prohibited from requiring consumers use a particular shop, but "this reinforces and codifies in law" the concept, Griffiths said.
Despite the opinion — issued during the last decade — numerous reports held that insurers were telling customers to use certain shops.
"Absolutely there were issues being reported," Griffiths said. In fact, a shop had related re-repairing a vehicle fixed poorly by a shop recommended by an insurer as late in the process as an October Assembly committee hearing.
"The folks had clearly been steered away," Griffith said.
To keep the deal from unraveling, she said, "We had to keep our guys calmed down."
The first part of the new law's language mimicks that of a 1990s law prohibiting customers from being required to us a particular auto glass company.
However, the auto body bill also specifically notes that insurers can't drag their heels on a claim because of the customer's choice of shop — language missing in the auto glass statute.
"We probably won't work on that," Griffiths said. She said there hasn't been the same types of steering complaints related to that industry.
Brooks first got involved with the bill after a local collision repairer constituent contacted him about the issue. Prior to his election, the constituent had been working on the issue with Brooks' predecessor, Rep. Sheryl Albers.
Marklein had a similar story, recalling a constituent in the collision repair industry "just shared his concerns."
"I was happy to go to bat for this constituent," said Marklein, who said his district has many auto body and mechanical repair operations.
Featured image: The Wisconsin Capitol is shown. (UWMadison/iStock/Thinkstock)
Share This: