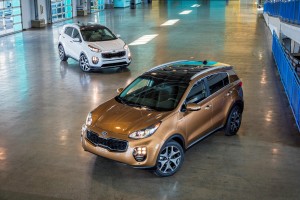 The 2017 Kia Sportage's body-in-white is 51 percent advanced-high-strength steel or higher, including particularly strong grades in some of the usual-suspect collision areas.
What Kia calls the "advanced hot-stamped steel" subset — we're guessing upwards of 1,000 megapascals — reinforces the A-, B- and C-pillars; "roof structure" (probably the rails); side sills and wheel arches, according to an OEM news release Wednesday.
Though every OEM and steel manufacturer seems to have their own terminology, advanced high-strength steel is generally at least 550 MPa or stronger. Generally, the higher the tensile strength, the less it can receive heat, be straightened, or be sectioned — if at all.
The new generation has 39 percent more rigidity than the 2016 Optima thanks to the use of such steels, making for a smoother ride. The 2016 Kia Sportage only had 18 percent advanced high-strength steel.
So this could potentially be a very different vehicle from a repair standpoint. Check out Kia's recommended repair procedures and make sure you and your colleagues are up-to-date on high- and ultra-high-strength steel properties and some of the advanced joining techniques that could be necessary within the vehicle.
Kia sold 42,945 Sportages in 2014, nearly 10,000 more than in 2013. (Cheap gas probably helped). So it's more and more likely you'll see a couple of the 2017s down the road; the vehicle goes on sale sometime next year.
"Simply put, the Sportage is a breed apart in the compact CUV segment," Kia product planning Vice President Orth Hedrick said in a statement. "Instead of bland utility, the Sportage combines distinctly European and sporty styling with thoughtful design and functionality, including innovative packaging, premium materials, a turbocharged engine and surprising features. Sales of compact CUVs are on a sharply upward trajectory, and the all-new 2017 Sportage hits the sweet spot by providing an alternative for those seeking to express themselves with a vehicle that's versatile enough to suit their unique lifestyle."
In terms of features, the Sportage has some standard and optional systems worth noting both because you'll have to repair and calibrate them properly and because some could erode future collision business.
The Sportage SX Turbo will come standard with auto-braking, in which the crossover stops itself for vehicles and pedestrians detected ahead of it if the driver is distracted or incapacitated; lane departure warnings and blind spot detection; and alerts for cross traffic as you back out the CUV. All of these will be options on the midrange EX trim.
Bi-HID dynamic-bending headlights (they'll curve with the vehicle when you take a turn) will also be standard on the SX — probably a bit costlier than past headlights and potentially something you'll have to explain to an insurer if no aftermarket versions exist.
Correction: The 2017 Kia Sportage EX does not offer Bi-HID dynamic headlights as an option. The article has been updated accordingly.
More information:
"ALL-NEW 2017 KIA SPORTAGE MAKES NORTH AMERICAN DEBUT AT LOS ANGELES AUTO SHOW"
Kia, Nov. 18, 2015
Featured image: The SX Turbo two-wheel- and all-wheel-drive trims of the 2017 Kia Sportage are shown. (Provided by Kia)
Share This: