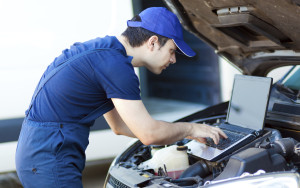 ---
Diagnostic scans and system calibrations are likely more important and more frequently required than ever before in collision repair — and this trend will probably grow further in the future.
Industry awareness of the need to conduct both electronic actions is only half the battle. The other half is getting the auto body shops paid for it, audience members indicated during a Society of Collision Repair Specialists OEM Collision Repair Technology Summit panel Nov. 5 at SEMA.
Haury's Lake City Collision owner Jeff Butler observed he must be the only shop in Washington who scans repairs, for insurance carriers keep saying, "'You're the only one, and we won't pay.'"
"I have to go to war every bloody day," Butler said.
Another necessary part of calibration which could be a difficult sell to insurers: Road tests. (Which obviously have  mechanical and structural repair value as well.)
"You have to go drive the car," Collision Diagnostic Services client services director Jake Rodenroth said. Without doing so, some systems can't properly calibrate (though SEMA vehicle technology Vice President John Waraniak, a panelist, did raise the idea of a "hardware in the loop" system which could simulate driving for the car's electronics).
"You can't move it around the parking lot and think (the shop has) got it," said Rodenroth, another panelist.
---
Scans, calibration on Repairer Driven News
---
Matthew McDonnell of Big Sky Collision said even dealerships weren't doing scans in his market, and insurers would ask "What are these faults? … Why do you need to clear it?"
"We heard almost everything from every carrier," he said.
The solution, McDonnell said: Big Sky tells insurers the scan will be free if there are no faults. As he and Rodenroth observed, it's exceedingly rare that a trouble code won't be thrown.
"It really is ridiculous" insurers were putting up this fuss, said John Ellis of Ellis and Associates, another panelist.
Moderator Aaron Clark of Assured Performance agreed, calling it "ludicrous" for an insurer to avoid paying for something because someone else in the market isn't charging for it.
Clark advised shops document their side of it, pointing to OEM recommendations and such. He also encouraged having insurers sign something accepting liability for not requiring the the necessary work, a suggestion we've heard in the past from another expert.
Otherwise, "if you have no defensible position," you could be liable as the repairer for omitting a necessary step, he said.
Some of the resistance from insurers might simply be traced to a lack of knowledge might be as simple as the insurers not knowing, he said, arguing that after all, if the audience at SEMA didn't know about all the electronics-related procedures necessary, an insurer probably didn't either.
Audience member Marshall Duncan of Duncan Autobody — visiting SEMA all the way from Australia — was optimistic.
"You have to keep hammering away," he said, and indicated such battles were commonplace in the history of the collision repair industry.
"It's a slow process, but we'll get there," Duncan said.
Featured image: Diagnostic scans and system calibrations are likely more important and more frequently required than ever before in collision repair — and this trend will probably grow further in the future. (Minerva Studio/iStock/Thinkstock)
Share This: