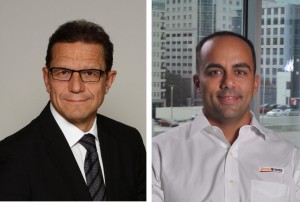 Emphasizing CARSTAR and MAACO's differences relative to his own company, Gerber/Boyd CEO Brock Bulbuck told analysts this month he wasn't worried about the September CARSTAR acquisition by Driven Brands.
"CARSTAR is a franchise company. Driven Brands is a conglomerate of franchise companies," Bulbuck said during a Nov. 11 third-quarter earnings call for the Boyd Group, the only publicly-traded major MSO. "We really don't see a significant impact on our business or our business model. We would expect that under Driven Brands ownership, CARSTAR may get more aggressive in franchising. They may look for some purchasing and scale synergies with … another business that Driven Brands owns, which is MAACO. but MAACO … their main thrust of business is not insurance-paid collision repair. It's consumer-paid paint and body work."

"So we really don't see any direct impact on our business or the competitive landscape relative to our business."
Bulbuck in the call described the acquisition competition between his company and other MSOs as "intense" and signaled plans to continue aggressive expansion in an industry with a great deal of potential.
"It's likely a further validation of the opportunity within the industry," Bulbuck said of the CARSTAR acquisition.
CARSTAR competition
Bulbuck might want to rethink his CARSTAR threat assessment, based on a Monday conference call between media, Driven Brands Group President Jose Costa and new CARSTAR brand President Dan Young.
Young had been the senior vice president of insurance relations under CEO David Byers until Nov. 20, when CARSTAR cut Byers and gave Young the top leadership job.
CARSTAR is leveraging the same economies of scale as the MSOs Gerber, Caliber, ABRA and Service King (and pairing with Driven Brands' MAACO gives it further purchasing clout), rapidly growing through franchising, and courting the same insurance industry as the Big 4.
Costa and Young indicated winning insurance business over independent shops and other MSOs will be an even larger part of CARSTAR's strategy going forward. That was part of the rationale for Young's elevation, according to Costa.
"The competition is fierce for the work," said Young, who also noted the repair volume already doesn't support the number of shops in existence today.
And perhaps more importantly as consolidation booms nationwide, every shop which joins CARSTAR is one fewer spot in the network of its four rivals.
Out of the 34,000 shops out there on the market, "there are plenty of people out there" who could benefit from the marketing, SEO, IT, management, buying power and operations help available by becoming a CARSTAR franchisee, according to Young.
"We're in a position now of strength," Young said. He said the company can follow a "three-pronged" strategy backed up by Driven Brands' money.
This includes cherry-picking the best shops to add to the network. "I began to get very selfish about who we were inviting in," Young observed of the broader industrywide consolidation race.
But it also includes rewarding a strong-performing franchisee with a second, third or fourth store to manage.
"It's easier for me, quite frankly, and the insurance team" to sell an insurer on sending business to stores run by a location owner with whom they're familiar, Young said.
And though Costa said the idea wasn't receiving "very detailed consideration" right now given the company's franchising strength, neither he nor Young ruled out the third prong: Buy a large MSO with Roark Capital Group (Driven Brands' parent company) money.
"Everything is on the table," Costa said.
Asked for clarification about how such a hypothetical acquisition of a large MSO would look (Would those shops be converted to franchise operations, for example?), CARSTAR spokeswoman Debby Robinson wrote in an email:
"They aren't going to speculate on a hypothetical situation at this point.  There is tremendous opportunity in the marketplace today to grow the business organically through new locations from existing CARSTAR franchisees, conversion of small to mid-size MSOs like Fred Beans and to capture more insurance and consumer business at the existing CARSTAR locations."
Correction: An earlier version of this article incorrectly described a CARSTAR strategy of cherry-picking MSOs. CARSTAR's strategy articulated by Brand President Dan Young involves cherry-picking individual shops. The article has since been corrected.
More information:
Boyd Group Income Fund – Q3 Earnings Announcement
Boyd Group, Nov. 11, 2015
Featured image: Dan Young, CARSTAR's new brand president as of Nov. 20, participates in a CARSTAR Recyled Rides event at the Kansas City-area  CARSTAR Metcalf R&D Center in this undated photo. (Provided by CARSTAR)
Share This: