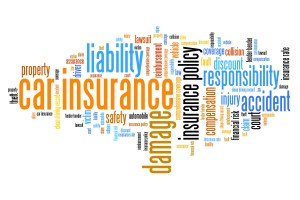 In what might be a KPI worth taking to heart by both insurers and collision repairers, a new study has found "Insurance company acted in my best interest" to be by far the No. 1 predictor of property claims satisfaction.
The 2015 TeleTech P&C Customer Satisfaction Survey found that being perceived to have the customer's best interest at heart could increase a customer satisfaction score (known as the CSAT) by 11.4 percent.
The next highest factor, "Initial filing of the claim" (first notice of loss), had an 8 percent impact on the CSAT, the company reported Monday. Third was "My issues were resolved the first time" at 7.4 percent; subsequent factors taper off more gradually.
"Despite of all the funny commercials on television and price wars being waged by property and casualty (P&C) providers to attract new policyholders, the claims process is one of the most critical experiences someone has with an insurance company," the customer service consulting firm wrote in a white paper. "It's a time when policyholders are vulnerable and look to the company to be a trusted advisor and expert. Depending on how the experience goes, it can make or break a customer relationship."
The company notes that "each of the significant drivers … builds on one another. Just improving one variable may not be the best approach—it's a complex ecosystem with highly correlated variables that must be viewed holistically."
However, some of these predictors of future satisfaction might not be pleasing customers today, and vice versa. For example, "The insurance reps were knowledgeable about the process" was in the middle of the pack as a predictor of future happiness, impacting the CSAT by 6 percent. But it's No. 2 in terms of current customer satisfaction.
Conversely, customers were least satisfied with the "Insurance company acted in my best interest" sentiment even though it's most likely to affect their satisfaction.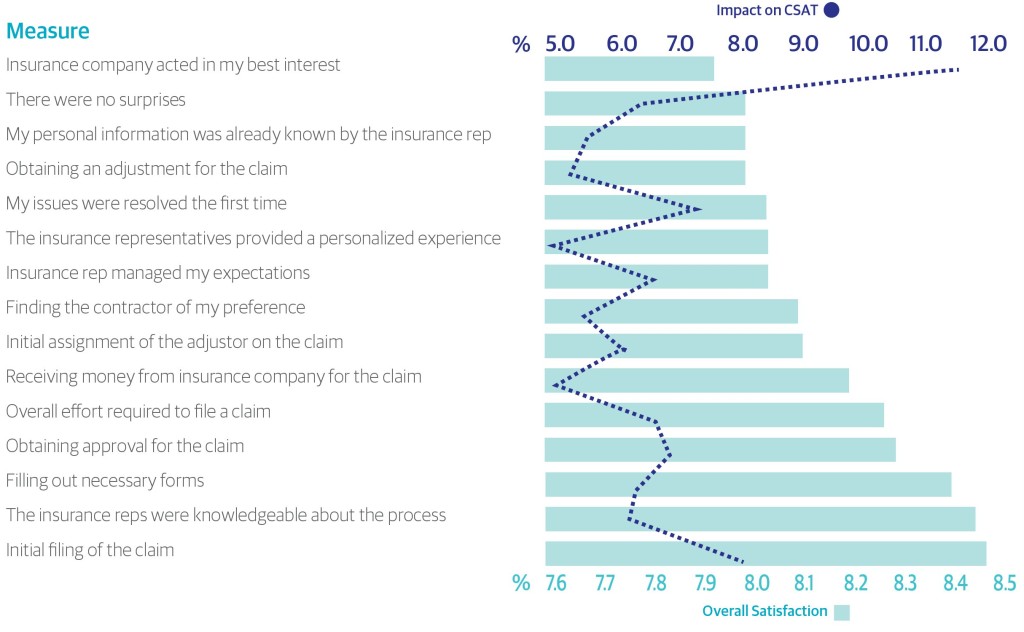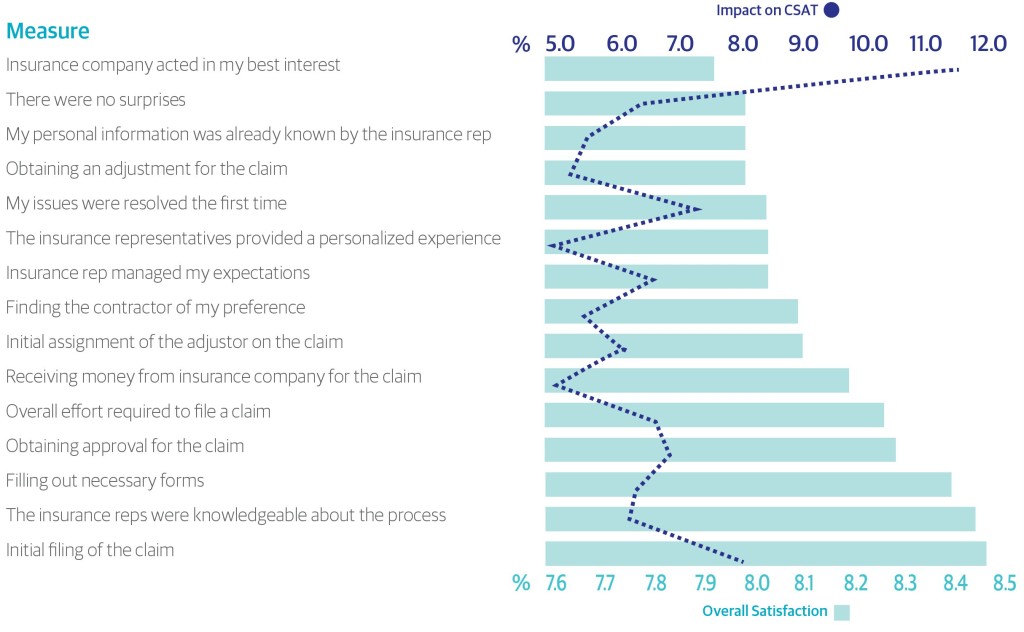 So insurance companies who want to grow may want to take a hard look at how customers view them and their competitors and — go figure — actually take the customer's best interests to heart.
TeleTech said insurers who want to grow will want to focus on that quality as well as the "My issues were resolved the first time," which also has a low satisfaction score today but is the third most likely factor to grow customer happiness.
Both of these can be very seriously impacted as the claim works its way through a body shop, which makes this a valuable lesson for both industries. Will an insurer be viewed as having one's best interests at heart if the shop points out the factors for which the insurer won't pay (OEM parts, refinishing best practices?) Conversely, will a shop botching and having to redo a repair factor into the "issues resolved in one try" concept?
One other factor which has the potential to impact both industries: Customers are reasonably happy with how "Finding the contractor of my preference" is going today, but that concept really doesn't seem to matter much as a driver of future satisfaction. We're not sure what the lesson is here for those advocating for or against heavy insurer influence on the shop selection process, but we thought we'd point it out.
Here's another TeleTech chart analyzing which items are likely to have the biggest payoff for insurers looking to steal customers from each other or keep their own. Based on Bain data cited by TeleTech, only about 5 percent of home and auto insurance customers are actually "new" — the rest already are signed up with an insurer and must be preserved  by or swayed to one's company.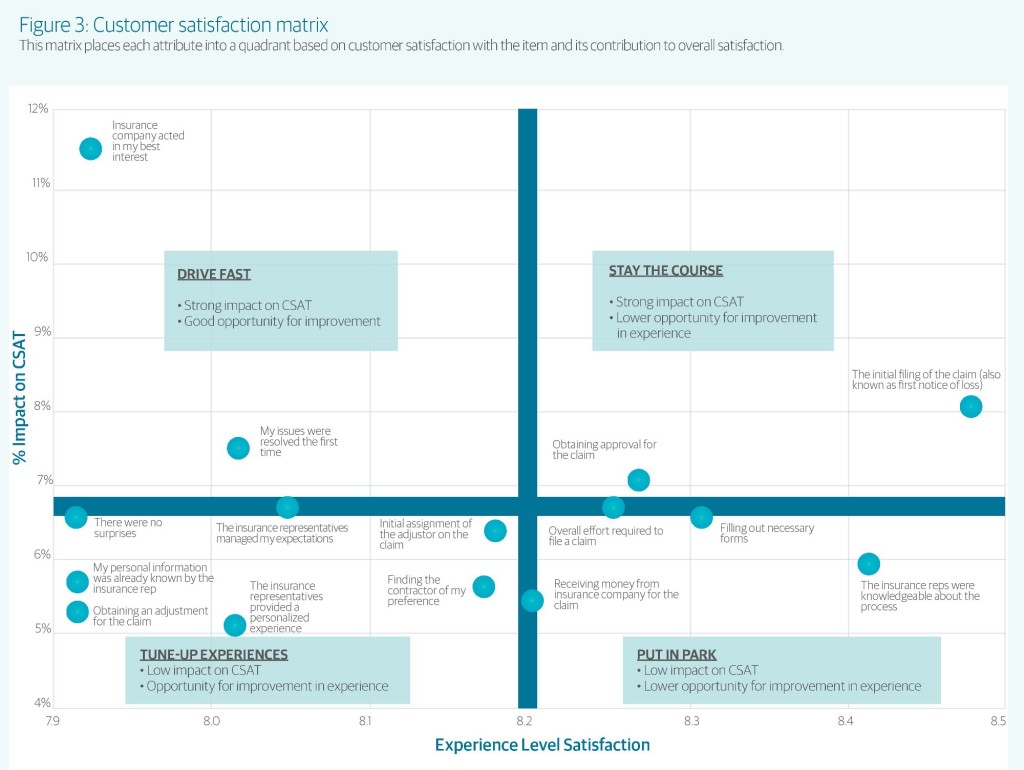 "Because the claims process is such a critical event in the life of a P&C insurance customer, it's paramount that insurance providers get it right," TeleTech Financial Services Senior Vice President Weston McDonald said in a statement Monday. "They need to use new methods of analyzing policyholder data to understand not only what has the most impact in driving satisfaction, but also where to focus to improve customer satisfaction. By truly understanding key drivers, providers can be more effective at improving the customer experience and increasing customer retention."
More information:
"New TeleTech Research Uncovers the Secret to Customer Satisfaction During the Claims Process"
TeleTech, PRNewswire, Nov. 30, 2015
"What really drives customer satisfaction during the insurance claims process?"
TeleTech, Nov. 30, 2015
Images:
Auto insurance word cloud. (tupungato/iStock/Thinkstock)
The 2015 TeleTech P&C Customer Satisfaction Survey found that being perceived to have the customer's best interest at heart could increase a customer satisfaction score (known as the CSAT) by 11.4 percent. (Provided by TeleTech)
This TeleTech chart using 2015 survey data analyzes which items are likely to have the biggest payoff for insurers looking to steal customers from each other or keep their own. (Provided by TeleTech)
Share This: