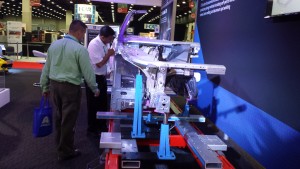 As the 2016 Cadillac CT6 production draws near in the U.S. worldwide, General Motors gave a few more details on how its certified repair network and those aspiring to join it can learn about the mixed-materials car.
GM wrote in a news release Wednesday that the training for the high-strength-steel and aluminum vehicle will be "primarily web based" and offered through a GM-I-CAR partnership.
Collision repair information itself — including technical documents, service bulletins and paint details — will be available free on the GM Genuine Parts site starting in early 2016. (Hopefully very early, as GM will start production in January and have the car out to dealerships by March.)
However, you can learn, but you can't touch, unless you're part of the CT6 network — which is open to dealerships and independents, GM said this summer.
The company said at NACE that GM will restrict parts sales to its network, and companies such as Chief, Car-O-Liner and Celette will be doing the same with their measurements.
"The Cadillac Aluminum Repair Network will ensure that authorized collision repair facilities have the required tools, equipment, processing procedures, and training to properly repair the Cadillac CT6 using the new mixed material, aluminum intensive construction," GM wrote in a news release.
GM has tapped Axalta to manage the program, and VeriFacts will help manage the network as well as audit shops. It's unclear if Raytheon will still be involved in the shops' training process.
This summer, GM estimated the network would have roughly 100 locations nationwide, and these could mostly be independent facilities.
Independent shops won't need a dealership sponsor, according to the latest GM Repair Insights — just be good at what you do and fulfill GM's program requirements.
GM customer care and aftersales communications manager Robert E. Wheeler wrote in an email that few shops are enrolled to date. Cadillac dealerships could apply in November, and enrollment for other dealerships and shops began Tuesday, he wrote.
Once enrolled, the shops in the program will be audited yearly by VeriFacts.
"These audits will provide Cadillac with a process to verify the shop's compliance with the network requirements," GM wrote. "It also establishes a level of consistency between all participating shops that allows Cadillac to promote the Cadillac Aluminum Repair Network to Cadillac CT6 owners."
Wheeler clarified that unlike some certifications, the shops will be checked on more than just keeping up with tools and training.
"Shops will be audited on repair processes and following of repair procedures so it is not just tools and training," Wheeler wrote.
Why is GM being so restrictive? The car's heavy reliance on aluminum and 11 other materials (including some high-strength and mild steel) "to achieve strength, performance and efficiency thresholds practically unmatched among the world's elite luxury performance sedans," the company says.
If you don't know what you're doing, you're going to botch the repairs. In additional to all the aluminum and steel cross-contamination fears expressed with the aluminum F-150, most of the car is replace-only. Since shops won't be required to have the aluminum laser welder Cadillac will use in the factory, you'll be using a lot of flow-drill screws, self-piercing rivets, adhesive, and some aluminum MIG welding.
Want to join the Cadillac network? Call Axalta at 1-844-545-6107 or e-mail cadillacnetwork@axaltacs.com. Other details are available in the latest GM Repair Insights.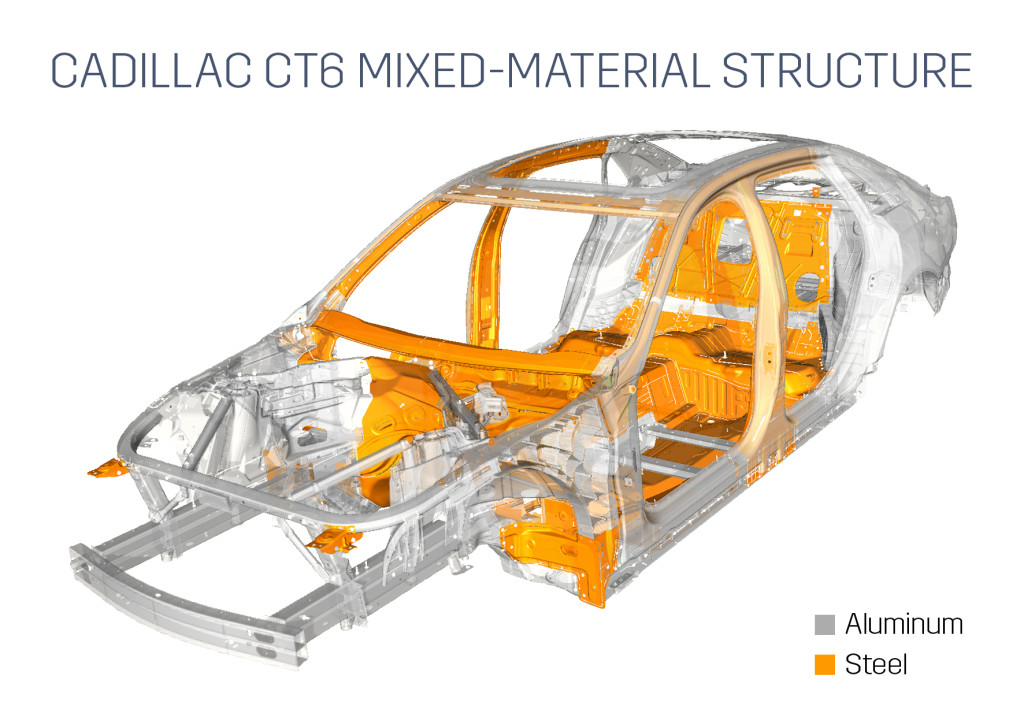 More information:
"Cadillac to launch aluminum repair network."
General Motors, Dec. 2, 2015
"Cadillac Debuts Aluminum Repair Program"
GM Repair Insight, December 2015-January 2016
Images:
The Cadillac CT6 mixed-materials body-in-white draws onlookers at NACE in July 2015. (John Huetter/Repairer Driven News)
Cadillac's mixed-materials CT6 is mostly aluminum but has 11 other materials as well, including ultra-high-strength and mild steel. (Provided by Cadillac)
Share This: