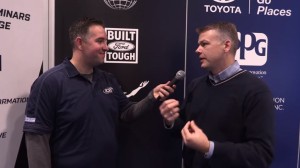 Interactions with shops have given Ford and Toyota some insight into how closely collision repairers are following OEM procedures and using OEM parts, respectively, automaker auto body staffers said in new SCRS-Collision Hub videos.
A year and a SEMA after the aluminum 2015 Ford F-150 rolled out to dealerships, Ford collision marketing manager Mark Mandl said auto body professionals are starting to get a better handle on what fixing the vehicle is and isn't.
"More people are seeing them (F-150s)," Mandl told Society of Collision Repair Specialists Executive Director Aaron Schulenburg in a video from the SEMA floor. "They're asking more questions. The questions are more founded in fact and less in, 'What is it? What's it gonna be like?'"
Mandl said he thought that shops are seeing that because of the F-150's different construction and modular design, "They're really learning the importance of referencing the instruction manuals and the OE repair procedures."
A couple of shops, "we really had to get them grounded," he said. "… 'This is really what the procedure is.'"
"But it's been a good education for them," he continued. "… It really puts the importance on getting that education out to the shops."
Mandl said his company stresses consulting the OEM manual/repair procedures every time you step up to a Ford vehicle to not only mechanical repairers and dealer service centers, but also dealership and independent auto body shops.
It's the only way, he said, to do a "consumer-centric repair."
"Otherwise, you will start to deviate," he said. "We're humans."
A repairer who doesn't do so runs the risk of missing an updated repair procedure or "subtleties under the skin" when a new model year looks identical to the old but has "subtleties under the skin."
"There's always gonna be continuous evolution," he said.
Toyota: Parts a concern
Asked what he's seen from shops, Rick Leos of Toyota body and collision business development said aftermarket parts and glass were "probably the biggest thing that we're concerned with right now."
"And it's not because of those parts are not our parts and we're not selling parts," he said. "It's because they're part of our safety devices now. I mean, a windshield on a Highlander, there's a camera behind there, and it's distorted (by non-OEM glass) and you can't calibrate it. So the parts issue is a really big issue for us right now. We're trying to get in front of it."
Collision avoidance technology — "our responsibility" — really makes shop parts choice a concern for Toyota, Leos said.
"It's no longer going to be just the shop," he said. "When something fails, they're gonna come back to the manufacturer. … 'You said the car's going to stop, you said the car's going to do this.' And with those parts that're being put on there today, it ain't gonna work."
Like Mandl, Leos also supported following OEM procedures — "the only way" to do a repair — and spoke to the value of repairer education.
Asked for one piece of advice for shops, he said, "For any manufacturer, it would be training, training, training, education, education."
More information:
Featured image: Ford collision marketing manager Mark Mandl speaks with SCRS Executive Director Aaron Schulenburg in this screenshot from Collision Hub video. (Screenshot from Collision Hub video on YouTube)
Share This: