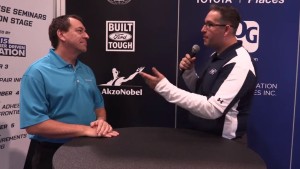 An explosion of new vehicle materials and technology makes it imperative for auto body professionals to stay current, an executive from AkzoNobel said at SEMA, and a CCC representative said this necessity drove a product expansion.
The comments in new SCRS-Collision Hub SEMA floor videos indicate the ripple effect vehicle model changes can have on more than the OEM-customer relationship.
AkzoNobel senior services group consultant Tim Ronak, who provides business consulting services to auto body shops, said the biggest change he sees shops dealing with is "technology."
"It's not just aluminum and dealing with aluminum and new vehicle construction regarding that as a material," Ronak told Society of Collision Repair Specialists Executive Director Aaron Schulenburg in a SEMA floor video. "There's other materials. There's other methods of construction, and there's other technologies that they have to deal with.  All of this requires education and training."
A lack of knowledge can have ramifications on the end product.
"The technology that they need to adapt to right now, a lot of the shops, they're not looking at it, and they're maybe making some repairs that they're just ignorant as to how the proper repair is," Ronak said. "It's not malicious, it's not something they're doing intentionally. They just don't know."
A customer might bring in a car with a 5-star National Highway Traffic Safety Administration rating — a score which the NHTSA proposes making even stricter, as well as adding a second 5-star grade for pedestrian protection. Repair without using the OEM's methodology, and that rating could be in jeopardy, he said.
"What right does a repairer after the fact have to reduce that crash rating at all?" Ronak said. "They have an obligation to put it back to exactly the crash rating that the consumer paid for prior to the collision."
CCC: Meet tech with tech
Mark Fincher of CCC Market Solutions also cited the growth of technology "across the entire repair process" while describing his company's support for SCRS' Repairer Driven Education series. (Akzo is a sponsor as well.)
"We've always been a big believer in continuous education for this industry," Fincher said. "And even now more than ever before we see this evolution of technology. And it's not just vehicle technology but across the entire repair process."
This technology boom and a belief in education has influenced CCC's product development as well, he said.
"Just staying on the theme of collision repair technology and the advancements in vehicle technology, we have been focused over the past couple years on … being able to bring that information forward to repairers," Fincher said. "We launched CCC OEN Repair Methods a few years ago to bring … the vehicle information and the procedures right to the estimate."
CCC feels this has been a good solution for shops, and "the feedback has confirmed it," he said.
More information:
Featured image: SCRS Executive Director Aaron Schulenburg talks to AkzoNobel senior services group consultant Tim Ronak in this screenshot from a Collision Hub video. (Screenshot of Collision Hub YouTube video)
Share This: