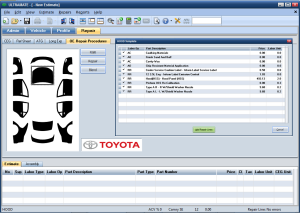 Crediting its June incorporation of OEM repair procedures into Mitchell estimates as already leading to better repairs, a Toyota executive said the company will do the same with another IP soon.
Toyota's built on the June integration of Scion and Toyota procedures to add structural details and complete cars into Mitchell, Rick Leos of Toyota body and collision business development said in a SCRS-Collision Hub video.
In the next 90 to 120 days, it'll bring the initiative to another estimating services, "one of the bigger IPs," Leos said Nov. 6.
The Mitchell partnership has really been a boon to Toyota drivers, and shops are hitting better KPIs, according to Leos.
"We got incredible results from it, we really have," he told Society of Collision Repair Specialists Executive Director Aaron Schulenburg in the video. "With the non-reusable parts … the quality of the repairs are starting to step up on those guys. The CSI looks better, their cycle time looks better."
Though it's unclear if this was the subject of Leos' "non-reusable parts" reference, Mitchell did adjust its system prior to the July launch after Toyota pointed out that reusable and remove-and-replace parts needed to be better distinguished in estimates.
Leos said the company continues to work with insurers to "prove it out."
"It's not always the dollar value at the end of the estimate," he said. "Sometimes it's the overall, the holistic view of the claim. And that's a hard thing to change."
The Mitchell partnership allows a repairer working on, say, a rear-ended 2015 Toyota Corolla to look up that repair and have the Mitchell estimate populated with all the parts and procedures Toyota believes you could need. Users can then deselect any components or labor unnecessary to the vehicle in their shops.
The content this summer did not require users to subscribe to Toyota, only Mitchell, though repairers who wanted the actual instructions for the repair must still purchase that from Toyota.
And if you're not referring to the OEM recommended procedures every time you fix a Toyota or Scion, then you're very likely not going to be one of the quality repairers Leos was praising. Checking the procedures is "the only way" to do a repair, he told Schulenburg.
More information:
"Toyota Continues Repairer Education With SCRS"
Society of Collision Repair Specialists-Collision Hub via YouTube, Dec. 9, 2015
Featured image: Mitchell has integrated Toyota's Recommended Repair Procedures within Mitchell Estimating, allowing users of the desktop service to obtain a list of all Toyota's recommended parts and labor for a particular repair. (Provided by Mitchell)
Share This: