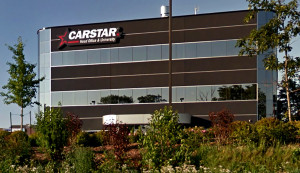 Driven Brands is testing the Canadian CARSTAR Express model in the U.S. for possible expansion in Driven's Paint & Collision division, Collision Repair Magazine reported Friday.
Driven Brands bought CARSTAR Canada's more than 230 locations for an unspecified amount on Wednesday. The subsidiary of Roark Capital Group also acquired the U.S. CARSTAR operations for an undisclosed amount less than two months ago.
The Canadian purchase places 450 total CARSTAR locations and $700 million in sales under one roof, Driven Brands said Wednesday.
The CARSTAR Express concept originated in Canada but is rare in U.S. CARSTAR operations, according to Toronto-based Collision Repair Magazine.
"Bringing the Express model to the US is one of the things we're evaluating," Paint & Collision President Jose Costa told the magazine. "CARSTAR US hasn't done this to the extent that CARSTAR Canada has."
The CARSTAR Express branches are stripped-down body shops handling auto glass work , cosmetic damage and paintless dent repair, according to its website.
Insured customers can still bring a more heavily damaged vehicle there and get squared away with a rental vehicle, according to the website. The Express will ship the car to a CARSTAR collision center for the actual repair work and return it to the Express for the customer, according to the website.
It's unclear where the actual appraisal and estimate occurs; the CARSTAR Canada Express homepage says its Express locations offer damage appraisals and collision estimates," but a more extensive description of the CARSTAR Express Auto Care Appraisal Services states a CARSTAR collision shop is "where we can assess and repair the damage."
Expresses can also do minor preventative maintenance work (oil changes, tires, etc.), and three locations can do more extensive mechanical work, according to CARSTAR Canada.
"CARSTAR Express is part of our multi-tiered approach," CARSTAR Canada President Michael Macaluso told Collision Repair Magazine. "It came about to better serve customers through convenience and our insurance partners through giving better retail coverage. We really want to help our existing franchise partners grown, and CARSTAR Express is part of that."
Driven Brands has begun testing the concept with its brands in the U.S. and might extend best practices across Costa's division, which includes both all U.S. and Canada CARSTAR locations as well as MAACO and Drive N Style, Collision Repair Magazine reported.
More information:
Share This: