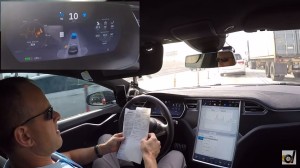 Two Japanese insurers announced they have jointly created a policy — and already received a contract — to cover tests of self-driving cars, the Nikkei Asian Review reported Sunday.
The magazine reported that Aioi Nissay Dowa Insurance and Mitsui Sumitomo Insurance, subsidiaries of MS&AD Insurance Group Holdings, predict more testing will occur because of their product.
The policies are projected annually to cost hundreds to thousands of dollars per test, Nikkei Asian Review reported. The amount will depend on the number of cars tested and the duration of the test.
Possible markets include OEMs, software designers, telecommunications companies, suppliers and researchers, according to the magazine.
It's unclear if similar insurance exists in the U.S. We've contacted the Property Casualty Insurers Association of America and Insurance Information Institute for more context.
The question of liability for self-driving cars once they're sold to consumers has been a hot topic of speculation as the technology gets closer to reality. Is it part of a vehicle owner's policy? Is it the automaker's problem? The developer of whatever software governs the vehicle's behavior? The city which hasn't refreshed its lane lines or fixed potholes in years.
Volvo made headlines this fall when it said it would accept "full liability" if its cars get in a collision while operating autonomously, according to a preview of its CEO's speech. Google and Mercedes have told "60 Minutes" they'd accept liability as well.
What Aioi Nissay Dowa Insurance and Mitsui Sumitomo Insurance discover with their insured test cars will likely help provide a better sense of who should assume the liability and how much risk insurers should anticipate.
And, 50 years from now as the technology governs more or all of American road trips — its development potentially spurred by moves like the Japanese insurers' —  will there be enough crashes to keep the bulk of vehicle insurers and body shops in business?
Partial autonomy and liability at Tesla
Partial autonomy already exists. In fact, Drag Times' Brooks Weisblat famously reported receiving a speed warning from the Florida Highway Patrol when his Model S P85D in Autopilot mode did 75 mph in a 60 mph area.
Weisblat also said in the DragTimes video that he also received a $10 ticket for not having his insurance.
"First ticket with Autopilot," he said.
The actual interaction with the FHP isn't caught on camera; Weisblat says he turned it off.
"I didn't get it on camera, I was kind of nervous," he said.
Weisblat seems impressed by the technology in the rest of the 16-minute video on his test drive.
"This car drives better than most of the drivers in Miami," he said. "… It's really, really impressive what this car's doing right now."
It didn't detect road debris, he notes, and at one point kept its lane despite another driver about to cut it off.
But aside from the ticket — a big "aside from" — the trip is mostly uneventful.
"I guess one thing you gotta be careful of is not falling asleep," Weisblat said, though he notes that the car is supposed to pull over and stop if it signals a driver to take the wheel and the human doesn't.
At one point, he even appears to run out of things to say about the vanilla trip and starts discussing the Tesla's Web browser and car interface.
As for liability, Musk said it rests with the driver for now with the Autopilot upgrade, according to Financial Times.
"The driver is still responsible for, and ultimately in control of, the car," the Tesla Blog states in announcing Autopilot on Oct. 14.
In a Bloomberg Business video one year before the Autopilot launch, Musk differentiated between "autopilot" — which presumes a driver is still around to keep an eye on things, like a plane's autopilot — and full autonomy, which he predicted was a few years down the road.
More information:
"New policy to help automakers test the cars of tomorrow"
Nikkei Asian Review, Dec. 6, 2015
Share This: