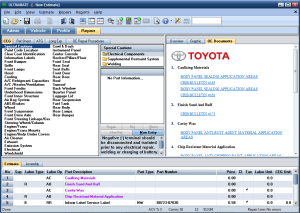 Though a Toyota representative has hinted that another IP may integrate the OEM soon, Mitchell for now is the only game in town with Toyota repair procedures built into the estimating process.
And it's rapidly growing the number of Toyota and Scions incorporated into the software, up from 130 distinct model-year combinations to 183 as of last week, a spokeswoman wrote.
The system automatically populates Toyota's actual model-specific repair procedures when a user prepares an estimate on a Toyota or Scion.
By next year, nearly all of Toyota and Scion's most frequently-repaired vehicles will have such procedures integrated within Mitchell, Amanda Windsor of Lewis PR wrote in an email Thursday.
"In addition to the 2016s, we will also be adding the 03-08 Corolla and 07-09 Camry (early in 2016), which will bring our coverage to ~80% of Toyota's most commonly repaired vehicles on the road today," Windsor wrote. "Mitchell is also working with Toyota to introduce additional content for existing and new models, including some structural and additional body components. Look for more information on this exciting development in 2016."
Mitchell still hasn't signed Lexus yet, though it's still trying to win over the Toyota subsidiary and other OEMs, according to Windsor.
Toyota was No. 3 in overall market share in 2014, according to Statista.
Rick Leos of Toyota body and collision business development said in Nov. 6 SCRS-Collision Hub footage that Toyota would in the next three to four months bring a similar integration to"one of the bigger IPs."
Leos credited the partnership with Mitchell, launched in June, as already having led to better repairs and better KPIs.
"We got incredible results from it, we really have," he told Society of Collision Repair Specialists Executive Director Aaron Schulenburg. "With the non-reusable parts … the quality of the repairs are starting to step up on those guys. The CSI looks better, their cycle time looks better."
Share This: