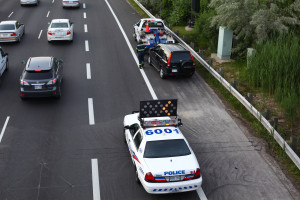 Editor's note: We reached out to Collision Industry Information Assistance Executive Director John Norris on Monday for a comment on the new Ontario towing and storage regulations taking effect in 2016 and 2017 for Canada's largest province.
Norris, also a member of the panel which helped the Ontario Ministry of Government and Consumer Services with the rules, went above and beyond on RDN's request. He gave us such an interesting and extensive overview of the rules, their history and CIIA's views on them that we've opted to run it with minor edits as a guest column:
By John Norris
In 2014, Ontario introduced the Fighting Fraud and Reducing Automobile Insurance Rates Act, to respond to major concerns over the costs to insurers at accident scenes.
For instance:
According to Karen Gavan, head of Economical Mutual Insurance of Waterloo (one of Canada's largest insurers) the average price for a car auto insurance annual policy in Ontario is C$1,425, the highest in any province.
With 9.6 million motorists, there are 85,000 accident and bodily injury insurance claimants in 2014.
The average bodily injury claim in Ontario is C$143,630 compared to C$12,785 in Alberta.
There are 9,615 profit-driven clinics and 31,470 individual health care providers registered with the Health Claims for Auto Insurance (HCAI) system.
This translates into 8.8 injured claimants per clinic per year or only 2.7 claimants per individual health care provider for the year throughout the province.
Health care's extreme costs are also driven up by tow trucks that often co-operate with health car clinics and bodyshops that offer kickbacks.
During the hearings on the Bill, where CIIA presented their reports, testimony was heard about "chaser" tow trucks, (many trucks in the urban centres) that would hear of accident scenes (sometimes from their police friends), who would rush to the scene to prey upon dazed or injured motorists, who many times were forced to pay huge sums of money to retrieve their vehicles from the towing compound or storage yards.
Accordingly, the new bill just introduced, will give the public more tools and powers to be able to ensure their rights are preserved and protected. For instance:
Accessing their vehicle will be at no charge
Tow operators must provide an itemized invoice in advance
Tow operators must present a bill that can not be in excess of 10% of the tow estimate
Tow operators are required to advice the customer if they are receiving a commission for their work or are part owner or have any interest in the autobody shop that they are towing to car to
Commercial rules that apply to long-distance truckers are being applied to tow operators and their trucks starting in 2017, and Consumer Protection Act levels of regulation would then apply.  Outrageous pricing activity would result in loss of driving privileges as a tow operator and plate removal from the vehicle.
This month, CBC Marketplace TV showed a segment on a Mississauga, Ontario, tow operation and the bodyshop that they used that demanded $8,000 for a two-day storage.
As well, Monday, the Toronto Star featured the history of three police officers and their relationship with tow truck operators from criminal court records. It appears to be very cozy.
CIIA believes that, as a member of the formal advisory group, we are happy with this new control program but still believe it does not go far enough to remove the criminal corruption and organized crime activity that still will exist in segments of the towing industry. Insurers rather than shops, says CIIA, should be paying the tow operators for their dropped off damaged vehicles.
Featured image: A Toronto, Ontario, police car helps direct traffic on Don Valley Parkway on June 26, 2013, while a car is being towed by a Canadian Automobile Association truck.  (bukharova/iStock Editorial/Thinkstock file)
Share This: