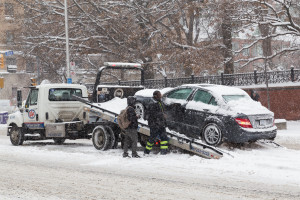 Collision repairers and independent lot and tow operators in Canada's largest province should prepare for new towing, storage and lien regulations taking effect in 2016 and 2017.
Starting July 1, 2016, anyone receiving a vehicle without the permission of the owner and planning to put a lien on the car must tell the owner within 15 days, the Ontario Ministry of Government and Consumer Services said Thursday. Right now, the storer has 60 days.
"The new rules are expected to improve storage practices and remove associated costs from the auto insurance system," the agency wrote in a news release Thursday.
Failure to give a notice cuts any lien down to 15 days worth of unpaid storage fees.
Courts will also receive guidance as to the "fair value" of repairs or storage if the parties haven't agreed on a dollar amount. Potential "discretionary factors" for the courts include "fixed costs, variable costs, direct costs, indirect costs, profit and any other relevant factors," according to the agency.
The Ontario agency estimated 1,200 tow businesses and 3,000 drivers exist in the province, estimated to have nearly 12.9 million residents in 2011.
Even more towing-centered regulations take effect Jan. 1, 2017.
Starting then, tow or storage facility operators must:
Have permission to tow or store a vehicle.
State their rates, company name and phone number on the tow truck and their rates on a website and at the business.
Take credit cards.
Tell customers where their vehicles will go.
Let customers access the towed car between 8 a.m. and 5 p.m.
Invoice services and costs before taking the customer's money.
Refrain from recommending an auto body shop, lawyer or health care provider without being asked by the customer — unless the customer agrees to hear such advice. That creates a loophole for subtler steering, however; the tow provider also must:
Disclose any incentives paid by a shop or storage facility to tow the car.
Have general liability coverage of $2 million, customer vehicle insurance of $100,000 and another $50,000 in cargo insurance.
Keep on hand the last three years worth of records records proving you did all of this stuff.
Many independent tow operators and auto body shops with tow services likely meet these regulations today — some, like taking credit cards, are just good business sense, after all.
Those who don't will lose an edge over more responsible and/or ethical competitors — not to mention the opportunity to gouge customers — once the new regulations take effect. Check out this CBC coverage for an example of what the network implies are some of the bad apples:
The Fighting Fraud and Reducing Automobile Insurance Rates Act prompted the regulations announced Thursday, rules developed with the input of a 19-member Towing and Vehicle Storage Consultation Panel.
"Frankly, if you operate a legitimate, compliant repair facility, these changes will have little effect," John Norris, executive director of Collision Industry Information Assistance and a panel member, predicted while discussing the legislation in Canadian Towing & Recovery Magazine. "On the other hand, if you do not, then be prepared for significant change."
"CIIA believes that, as a member of the formal advisory group, we are happy with this new control program but still believe it does not go far enough to remove the criminal corruption and organized crime activity that still will exist in segments of the towing industry," Norris wrote in an email to Repairer Driven News on Monday. "Insurers rather than shops … should be paying the tow operators for their dropped off damaged vehicles."
As one might expect, not all of these rules will apply to law enforcement tows, according to the Ministry of Government and Consumer Services. (So don't expect the cops to ask your permission to tow your car.)
Some of the rules also won't apply to towing and storage provided under a prepaid program, given free to lease and new-car customers, or included in memberships to groups like the Canadian Automobile Association.
Finally, tow trucks and flatbed "tilt and load" trucks will starting Jan. 1, 2017, require Commercial Vehicle Operator's Registration certificates.
Only one certificate is needed for a business' entire tow fleet, and the tow operator becomes responsible under the CVOR system for all their drivers and trucks. That responsibility includes:
Securing loads.
Tow truck safety and maintenance
Driver conduct and safety.
Every operator will have their Ministry of Transportation Carrier Safety Rating on display to the public. So be good.
The rules were developed with input from the Canadian auto body trade group Collision Industry Information Assistance.
The new rules were a result of the Fighting Fraud and Reducing Automobile Insurance Rates Act; 16 Ontario local governments already had towing licensing rules.
"Consumers in need of a tow or roadside assistance in Ontario should have confidence that the tow truck service helping them is reputable, will do the work safely, and will deal with them in an honest and fair way," Government and Consumer Services Minister David Orazietti said in a statement. "Our new rules will help drivers make informed decisions and protect their money when getting their vehicle towed or having it held in a storage facility."
More information:
"Stronger Rules for Towing and Vehicle Storage Services"
Ontario Ministry of Government and Consumer Services via Ontario provincial website, Dec. 17, 2015
Featured image: A car is towed in Toronto on Dec. 11, 2014. (mikeinlondon/iStock Editorial/Thinkstock file)
Share This: