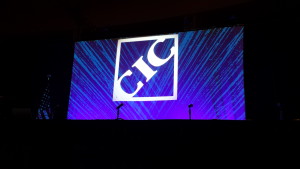 Dust off your Pale Nimbus business cards and get ready to network. The Jan. 14 Collision Industry Conference is near, and the organization has released the agenda teasing the various forums.
The conference has been cut to a single day, which should please some attendees who'd supported a shorter duration. However, those coming earlier can attend other industry events that week in the Palm Springs, Calif., area.
For details on CIC, the hotel and preregistration, visit www.ciclink.com.
Here's some of the highlights:
Tuesday, Jan. 12
The National Auto Body Council committee meetings run from 7-8 a.m. Jan. 12 at the Palm Springs Hilton, the same venue as CIC two days later. Following that, the public is invited to the NABC board meeting from 8 a.m. to 4 p.m. Details: www.autobodycouncil.org
From 5:30-8 p.m., the NABC will give its thousandth Recycled Ride and hold a reception at the Hilton.
CIECA's 2016 Winter Board Meeting will run 2-6 p.m. at the Hilton, and the public is invited to attend the open portion. Email Fred Iantorno for details and to reserve a seat.
Wednesday, Jan. 13
The NABC's golf fundraiser runs all day at Tahquitz Creek.
For the more business-minded, the Society of Collision Repair Specialists' Open Board Meeting runs from 8:30-10 a.m. at the Hilton.
The CIC reception has been scheduled for 7 p.m. Jan. 13, ahead of the main CIC event.
Thursday, Jan. 14
CIC time! The event gets going at 8 a.m. with CIC Chairman Randy Stabler's opening remarks and description of committee objectives. He'll be followed a quick presentation from Guy Bargness of the Marketing Committee at 8:15 a.m.
At 8:30 a.m., Jordan Hendler will talk about a new CIC networking app. (And speaking of apps and networking…)
Collision repair labor attorney Cory King will follow her at 9 a.m. to discuss workplace violence, and how to keep staff and customers safe.
At 10:30, see a live demo and hear about "Really Cool Tools from SEMA" from Toby Chess of the Technical Presentation Committeee, according to the CIC agenda. And for those seeking more tool guidance, check out some picks from SEMA judges, Collision Hub and I-CAR, and last January from Chess and frequent co-presenter Kye Yeung.
John Bosin of the Parts and Materials Committee will host a panel at 11 a.m. with electronic parts procurement vendors, a topic CIC's been trying to tackle given potential inefficiencies in the "call and fax" method.
After lunch at 1 p.m., it's your chance to give suggestions on issues worth considering by CIC in 2016 and how the CICs themselves should be formatted.
Stephen Regan and Janet Chaney of the Governmental Committee will appear at 2 p.m., discussing regulation and the like just in time for upcoming legislative sessions (and a little presidential election year).
At 2:30 p.m., the hot topic of redefining a "Class A" shop will likely return as Ron Guilliams and Chris Evans of the Definitions Committee discuss "Classifying Auto Body Shop competencies in a sensible way," according to the agenda. Take the CIC's survey ahead of the talk and read more coverage with our link here.
At 3:30 p.m., another earlier CIC hot topic might be raised — the ominous statistics related to industrywide training and education (see some data from I-CAR here) as Gene Lopez and Bob Keith of the Education and Training Committee take the stage.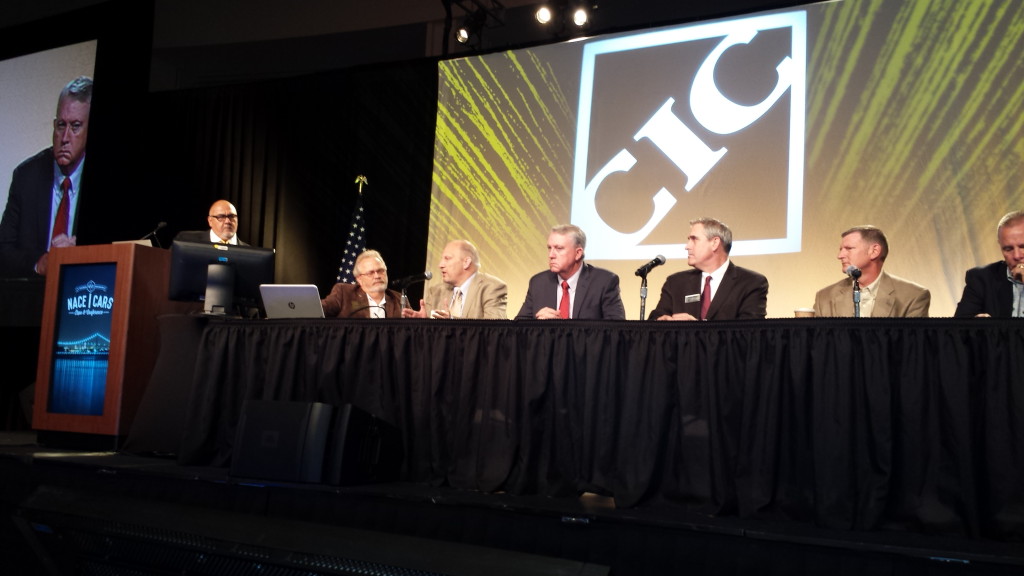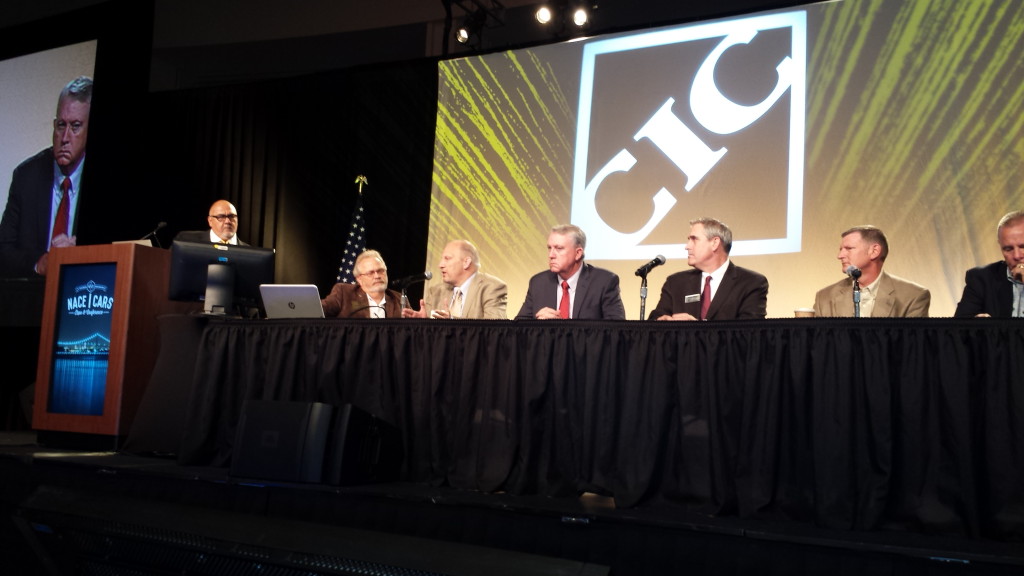 At the NACE CIC, the committee presented other data showing that 93 percent of the collision industry's structural technicians lacked I-CAR certification in advanced structural steel welding. If you showed that to the public, "that would be a frightening number," committee member Mark Olsen (VeriFacts) said. About 79 percent of the techs haven't received basic I-CAR welding certification, according to the committee.
"This is a tragedy for our industry," Olsen said then, calling it a "recipe for disaster at some point"
Finally, at 4 p.m., a guest speaker will discuss "How to maximize your business networking," according to the CIC agenda. His or her name hasn't yet been released.
CIC ends at 5 p.m. But it you're not flying out that evening, the Collision Industry Foundation's Sixth Annual Fundraiser will be held 6-8 p.m. at LuLu California Bistro. (Details: Collision Industry Foundation website.)
More information:
Collision Industry Conference January agenda
CIC, Dec. 30, 2015
Images:
The CIC logo is shown during the Collision Industry Conference/NACE week in July 2015. (John Huetter/Repairer Driven News)
The CIC Education and Training Committee at the NACE-week Collision Industry Conference. (John Huetter/Repairer Driven News)
Share This: