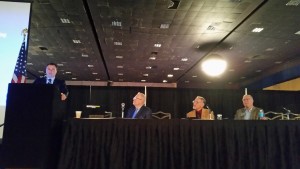 Collision repairers can weigh in on a controversial draft overhaul of the "Class A" shop definition with a new Collision Industry Conference survey announced Wednesday.
The CIC seeks to replace a 2013 definition of a highly qualified shop, criteria deemed "wholly inadequate" by Chairman Randy Stabler.
Definitions Committee co-leader Ron Guilliams (Service Dynamics) said in November the committee sought to stick a "finger in the dike" of the old definition.
Shops not certified or qualified to fix a car exist in the industry (see some dismal stats here), Guilliams said at the Las Vegas CIC. The intent of his committee, which wrote the draft: "We need to raise the bar"
The new draft (see it here) unveiled at SEMA in November was developed by during the past year. It divides "Class A" shops into three tiers: Non-Structural/Cosmetic, Structural and Structural Advanced Materials and Techniques.
A nonstructural Class A shop would be able to do any refinishing and "light sheet metal repairs" which didn't involve any pulling or welding on a structural part.
A structural Class A shop has the competence and gear to "perform repairs and refinish work on steel vehicles including structural repairs and welding on replacement structural components."
A structural-advanced materials Class A shop would have the expertise and gear to work on "steel and advanced material vehicles such as aluminum, carbon fiber, etc. including structural repairs and replacing structural components."
Committee co-leader Chris Evans (State Farm) said in November that the group thought a "one-size-fits-all approach" like the current document wouldn't work.
The survey asks repairers (and anyone else involved in CIC events) if the three-tier document should stand or if the three types of shops should be identified differently (Class A, B and C or Class A-Tier 1, 2 or 3). There's also an "other" write-in choice, but no "scrap it entirely" choice, which some repairers did urge in November.
"This Class A definition is irrelevant in today's market (given vehicle technology changes)," said Dusty Womble, operating partner of Roger Beasley Collision Center. And the 2013 criteria was so obsolete as to be worthless, he said.
Womble, like others, noted that his shop far exceeded the capabilities — "I'm so far over that it's ridiculous" — of the proposed "Class A"  facility.
"Flush this and move forward," Womble said, drawing applause from the audience.
While the draft gives minimal equipment and skill examples, it does stress that Class A shops need whatever is necessary to meet OEM repair procedures. For example, the draft notes that welding shops need at a minimum gas-metal arc and squeeze-type resistance spot welders, but it prefaces that with "Including and not limited to" and implies the facility had better posess whatever is needed to fix the specific model-year on the repair order. Whether a facility billing itself as "Class A" notices and upholds those caveats is another story.
The topic will arise in January at the one-day Palm Springs, Calif., CIC. Evans and Guilliams will lead the Jan. 14 discussion, teased by the CIC agenda released Wednesday as "Classifying Auto Body Shop competencies in a sensible way."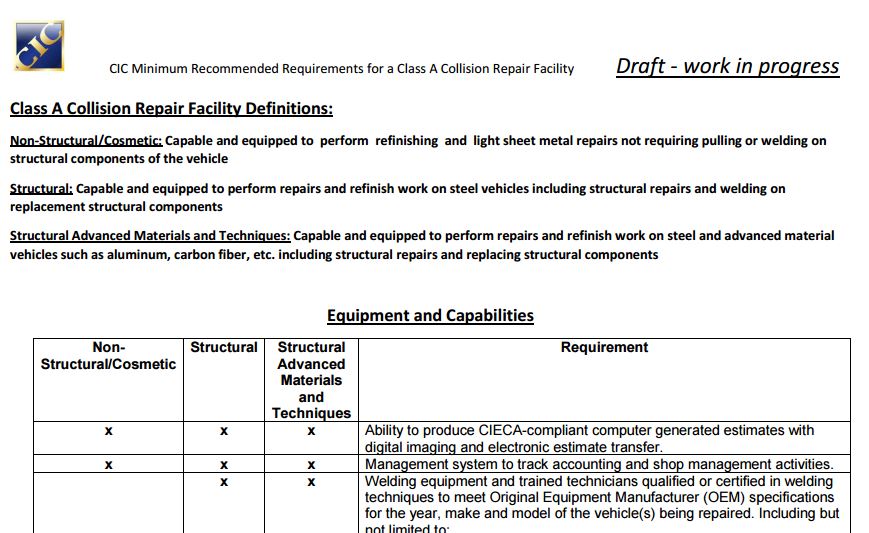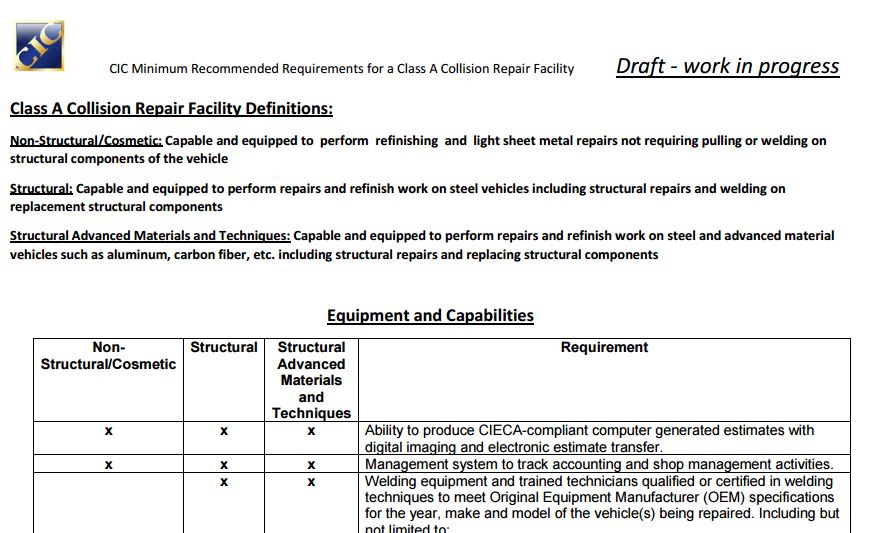 Evans wrote in an email Wednesday that the committee would give a progress report Jan. 14 and possibly describe the survey response, but it might not have a final definition by then. The group doesn't want to set things in stone without adequate feedback, he wrote.
"Our hope is that we get a good response to our question over the naming conventions of the segments in the current draft as that was a topic of discussion at the Las Vegas meeting," Evans wrote.
Industry members at the November CIC had criticized the different competencies allowed under the proposed Class A definition. After all, there's a difference between 5 shops who can do structural advanced-materials repairs and 5 shops equipped to do cosmetic repairs and traditional-steel structural work. Yet both could bill themselves as "Class A."
A similar criticism involved the opportunity for a shop to sublet the work to someone who met the "Class A" definition — but still retain a "Class A" title themselves for doing so.
There's also the philosophical question of who is meant to use the final definition. Is it intended to guide consumers or those more knowledgeable with the industry?
"I kind of looked at it as all-encompassing," committee member Rick Tuuri (AudaExplore) said in November.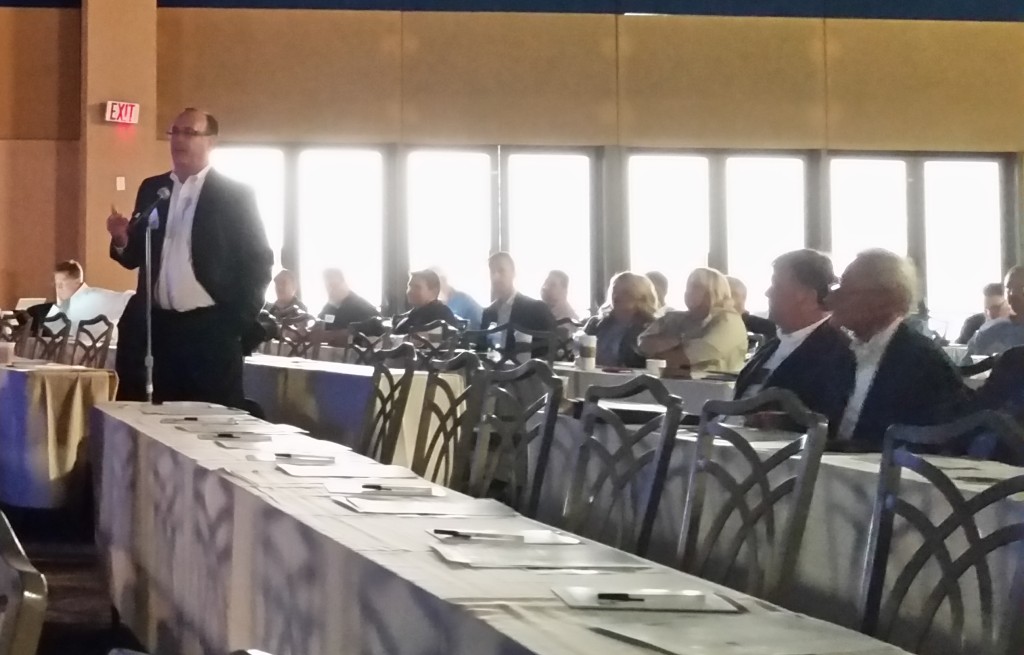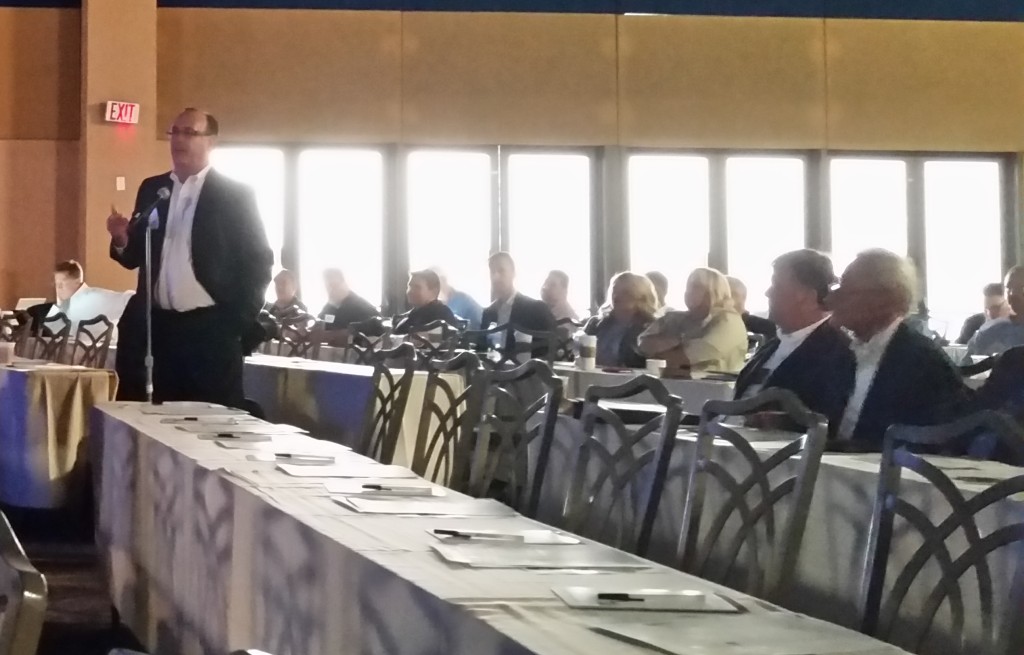 Evans in November said the committee discussed whether it was for customers or repairers. "I think today, it's both," he said, but perhaps at a later date CIC could develop a customer-facing version and a more technical one for fleets, insurers, repairers, etc.
"The insurance companies aren't ignoring whatever you come up with here," Ionitec Americas President John Torchia said in November.
Whatever the committee ultimately develops must be revised more frequently than past versions, Evans wrote Wednesday.
"In our committee's recent call, it was determined that due to the rapid and constant changes in vehicle design, construction and reparability it is likely this document will need a review on an ongoing basis and will likely not be something that resides unchanged on the CIC site for years at a time," he wrote.
Less controversially, the committee also developed a new "Compliance & Sustainability" website meant to help repairers also meet state and federal regulations. It's a work in progress, but it's definitely worth a look too.
More information:
Collision Industry Conference "Class A" survey
Collision Industry Conference, Dec. 30, 2015
CIC, 2015
CIC, 2013
CIC, Dec. 30, 2015
Images:
The Collision Industry Conference Class A definition panel is shown Tuesday, Nov. 3, 2015, at SEMA. (John Huetter/Repairer Driven News)
The opening of the draft Collision Industry Conference Class A shop definitions is shown. (Provided by Collision Industry Conference)
Share This: