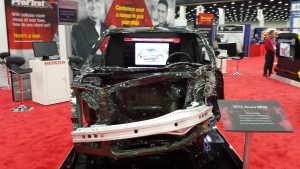 Happy New Year!
It's been quite a year in the automotive and auto collision repair worlds, and it's only going to get more interesting. We look forward to having you as readers, tipsters, commentators, and expert sources again for another year of Repairer Driven News.
Here's the 15 most-read articles of 2015 (based on unique page views) along with some commentary:
June 11, 2015: New pictures of C-Pillar paint blemishes solicited by Auto Damage Experts give collision repairers a visual argument to customers whose insurers want to blend clearcoat to save money. (More)
Commentary: Page views here might have been aided by a small gallery of images of these C-pillar fails, but they're worth the clicks. Use these to show a customer or an insurer why going cheap isn't the best idea.
Feb. 10, 2015: Autobody News, citing a source affiliated with CNN, has reported on its website and on Twitter that the "Anderson Cooper 360" piece on collision repair has been postponed. (More)
Commentary: "Waiting for Anderson" was an even hotter story then the infamous "Anderson Cooper 360" segment on insurers allegedly contributing to poor repairs as CNN kept rescheduling its air date. We and other auto body trade press kept scooping each other with each new CNN move, keeping journalists and readers on their toes in February.
Feb. 12, 2015: An "Anderson Cooper 360" piece Wednesday night criticized insurers for mandating salvage or aftermarket parts and "steering" customers to corner-cutting body shops. (More)
Commentary: This nearly 11-minute report drew national attention to auto body shop allegations of insurer "steering" and pushing poor parts. It and the lawsuits filed by shops may have inspired a slew of similar stories in local media. The flagship lawsuit, however, lost big in a U.S. District Court (No. 11), putting the fate of the other cases in jeopardy.
Nov. 20, 2015: Shops across the country have reported State Farm has begun shifting the labor rates it'll pay up and down based on the results of a recently completed geographic survey. (More)
Commentary: After we received copies of some of their letters to shops, we were able to give the industry some news and context about the nation's No. 1 auto insurer. We'd urge anyone else with tips, feedback, or story ideas about any subject to please send it to info@repairerdrivennews.com or call 866-893-2544.
July 28, 2015: Honda is showing off another badly repaired vehicle, this time to demonstrate why auto body shops have no business sectioning an ultra-high-strength door ring unit. (More)
Commentary: In probably the best trade show booth display of the year, Honda sought to answer stubborn body techs convinced that the physics and OEM restrictions about higher-strength steels didn't apply to them. They succeeded with the story of two 2014 Acura MDXs. If you missed it at NACE and SEMA, it's scheduled to appear at NORTHEAST.
Nov. 10, 2015: An Atlanta television station has scrutinized GEICO's encouragement of customers to use ABRA — which led to allegedly unsafe repair work on two vehicles. (More)
Commentary: We like to point out when collision repair-related issues make it to the traditional media. This instance from WSB-TV proved surprisingly popular for some reason. We also incorporated a little detail about how the 2015 version of the 2010 Honda Fit at the center of the story incorporates more ultra-high-strength steel and demands different repair procedures.
Nov. 19, 2015: More than a quarter of the 2016 Honda Civic is ultra-high-strength-steel, a major shift towards the light, strong — but sensitive — metal for one of America's staple vehicles.
The existence of the heat-sensitive, unsectionable, unstraightenable alloy means auto body shops must use different repair procedures than with past generations of the popular vehicle. (More)
Commentary: Following our coverage of the Honda Civic Body Repair News highlights, we forward Honda an inquiry from a repairer about the 1,500-megapascal rear frame rails with "soft zones" found on four-door models. Given the high interest in the 2016 Civic, the automaker was gracious enough to answer. Their response describes an interesting procedure, so check it out.
May 7, 2015: Despite increased precision, Nationwide's new hail estimating technology won't remove a pair of on-site human eyes or rely purely on the computer's opinion to calculate comprehensive damage, an executive confirmed Tuesday. (More)
Commentary: The potential for a computer to interpret hail damage on a vehicle is an interesting new comprehensive development this year. Will it lead to the same controversy as photo-based collision appraisals, or do a better job of counting and measuring dents than a human eye? The technology is still new, but hardware and software have a tendency to rapidly increase, and it'll be interesting to see how this plays out in 2016.
Dec. 17, 2015: Shops curious to see the innards of an 2015 Ford F-150 "in the field" should check out a YouTube post Wednesday by a Philadelphia auto body shop. …
General manager Jim Pfau said he posted the repair on social media — elements appeared earlier this month on Alan's Collision's Facebook page — to encourage industry participation and discussion. (More)
Commentary: Thanks to this "Lay It On the Line" step by Alan's Collision, we got a transparent look at an F-150 repair and an interesting model for how an auto body shop can "crowdsource" for greater oversight.
Feb. 11, 2015: OK, hopefully this time for real: CNN has confirmed to Repairer Driven News that an "Anderson Cooper 360" piece on collision repair will air tonight. (More)
Commentary: Yes, more Anderson Cooper. For a week there, shops and trade press were TV Guide. Let's move on.
Nos. 11-15
11. Judge kills Fla. auto body shops' case against insurers; other lawsuits might be in in jeopardy
12. You heard it from GEICO: Increasing rates justified by higher expenses
13. Hyundai lawsuit alleges Rydell Chevrolet calling grey, possibly fake parts 'Genuine OEM Surplus' (Note: The two sides later settled the case.)
14. Farmers-PDR situation example of confusion between insurer corporate, local level
15. Experts warn: 'The insurer wouldn't pay,' 'I didn't know,' 'I didn't want to' not great defenses if collision repair fails
Featured image: Honda is showing off another badly repaired vehicle, this time to demonstrate why auto body shops have no business sectioning its ultra-high-strength door ring. (John Huetter/Repairer Driven News)
Share This: