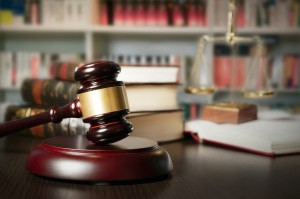 A new version of a federal RICO case against the nation's largest car insurers describes numerous examples of refusing to pay to return customers' cars to pre-loss condition.
In one particularly absurd example, a Liberty Mutual adjustor wrote to Porsche-certified K&M Collision he couldn't pay an additional $3,108 worth of work on a Porsche — work described in AudaExplore and Porsche manufacturer guidelines — because he couldn't change the system. In an email provided as an exhibit, the Liberty Mutual representative wrote:
"The major difference is the labor allowances from my system to K&M's. Audatex is the system that is chosen to be used as a basis for our appraisals and I can't alter the preset times or labor operations allowed in it for a procedure. K&M has provided other documents from various other resources indicating that our system is incorrect, however, I must follow (the system) and not change any preset times to do the procedures. Audatex also takes overlap into consideration as they are added to a repair appraisal."
Plaintiffs K&M (Hickory, N.C.) and Crawford's Auto Center (Downington, Pa.) have sued seven of the eight largest national insurers: State Farm, GEICO, Allstate, Progressive, Farmers, Liberty Mutual and Nationwide on separate RICO violation counts.
The lawsuit also accuses AudaExplore, CCC and Mitchell of helping them, though the three estimating services aren't named as defendants. Among their alleged assistance: Scrubber programs which allow an insurer to throw out procedures the IPs also say are up to the judgement of the repairer.
In addition, when a non-DRP facility submits a repair estimate to the Defendant Insurers, their adjusters convert it to their estimating program, and the estimate is once again automatically scrubbed by CCC, Mitchell or Audatex – again capturing all deviations in labor times, labor operations and the like. Defendant Insurers then represent to the non-DRP facility that its entries do not meet the prevailing rate. …
Thus, while Defendant Insurers maintain that the Information Providers are the independent authority of estimating guidance, which repair facilities have been required to use to prepare repair estimates, the Information Providers clearly work in tandem with Defendant Insurers to constrain the proper scope and compensation for repairs. Further, Defendant Insurers are now requiring non-direct repair facilities like Plaintiffs (in addition to their DRP facilities) to "upload" all estimates into the Defendants Insurers' respective Information Provider's systems, through which the estimates are subjected to automated scrubber programs. As a result, the lines between the Defendant Insurers and the Information Providers have been blurred even further with respect to the review of repair estimates and the determination of compensation to repair facilities.
State-level fraud and unjust enrichment charges are also still levied against the seven insurers in the new version of Crawford's Auto Center et al v. State Farm et al.
The lawsuit filed Friday is a revised version of one dismissed without prejudice in November by Middle District of Florida Judge Gregory Presnell. His ruling then seemed to be overly dismissive and uncomprehending of the shops' argument, which could make this new lawsuit a tough sell.
Also a tough sell: The new lawsuit is longer than the 157-page original, which Presnell wrote in November was "likely 100 pages longer than it ought to be" and full of "detailed knowledge of automobile repair industry minutiae." Though it offers more specific examples of allegedly improper behavior and how it relates to each (or all) of the insurers, there are admittedly sections which feel overlong and might irritate the judge. On the other hand, it's difficult to explain just how convoluted the insurer-customer-repairer relationship is without the minutiae.
---
More Crawford's coverage
---
We won't pay
Presnell has been dubious of shops' short-pay argument in his November ruling on Crawford as well as the A&E v. 21st Century "family" of state cases handled by a Mississippi law firm.
If you don't like the rate the insurer offers, he's written, don't take on the work. This ignores the often-forgotten contractual obligation that the insurer is supposed to pay the repair bill for a customer's choice (in most states) of shop as well as the high-school math concept of standard deviation: Stuff from different vendors costs different prices, but it's not an outlier until it falls outside of a certain range. (See a discussion of this with regards to claim severity here.)
The judge also has pointed out that a buyer shouldn't have to pay for unsolicited services. However, the new  Crawford lawsuit does a better job of arguing a repair and insurer's obligation to return a customer's vehicle to pre-loss condition means that the repairer will have do certain "non-included procedures" even if an insurer intentionally or unknowingly omitted them on an appraisal the adjustor is treating as Gospel.
"These are not health insurance policies, which delineate in-network and out-of-network coverage and fee schedules," it states. "Auto policy insureds and vehicle owners pay premiums based on the insurers' obligation to pay for collision repairs to restore the vehicle to pre-loss condition."
Later, it details in a spreadsheet some discrepancies between what Crawford's in its professional opinion was necessary and what the insurer would actually pay, as well as this hot-off-the-press late 2014 example.
It introduces them with:
Though Exhibit K outlines in depth the rates, costs, labor times and procedures that each of the Defendant Insurers represent do not conform to the prevailing rate, there are a number of significant items that these Defendant Insurers misrepresent and fail to pay on a regular and consistent basis, as follows: (1) labor rates: (2) adjacent weld damage repair and refinishing; (3) test drive; (4) for specialized measuring equipment; (5) higher than a 2.5 cap on clear coat application; (6) administrative charges; (7) clamp damage repair and refinish; feather, prime and block; (8) specified test fitting for welding; (9) paint materials; and (10) labor materials. … 
The foregoing examples of Defendant Insurers' shortfall in compensation were the result of their systematic adherence to estimating profiles and company estimating protocol and guidelines, and prevailing rates, in conjunction with the Information Provider scrubbing, notwithstanding that all work, services and charges were required and necessary to perform the repairs in a professionally competent manner and restore the vehicles to the appropriate condition. In each case, Crawford's notified the Defendant Insurers of the total amounts due for repairs but payments from the Defendant Insurers (and any applicable deductible from an insured) resulted in shortfalls of compensation to Crawford's.'
And here's discrepancies between what K&M felt was necessary and what the insurer would pay.
One of these these involved another Liberty Mutual estimate which K&M wrote in an email exhibit was $5,795.01 short. The email exchange submitted with the case include dozens of items, many with documentation from Volkswagen or photos backing up that they were needed for the customer's 2012 Volkswagen Passat.
Though K&M was a VW-certified shop, the insurer used its own judgement as to how long repairs should take, with a representative noting, "I wrote for allowances I felt were fair & reasonable for the actual repair processes needed."
Insurers have not yet responded to the new version of the lawsuit. However, in other similar cases, they've argued that none of their actions were illegal and the seemingly uniform nature of rates paid were the result of insurers staying competitive with rivals, not collusion.
Share This: