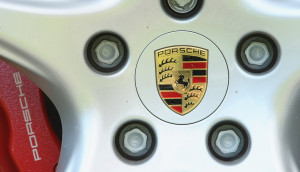 'We aren't going to change our labor rates because it's a Porsche': Lawsuit alleges car insurers ignore, manipulate free market
By on
Business Practices | Insurance | Legal
A GEICO representative once vowed to move a Porsche hours away to avoid having to pay the only Porsche-certified shop in a North Carolina region more than the insurer pays a rank-and-file shop, a new version of a federal RICO lawsuit states.
The insurer didn't want to pay more than $44 an hour to fix the car, plaintiff K&M Collision alleged in the amended Crawford's v. State Farm complaint filed Friday. (The lawsuit doesn't state what the Hickory, N.C.-based repairer charged.)
When the Porsche-certified plaintiff told GEICO the luxury OEM restricts frame data to those shops who've demonstrated to the OEM they have the training and equipment, the insurer allegedly threw a hissy fit at the prospect of paying more than it'd pay an average shop to fix a Geo Metro.
---
More Crawford's coverage
---
"(A claims supervisor) advised GECIO will only pay prevailing market labor rates (again $44), and if the customer is not satisfied 'we'll tow the vehicle to [another] shop that certified,'" the lawsuit states. "When advised that was Raleigh (3 hours away), (the supervisor) said 'we'll be glad to move it Raleigh; we aren't going to change our labor rates because it's a Porsche.' K&M asked if the Raleigh shops' rates were similar to K&M, would they tow it to Atlanta, (the supervisor) replied: 'We'll  make that decision if we need to.' And further, 'I'll move it whatever shop has the equipment, I'm not going to change my labor rates for you.'"
That's example of several in which insurers attempt to apply a single prevailing rate — which they've allegedly colluded with each other to create in a RICO violation — to a larger region.
The new lawsuit could face a skeptical audience. Middle District of Florida Judge Gregory Presnell has in similar litigation supported the idea that if a shop doesn't like the rate an insurer offers, they shouldn't agree to fix the car. But this ignores the contractual obligation that an insurer pay the repair bill for a customer's choice (in most states) of shop.
Plus, it ignores the high-school-math concept of standard deviation: Stuff from different vendors costs different prices, but it's not an outlier until it falls outside of a certain range. (See a discussion of this with regards to claim severity here.)
Here's some other examples of balking at labor rates — sometimes just a couple of bucks more an hour, based on court documents:
A State Farm estimatics manager allegedly told K&M, the only Volkswagen-certified shop and the only one with VW-approved structural repair equipment, that he wouldn't pay more than $44/hour.
In a dubious assertion, the manager told K&M he could find other shops in the area who could do the work for $44 an hour, though wouldn't say which ones.
"(The manager) advised K&M that any labor rates above purported prevailing rate would not be reasonable; stated that other facilities in the market could perform the repairs at the so-called prevailing rate of $44 per hour, but would not answer what other facility in the market could perform those repairs; would not agree that the insured was not entitled to know any other facility that could perform those repairs; would not confirm his understanding of VW manufacturer specifications – saying 'I don't repair cars' – or whether manufacturer specifications were reasonable or necessary or would be required to achieve a quality repairs," the lawsuit states.
This alleged incident happened in December 2015. Volkswagen as of Monday only had eight certified collision repairers in the entire state and no others in Hickory. (A Caliber Collision 39 minutes away in Denver, N.C., is certified.)
Nationwide also allegedly in December trashed K&M to a customer who wanted her Audi repaired at K&M over $600, according to the lawsuit. K&M is the only Audi-certified collision repairer for at least an hour's drive.
"In addition, in or about December of 2015, (an adjustor) advised the vehicle owner of an Audi, who wanted her vehicle repaired at K&M because they are Audi certified, that K&M 'overcharges', that they are 'way more expensive than any other body shop', and that Nationwide 'would not cover the charges' (which were $600 in additional costs)," the lawsuit states.
Insurers have not yet responded to the new version of the lawsuit. However, in other similar cases, they've argued that none of their actions were illegal and the seemingly uniform nature of rates paid were the result of insurers staying competitive with rivals, not collusion.
Featured image: The logo and hood ornament of German automaker Porsche is seen on the wheel of a Porsche car at a dealership on July 21, 2009, in Berlin, Germany. (Sean Gallup/Getty Images News/Thinkstock file)
Share This: